At Robosoft, our mission is to create digital solutions that simplify lives of millions across the globe. Our talented team of software and product engineers, design thinkers, digital consultants and more, consistently work towards driving this mission.
In our interview-based series, we chat with the 'behind the scenes' experts – know their passions and inspirations. We will also try and understand what drives them to create digital solutions that touch the lives of millions of users and drive business results.
Today, let us get to know Prabhav Kumar, Project Leader at Robosoft. Prabhav has been a part of our team for close to 5 years now.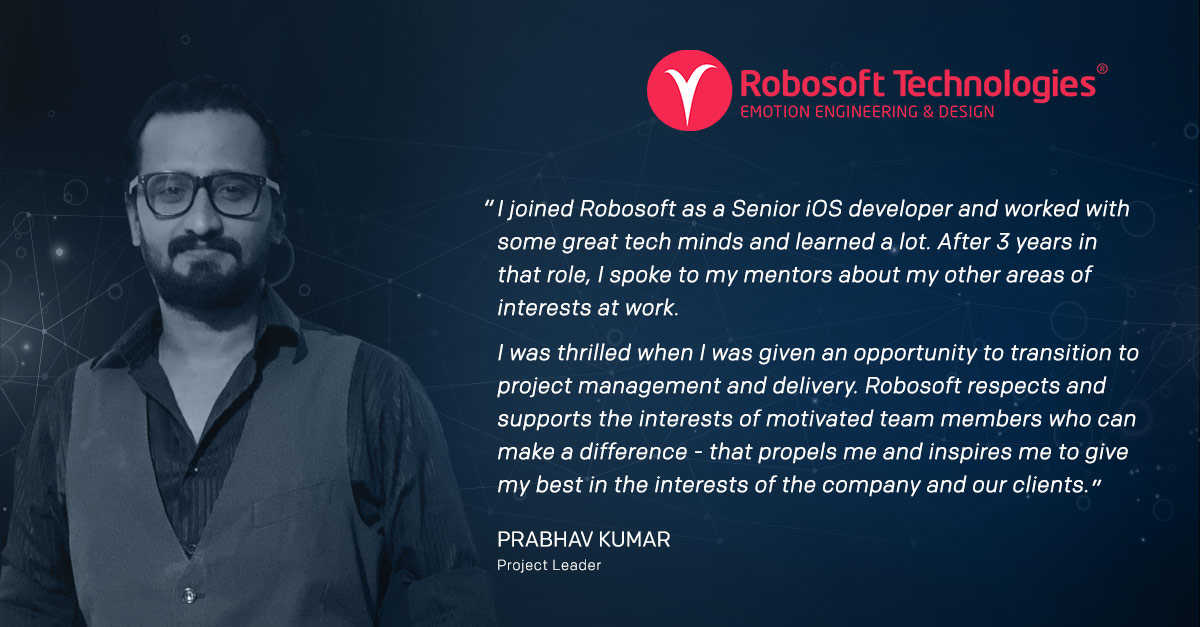 Q: Tell us about yourself and what you do, your hobbies and more?
The importance of being kind, humble, straightforward, transparent, and understanding the difference between the "needs" and "wants" in life are some of the ideologies I have learned and refined at the right time in my life. I'm ever grateful to my parents for encouraging my interests and lending support in all my endeavors. I take life as it comes and don't complicate life-events.
I've been an avid sports-person since childhood. I've had the opportunity to explore skating, table tennis, and badminton at state and district levels. I also engage myself in music, and singing continues to be my go-to stress buster. Look me up on YouTube. I hope I just got myself another subscriber 🙂 and… I love pets!
As a professional, I've been a QA engineer & worked on test automation in the insurance domain, developed applications on iOS platform on the VMS domain, and am now working as a Project Manager delivering projects on web and mobile platforms.
I follow a very simple Mantra in life. "Did something great happen? Don't get ecstatic! It'll pass. Did something terrible happen? Don't worry. That too, shall pass!"
I believe in keeping it simple, having fun, spreading love and happiness, and that is something everyone needs to embrace. It invariably gives us the strength, courage, and competence to tackle all our problems easily. This applies at work too.
Q: What inspired you to choose Robosoft Technologies & what is it that inspires you?
During my engineering days, I had heard about Robosoft being the tech innovator where employees got to work on fancy Apple gadgets. Around 11 years ago, for a select few in my class, it was a feat in itself to get through all the screening rounds at Robosoft. Unlike the tech giants, where freshers "have fun" enjoying the amenities, we knew we'd actually have fun getting our hands dirty working on the latest tech with profound professionals, who were enthusiastic about making a difference in the industry. December 2015 is when I received an interview call from Robosoft, and my journey began in January 2016 as a Senior iOS developer.
I worked in that role for around 3 years with some great tech minds and learned a lot. In due course, I approached my mentors with my plans and about my other areas of interest at work. I was thrilled when I was given an opportunity to transition to project management and delivery. I took maximum advantage of my experience in QA & Mobile app development and put it all into action along with the newly assigned responsibilities. It gave me a holistic view at a microscopic level, right from inception to delivery of the products we worked on. It only proved that Robosoft respects and supports the interests of their motivated employees who can make a difference – this inspires me and propels me to give my best in the interests of the company and our clients.
Q: How has the quarantine phase been? What is it like to manage home and work responsibilities and your advice to peers alike?
Well, being home-bound for a prolonged period is something that no one anticipated, and let's accept, no one was equipped with all the necessities for a pandemic like this.
I stuck to my Mantra. For the teams I work with, it was all about how mentally prepared we were to adapt to the changes presented and collaborate. Without a doubt, Robosoft did a fantastic job of helping with the initial set up when we started working from home.
Yes, the transition was tough & challenging. Yes, we felt lonely with minimum human interaction. Yes, we missed working at our office spaces, hanging around with friends, lunch & tea breaks. But we did make the best of the alternatives we had at our disposal. We had video calls occasionally to catch up with the team, discussing everything but work, and everyone had stories to share.
We also had "Chai-pe-Charcha" with our HR team and COO. Everyone had a gala time dressing up and sharing stories. People sang & played instruments. It was a subtle gesture, yet extremely refreshing. These small moments made a big difference in these tough times.
Most of us would agree that the reality is that we are working longer hours from home. Initially, I believe, it was the absence of face-to-face communication that led to us taking a longer time to achieve even the smallest of tasks. But now, we've acclimated ourselves around it and found effective ways to communicate. So let's use that additional time we have—especially the time saved from "not commuting"— to be with family, friends and loved ones.
I'm certain the transition after the office reopens would be equally challenging as we wouldn't be able to dedicate the time we're now giving towards work. We'd have to re-think around making adjustments to the schedules that we are now set to. We've got to be prepared for that!
My advice to peers: give yourself at least an hour every day to meditate, workout, listen to music, read novels or do anything that freshens your mind and body. Avoid News during this time as it only poisons your mind with political drama, crime, hatred, and all the heinous acts of the so-called humans. Mental rejuvenation plays a critical role in being productive at what you do. Do something that relaxes your mind and doesn't get you anxious or worried about what's happening around.
Q: Your advice to students & freshers exploring opportunities in this field?
Always follow your dreams; not someone else's. Listen to the inner voice that tingles happiness when you do something productive. Yes, there are researches going on in edge computing, XR (Extended Reality), AI, ML, IoT, Blockchain, Data Science, etc., to make our lives easier, but that's not the only path to the future. There's a plethora of unexplored paths that might be perfect for you. Identify the path that gets you going and pursue a career in it.
Having said that, technology keeps evolving in ways we cannot fathom at times. Have a progressive outlook and keep yourself updated on what's upcoming & trending in your field of work. Follow relevant Blogs, Podcasts, YouTubers, and the multitude of options you have access to, to gain all the knowledge you can absorb. Never stop learning, and you'll never run out of opportunities in your field.
I'd also recommend subscribing to websites like Udemy, Skillshare, Edureka, Coursera and similar platforms to learn more about technology that interests and inspires you.
Q: In your view, what is the scope of this industry in the years to come?
In my view, the "as a Service" model would be the way forward. Most companies use SaaS to obtain services for a fee so that they can focus on their core business. So why not work on building one! Think of a modern tech and make it available as a service and you'll find a customer base for it. Eg: AIaaS (AI as a Service), BaaS (Blockchain as a Service), DaaS (Data as a Service), IDaaS (Identity as a Service) to name a few.
This is again a small fish in the ocean, and the ocean is out there for us to explore. The tech industry will never fade; it'll keep evolving, and as far as we are equipped with the technology and knowledge to support the evolution, we'll always remain in the spotlight.