At Robosoft, our mission is to create digital solutions that can simplify lives of millions across the globe. Our talented team of software and product engineers, design thinkers, digital consultants and more, consistently work towards driving this mission.
In this interview-based series, we will meet these 'behind the scenes' experts, know their passions and inspirations and understand what drives them to create digital solutions that touch lives of millions of users and drive business results.
In this interview, we will get to know Sahana K, Technical Architect at Robosoft Technologies. Sahana has been a part of Robosoft for more than a decade.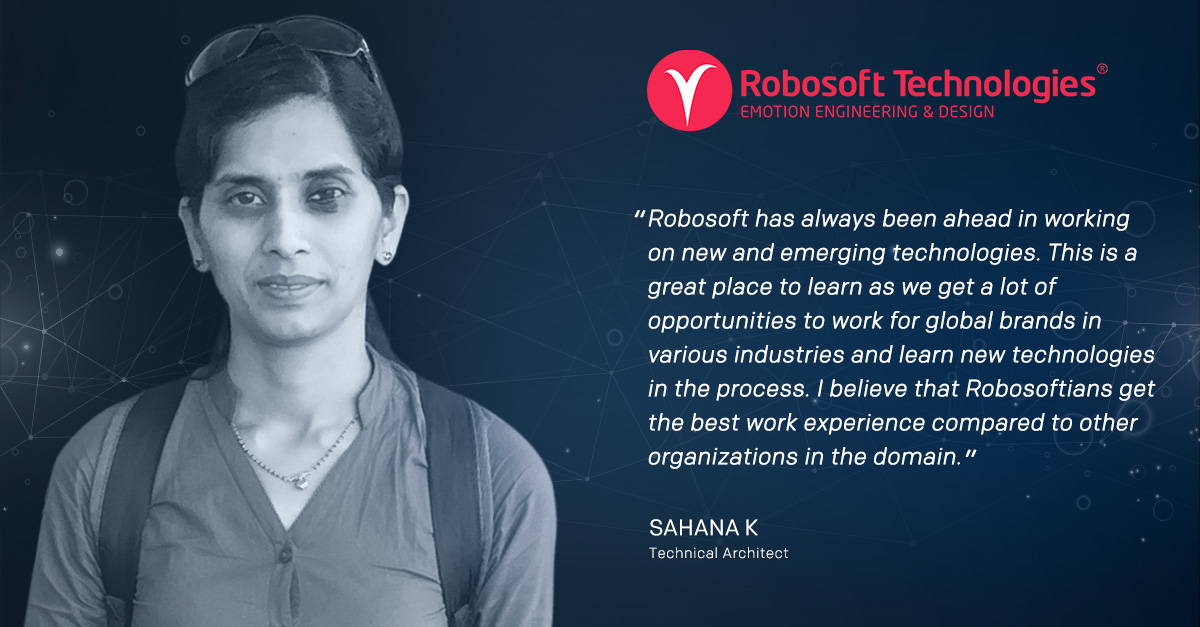 Q. Tell us about yourself and what you do, your hobbies and more?
I hail from Moodbidri, a small town in Dakshina Kannada district of Karnataka. As a child, my parents encouraged me to explore new things and become self-reliant. The agricultural background of my family taught me to adopt a practical approach towards everything in life. I love spending time with kids, learn from them, and cherish their curiosity and innocence. I don't spend too much time on social media, instead, I like connecting with people in real life. I love adding humor to conversations and finding happiness in small things. I enjoy listening to music and watching movies in my free time. I often watch documentaries on animals and space.
Q. What inspired you to choose Robosoft Technologies & what is it that inspires you?
When I was joining Robosoft, I expected the experience will be similar to my previous organization. But, I was gladly proven wrong. Within a few days, Robosoft felt like a second home and the experience was awesome. My teammates supported me whenever I needed their help and guidance. I met some amazing people and really connected with them.
In terms of technology, Mac was one of the new and futuristic technology platforms of that time. I was really proud to work on that platform. Our MD, Rohith Bhat has been an inspiration to me. He fought all odds and started Robosoft, an IT company in the small town of Udupi, and brought it to the level where it is today. My parents encouraged me to be courageous, explore new avenues, and take risks and these are the values that I saw in Mr. Rohith Bhat too.
At Robosoft I interact with a lot of people from freshers to the leadership team. It is rare that you find everyone so approachable, like you do in Robosoft. This also helps me to understand the thoughts and expectations of people with various levels of work experience, which is very important for any person to make their life better professionally and personally.
Robosoft has always been ahead in working on new and emerging technologies. This is a great place to learn as we have great opportunities to work for global brands in various industries and learn trending and new technologies. I believe that Robosoftians get the best work experience compared to other organizations in the domain. Robosoft has talented people with expertise in various technologies who keep exploring and learning every day. Along with years of experience in the industry, tech-experts, and enthusiastic youngsters to deliver their best knowledge. It has a great future and I believe it will be in the top list of great IT firms soon.
Q. How has the quarantine phase been? What is it like to manage home and work responsibilities and your advice to peers alike?
The quarantine phase taught us what are the actual basic needs of our life and how important is our role in society. It also gave us an opportunity to be close to our family and spend more time with them.
For a working woman balancing personal and professional life is always challenging. But every working woman proves it is possible. While I was working at the office premises, I had a well-defined timeline in a day for both personal and professional work. But it changed totally when I started working from home during this pandemic. Now I have to take several breaks between my office work to finish other household chores. But to make this happen we need to plan our tasks very well. With kids around it is very difficult to expect to predict their demands and needs. We need to be very calm while dealing with them and their demands so that we do not lose our work-life balance. We just need to re-plan or adjust with their time.
Handling kids can we tricky, we cannot always scold them. So in one such instance, when my kids were arguing while an important demo was going on, I resorted to humor and asked them to continue their argument after the demo is over. Gladly it helped!
Q. Your advice to students & freshers exploring opportunities in this field?
Today we think that we are living in a smart era. But in reality, what we think is smart today, won't remain that way, as smarter technologies emerge. My suggestion to students and freshers is to get strong in the basics of the technology you are planning to get expertise in. As long as you have the complete knowledge of the basic concepts, finding a solution for any problems or requirements in that technology will never be difficult. Read more articles on future technologies and get experts' advice while you choose your field.
Q. In your view, what is the scope of this industry in the years to come?
Consumers are looking for digital avenues for a lot of their day-to-day activities, from buying groceries to consuming entertainment, especially during these times. I believe this is going to be the way-of-life going forward. Similarly, businesses are molding their processes with the help of technology to meet the demands of the new-age consumers and streamline their operations. Emerging technologies like – Artificial Intelligence, Machine Learning, Virtual Reality, Augmented Reality, Voice, Blockchain, etc. are instrumental in creating a smarter world. I think in the coming years, organizations that take a lead in creating digital solutions using emerging technologies will see a huge growth.
In subsequent interviews of this series, we hope to introduce other talented members of our team, understand their inspirations, and what drives them to innovate to create digital solutions that simplify lives of millions.