At Robosoft, our mission is to Simplify Lives. Our talented team of product strategists, designers, software engineers work towards driving this mission.
In this interview-based series, we chat with our behind-the-scenes experts – to know more about their values and inspirations. We also try to understand what drives them to create digital solutions that touch the lives of millions and drive business results.
In this interview, let's get to know Suhas Narasimha Shetty, Technical Leader. Suhas joined our team as a fresher in 2014. In the past 7 years, he has worked on multiple cutting-edge projects and technologies for our global clients across domains. In this conversation, Suhas talks about his journey with Robosoft, his inspiration, his advice for freshers, and more.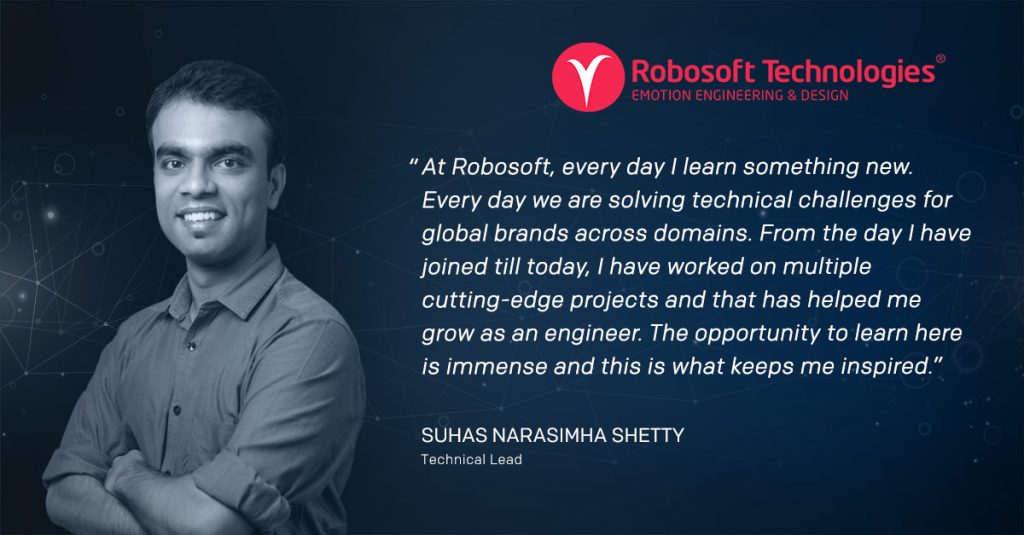 Q: Tell us about yourself and what you do, your hobbies, and more?
Born and brought up in Mangalore, I am a true-blue Mangalorean. I love everything about it – its amazing beaches, rich culture, and delicious cuisines. As a person, I believe in being curious. I am a keen learner of everything related to technology – be it the latest trends, emerging technologies, or a new coding language or framework. Besides technology, I am also interested in the world of automobiles.
I am a sports buff and ardently follow MotoGP and Football. Music is my get-away after a hectic day of work. I like listening to different genres of music. My favorites are – Rock, Blues, and Jazz.
Q: What inspired you to choose Robosoft Technologies & what is it that inspires you?
I studied engineering in Computer Science from P.A. College of Engineering, Mangalore. Robosoft was one of the companies all of us aspired to join. The 'Robosoft Interview' was considered to be one of the toughest ones to crack. Very few students were able to pass that interview, only the ones with really strong basics were able to do it. Students who were able to get through the interview were considered to be among the most intelligent ones. It was a dream come true when I joined the league of students who got through the Robosoft interview and got an opportunity to join a team of truly talented engineers and amazing teammates.
At Robosoft, every day I learn something new. Every day we are solving technical challenges for global brands across domains. From the day I have joined till today, I have worked on multiple cutting-edge projects and that has helped me grow as an engineer. The opportunity to learn here is immense and this is what keeps me inspired.
Q: How has the work from home phase been? What is it like to manage home and work responsibilities and your advice to peers alike?
Robosoft was among the few companies that took appropriate measures and gave us WFH at the very beginning of the pandemic. The company kept employee well-being and safety as a priority and continues to do so, as almost all of us are still working from home. I am extremely proud to be a part of such an organization. Robosoft's HQ is in Udupi and before the pandemic, I used to travel from Mangalore every day. With WFH, I was able to save travel time, which helped me in increasing my productivity. I could also spend more time with my family. The client that I am working with is in a different time zone. WFH allowed me the flexibility to manage my work according to the client's time zone and hence build a better relationship with them.
WFH has its perks, but I miss the in-person interactions with my friends and colleagues. I have made some amazing friends at Robosoft and I certainly miss meeting them.
WFH can be a boon or a bane depending on how you manage. We know when to start and stop working when we are at the office. At home, if we do not follow a schedule of logging in and logging out of work, it can take a toll on our health. Initially, I did the mistake of not having a schedule and that affected my health. It is important to set the objectives for the day, finish them on time and do something that helps you rejuvenate. Yes, we might have to stretch once in a while, but if you manage a proper routine most of the days you will be able to cope up with stressful situations better.
Q: Your advice to students & freshers exploring opportunities in this field?
These days freshers are worried about the best technology or platform that they should choose to sustain in this industry. The truth is, you will not be able to sustain yourself if you rely on learning one or two most trending technologies or frameworks. The tech world is ever-evolving and it is important to keep pace. That said, there is no alternative to having a strong understanding of the core concepts of software engineering or programming. If your basic concepts are strong, you will be able to learn and excel in any new technology. Another important thing will be to have the flexibility and the mindset to experiment and explore a variety of technologies. This will help you stay relevant to the industry.
Q: In your view, what is the scope of this industry in the years to come?
The tech industry is always evolving, there is so much to explore. In my opinion, we are yet to witness the full potential of emerging technologies. The scope of the industry we are in is huge, and we will see groundbreaking inventions in the future. The pre-requisite to be a software engineer keeps upgrading every year. Companies are now focusing on training talent and upgrading their technical skills so that they are future-ready. Upskilling employees has become a crucial aspect for organizations like ours to partner with a wide variety of customers in their digital transformation journey.