At Robosoft, we consider recognition of our good work as the ultimate reward. Over the years, our customers across the globe have expressed their delight at the quality of our work and the impact it had on their business. Clutch, a leading ratings and reviews firm based in Washington D.C conducts verified reviews for thousands of companies around the world through the use of client interviews, as well as by using an objective scoring system that judges based on factors such as industry recognition and market presence.
Yet again, we have been named as a Top App Developer in India by Clutch, in their annual research report on the top B2B Service Providers in India. Clutch's coverage of app developers in India alone covers over 1,500 firms, and we are recognized as one of the top five app developers.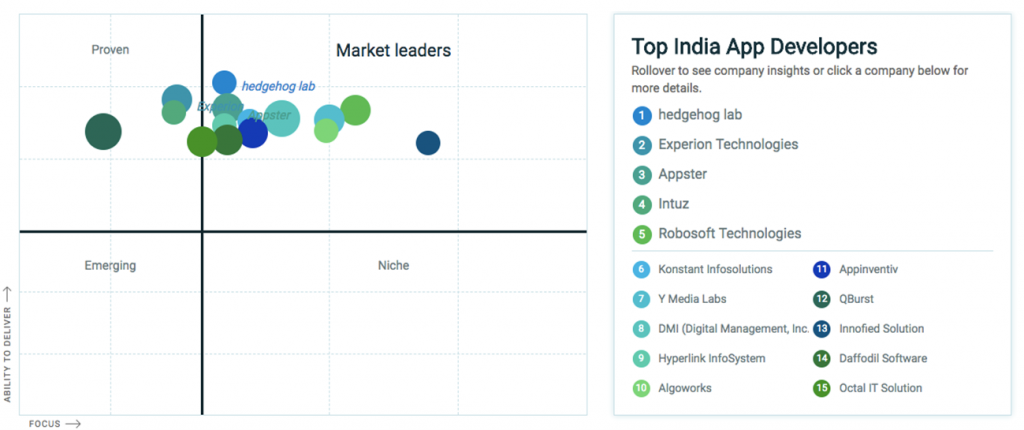 Robosoft named in the top 5 of all app developers in India by Clutch.co
We are proud to say that our Clutch profile is packed with positive reviews from our clients. One of our clients, the CEO of an ecommerce marketplace, had the following praise to share about our time working together: "They managed all aspects of development and worked collaboratively to create a simple, robust, and intuitive platform."
Another one of our clients, a sole consultant that works for various startups, said this: "Working with them takes a lot of the difficulty out of managing projects of a certain size because they're always available and they manage their projects really well."
Our 500+ strong team across offices in San Francisco, Mumbai, Udupi, Chicago, and New York partner with leading clients across categories. We thank our esteemed customers and every member of our team whose efforts lead to such appreciation. We are also pleased to be named among the Top 100 Mobile App Development Companies on Clutch's sister website, The Manifest.