The growing adoption of OTT platforms has transformed the way audiences consume content and also the overall landscape of the entertainment and media industry. Recently Netflix crossed 100 million subscribers and Eros Now exceeded 113 million registered users worldwide. These figures do not come as a surprise, given the popularity of OTT content amongst viewers.
Less than a decade ago millennials were watching 25 hours of television per week. Today, that number has dropped drastically. Today's viewers are spending an astounding amount of time on their smartphones consuming OTT content.
Apple's CEO Tim Cook declared in 2015 that "the future of TV is apps," And, we are slowly seeing this coming true.
As viewership skew towards OTT, more and more media and entertainment players are launching their apps. Infact, 2017 was considered as the year of OTT emergence, including launches of new streaming services, players like Youtube and Hulu entering the linear TV streaming market, Disney acquiring BamTech and also launching its streaming services as a competition to Netflix.
With so many apps and platforms entering the OTT market and the likes of Netflix setting the standards of user experiences high. What are the key factors that entertainment enterprises should take care of while developing an app?
In this article, we outline the factors that will help you build a successful OTT app.
Exclusive and original content
For OTT platforms offering quality content which is exclusive to their audiences is the key to winning the scattered attention of today's highly fragmented audiences.
Depending on the geography, demographics and the user preferences OTT players will have to create content that suits a variety of viewers. That is why the pioneers and prudent OTT players are not just investing in creating quality and original content, but also on localization.
Not only Netflix announced plans to spend $8 billion dollars on original content in 2018, the platform is working towards satiating the viewers' need for local content. For instance, Netflix recently acquired its first Filipino titles, which includes a feature-length film and a miniseries. It also came up with original series like Scared Games and Ghoul in India. Meanwhile, digital media group WebTVAsia launched its LUVE multi channel network in Taiwan.
Given the popularity of OTT content, broadcasting channels are also launching their own OTT apps. For instance, Disney announced that they'll be establishing an OTT service in collaboration with Twenty-First Century Fox, with major draws including Star Wars and the Marvel films.
With the deluge of OTT apps in the market, differentiated and original content stands out in the crowded streaming video marketplace. While having a seamless experience on the app is critical, content is the driving force.
Personalized User Experience
In a digital era, users expect a personalized user experience from all their digital interactions. OTT apps are no exception to this rule. Here are a few ways on how major OTT players get their personalization game right.
AI-powered recommendation engine
Building a robust recommendation engine is the key aspect of creating a personalized user experience. Netflix is one of the best examples of how a recommendation engine works. More than 80 per cent of the TV shows people watch on Netflix are discovered through the platform's recommendation system. Netflix uses machine learning and algorithms to help go beyond viewers' preconceived notions and find shows that might not have been their first choice, but they will like. The data that Netflix feeds into its algorithms can be broken down into two types – implicit and explicit. Example of "Explicit data'' will be giving a thumbs up for a show. "Implicit data'' is behavioural data, for instance the viewer didn't explicitly say 'I liked Unbreakable Kimmy Schmidt', but they just binged on it and watched it in two nights, so the engine understands that behaviourally. The majority of useful data is implicit.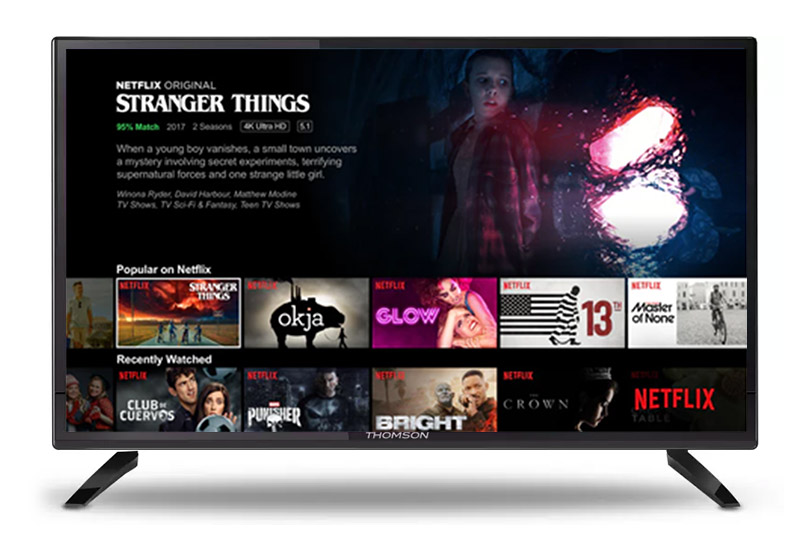 Image source
Personalized upsell and retention packages
Today's subscribers want services that are personalized and delightful at every stage of the experience from sign-up to discovery and viewing to renewals. Thus, personalization should permeate beyond content and include the entire user journey on the app. Today a user is constantly toggling between multiple devices while accessing the app. App developers will need to take into account data from these sources to notify the user about the upsell and the renewal offers. That also includes giving the user the power to make choices.
Device management is another aspect of creating a personalized experience. Allowing users to choose multiple devices, streaming quality options, renewal options tailored to their choices, etc. can help in elevating user experience and ensure retention.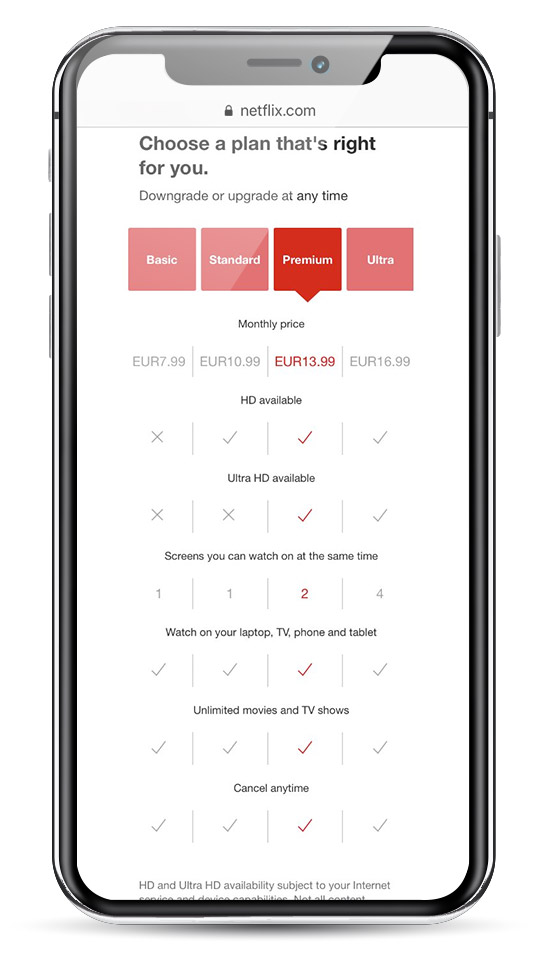 Image source
Even if your app is loaded with an awesome content library, if users find it difficult to navigate through it they will abandon the app. According to a research 80% percent of users uninstall an app due to bad user experience. So what are the factors that lead to great user experience:
Easy on boarding
Easy onboarding is critical to set the ball rolling to deliver a fantastic user experience for the entire app user lifecycle. Here are few tips to get the onboarding process right-
Simplify the process
It is critical to make the user onboarding process as quick and easy as possible. In that context, app owners should only ask for essential personal details and permissions, and stick to the key features and UI elements that are absolutely necessary to help users experience the app's value.
Tech-savvy users might not want to be hand held through the onboarding process. However, if at all you add a tutorial feature in the app it is recommended that users are given an option to skip, and dive straight to experiencing the app. In that context, giving users the option to skip becomes a critical aspect. In fact, music video streaming app Vevo found that adding a skip option to their onboarding flow increased logins by nearly 10%.
Preview app content
Another way to speed up the process and make the onboarding process quick and interesting is to allow users to experience the app before asking them to sign up or taking them on a product tour. For instance, Hotstar previews popular content and lists membership benefits on the very first screen — and they feature a prominent free trial button.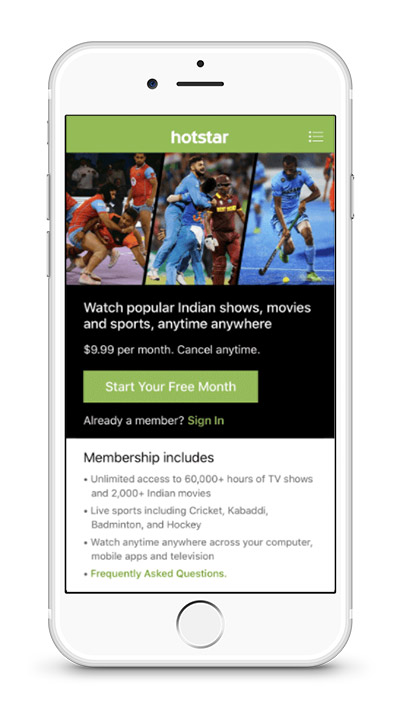 Image source
Building trust
With the growing concern over privacy issues, it is critical that users trust the platform. While taking some user information might be critical, it is advisable to only collect information that is absolutely necessary. Further if you are asking for sensitive data like geolocation, credit card details, etc. telling the user exactly why you are asking for that detail, will help in reassuring them about the security of the app.
Intuitive UI and simplified viewing experience
Intuitive UI is the one which simplifies every aspect of the process. In the case of OTT apps it is important to not just simplify the process of discovering content but also watching. Some key features to get that right are:
Giving the flexibility to switch on-and off the subtitles option.
Information about the quality of video and data consumption.
Option to resume from where the user left off, etc.
Quick and easy buttons for start, stop, rewind, fast forward. This will give control to the users and further add value to their experience.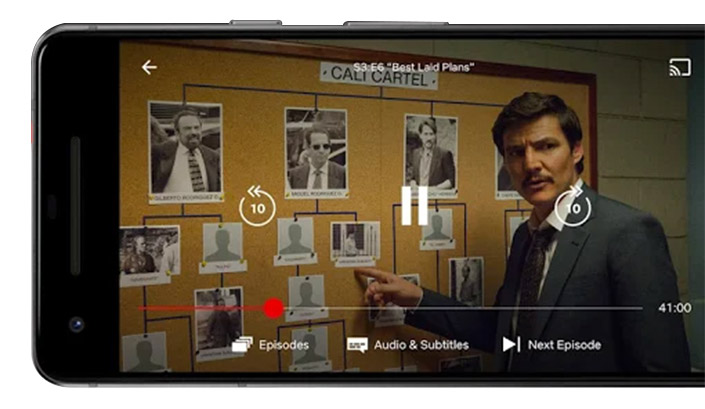 Image source
Multiple device viewing experience
Today viewers are consuming content on a multiple devices. Delivering content to multiple devices is no longer an option for OTT players. Although the online video industry is slowly moving towards just a couple of major formats, different devices may still require different versions—Smooth Streaming, HLS, HDS, MPEG-dash, and even Flash. Casting is another opportunity that can enhance user experience and help in driving the value for viewers.
Building experience inline with the unique user environment of different screens
In OTT, every screen you stream presents the user with a unique viewing experience. For instance, the relatively large size of TV screens creates a much more immersive environment for users, making these devices perfect for long-form content and binge watching.
Tablets and smartphone devices allow content providers to take advantage of interactive features not found on the big screen. Hence it is important to maintain the right video aspect ratio for each screen. Also, making on-the-go content consumption easy for viewers by giving them the option of watching videos on landscape/portrait version.
Offline Mode
Another important aspect of adding value to users' on-the-go viewing experience is by giving control to them of watching content at their convenience without the limitation of internet speed. In that case, option for downloading the video for watching later enables the user to engage with the app and the content they like whenever they want.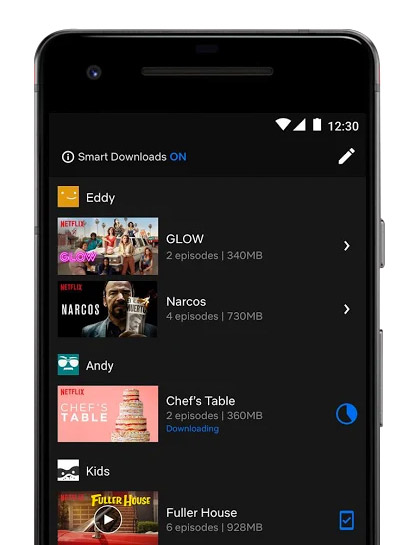 Image source
Easy Payment gateway integration
With the plethora of payment options available at user's disposal, making this step of the user life cycle easy is important. Major OTT apps like Netflix and Amazon Prime accept payments with a credit or debit card like — Visa, MasterCard, American Express, etc. — or through digital wallets like PayPal, Paytm, Amazon Pay, etc. Further, these platforms bill users every month on the same day making the payment cycle easy.
Push notifications
Push notifications are an essential part of user experience and can ensure continuous engagement with viewers. However, badly done push notifications can also lead to users abandoning the app. According to a survey, 71% of all app uninstalls are triggered by a push notification. Here are few factors to get push notifications right:
Make personalized and relevant to user.
Sending notifications in the engagement windows and at the local time zone of the user.
Send actionable notifications to drive engagement.
Don't send too many notifications in a short duration.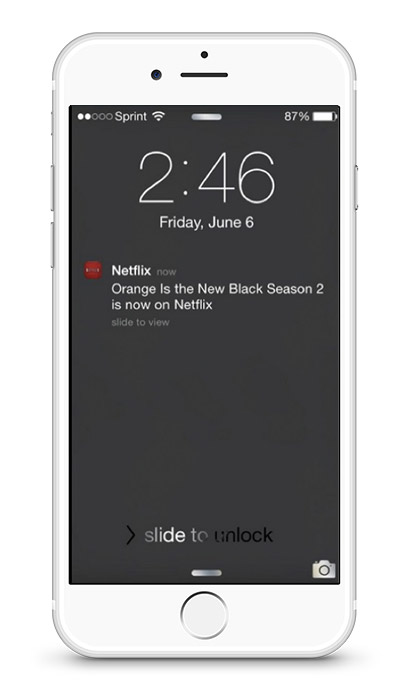 Image source
In conclusion:
As OTT becomes increasingly popular, more and more entertainment and media firms will develop their own app to engage with the viewers. While content remains the most important factor to ensure downloads of apps, UI/UX will play a decisive role in retaining viewers and engaging with them. Ensuring an easy navigation and personalized experience will be important to ensure the success of your app. With newer technologies, we will see innovative and intuitive apps coming in the market. And a simple and delightful UI/UX experience will remain the most important factor to continuously engage and retain users.
UX/UI design plays a key role when it comes to creating engaging and delightful products for consumers and we at Robosoft strive to create such digital solutions across industries. We are thrilled to be named as one of the Top User Experience Design Agencies of 2019 by Design Rush a leading listing platform for full-service agencies, web design companies, digital marketing firms & top technology companies. You can see more of our work here.