The entertainment industry has always been about human creativity, but Artificial Intelligence (AI) is poised to change the game. This introduction of AI signifies a crucial turning point, holding the potential to elevate conventional entertainment into a captivating amalgamation where human ingenuity harmonizes with machine intelligence, fostering a new era of creative collaboration.
AI's impact spans film, TV, OTT, music, and gaming, enhancing content creation, music composition, and gameplay for a captivating and collaborative future. Meeting the rising demand for curated and compelling experiences, AI is also helping to meet the increasing demand for curated and personalized experiences, making it easier for users to find the content they love.
According to the Business Research Company, the impact of AI in the entertainment market is expected to grow to $34.86 billion in 2027 at a CAGR of 26.3%. As AI continues to gain prominence in this sector, it has become a significant point of discussion among experts and enthusiasts.
This article delves into the impact of AI in entertainment and the application of AI in various verticals of entertainment and relevant real-world examples.
The impact of AI on the entertainment industry
AI in entertainment is rapidly transforming and benefiting the industry, impacting every aspect of the value chain, from content creation to distribution and marketing.
Content Creation
AI empowers companies to analyze extensive data and create tailor-made content for specific audiences.
For example, Netflix utilizes advanced machine learning algorithms to analyze viewing patterns and offer personalized content recommendations. Companies like Jukin Media and Storyful employ AI to identify potential viral content from user-generated submissions.
AI has also paved the way for innovative content forms, including virtual influencers and computer-generated actors.
Content Distribution
AI algorithms revolutionize content distribution, enabling companies to deliver their offerings to consumers efficiently.
Industry giants like Netflix and Amazon Prime rely on AI to optimize their content delivery networks, ensuring swift and uninterrupted access to content for users.
Consumer Experience
The integration of chatbots enables entertainment companies to offer prompt customer service and address frequently asked questions efficiently. Voice recognition technology allows users to control their entertainment experience hands-free.
AI-powered personal assistants, such as Amazon's Alexa and Google Assistant, seamlessly integrate into entertainment systems, enabling consumers to interact using voice commands.
Personalization
AI algorithms analyze user data to deliver tailor-made recommendations for movies, TV shows, and music, enhancing customer retention and fostering higher engagement levels.
The entertainment industry benefits from AI-generated content, such as music and scripts, which have gained popularity over time.
Production Efficiency
AI plays a pivotal role in streamlining production processes within the entertainment sector. Tasks such as video editing, voiceovers, and post-production activities can be automated using AI, effectively reducing time and resource expenditure.
Audience Analysis
Leveraging AI for audience behavior and feedback analysis yields valuable insights. Understanding audience preferences allows content creators to develop material that resonates with viewers, elevating the overall user experience.
Marketing Campaigns
AI's ability to interpret user data and track social media trends empowers entertainment companies to devise targeted marketing and promotion strategies. This targeted approach ensures reaching the right audiences and optimizing marketing return on investment (ROI).
Companies like Spotify leverage AI to analyze user data and curate personalized playlists, and companies like Amazon Prime and Netflix utilize AI to recommend content based on users' viewing and purchase histories.
Language Translation in video and audio content
AI is being used to translate video and audio content into multiple languages, breaking language barriers and making it more accessible to a global audience. AI-powered translation tools can quickly and accurately translate video and audio content, saving time and money for businesses. AI also creates more natural-sounding and immersive dubbing experiences in real-time.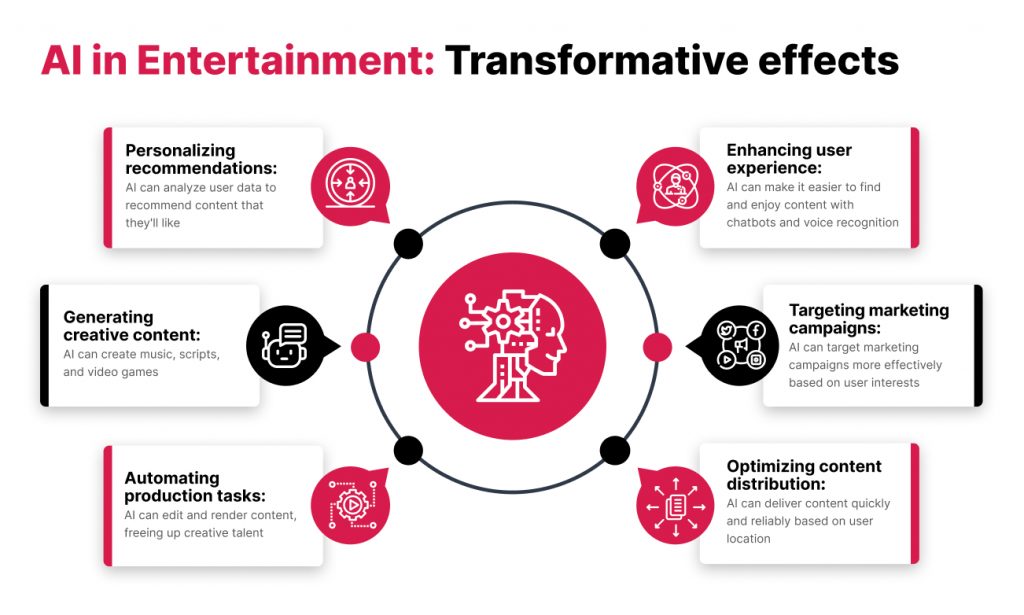 The transformative impact of AI in entertainment extends across the landscape, encompassing music, movies, TV, and gaming. As AI advances, its integration promises to redefine the industry creating new opportunities by revolutionizing content creation, consumer experiences, content distribution, and marketing strategies in these diverse and dynamic sectors.
The Impact of AI on the Music Industry
AI's integration with music has led to groundbreaking developments, including AI-generated music and personalized music recommendation systems, revolutionizing the music industry.
AI-generated music: AI-generated music employs sophisticated computer algorithms to produce music virtually indistinguishable from human compositions. This process entails machine learning algorithms analyzing extensive sets of existing music data and leveraging that knowledge to create entirely new musical pieces. The algorithms discern patterns within the data and utilize these patterns to generate novel music.
There are diverse approaches to AI-generated music. Some involve neural networks to analyze vast music datasets and utilize the acquired insights to produce contemporary music. Additionally, genetic algorithms are used, where a population of music compositions is created and then progressively evolved to refine and enhance the musical output.
For instance, An AI-generated song titled "Heart on My Sleeve," featuring the voices of Drake and The Weeknd, has gained significant popularity with over 250,000 Spotify streams and 10 million TikTok views. The musicians had no direct involvement, as the track was entirely produced by an AI artist named Ghostwriter.
Music recommendation systems: Music recommendation systems represent another remarkable application of AI in the music domain. These systems harness machine learning algorithms to analyze music-related data, enabling them to deliver personalized music suggestions based on users' listening history, preferences, and behavior.
By analyzing user data, including listening history, music preferences, and behavior, the music recommendation system constructs a unique profile for each user. This profile is then employed to generate tailored recommendations, considering factors such as genre, mood, artist, and tempo.
Spotify, for instance, uses a variety of factors to generate personalized music recommendations for its users, including listening history, genre preferences, and even the time of day. For instance, if you're listening to a lot of upbeat pop music in the morning, Spotify might recommend some dance music for you to listen to in the afternoon.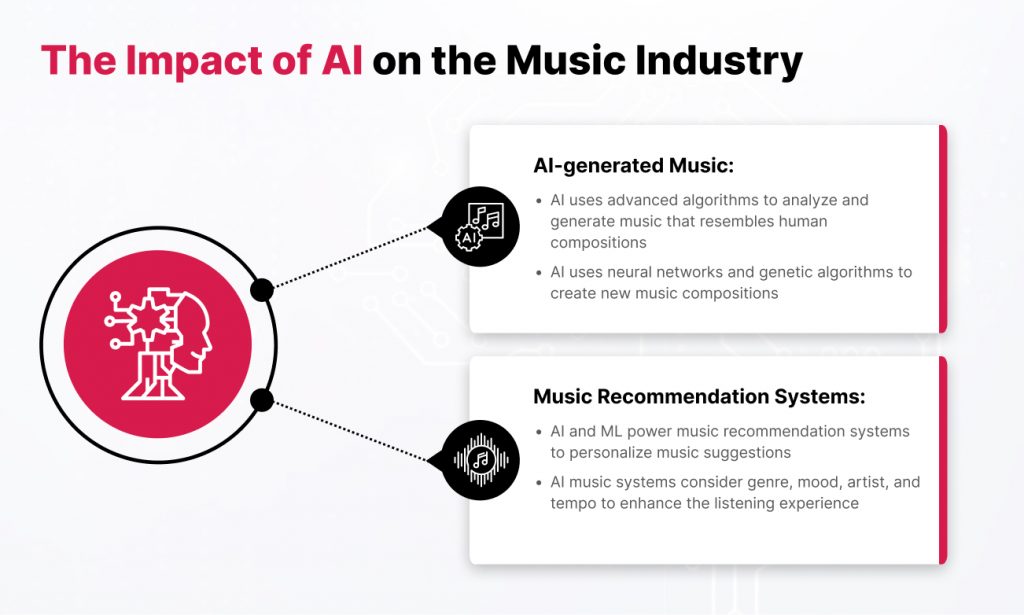 These AI-driven advancements in music technology are revolutionizing how we interact with and experience music, opening new possibilities for creators and listeners alike.
The Impact of AI on the Film and Television Industry
From content creation to post-production, AI is used to automate tasks, improve efficiency, and create more engaging and immersive experiences for audiences.
AI in Content Creation: Content creation, an essential phase in film and TV production, has witnessed significant advancements with the integration of AI. One prominent application is the development of scripts. AI algorithms analyze extensive datasets from existing films and television shows, identifying patterns that resonate with audiences. This analysis allows AI to predict what elements audiences are likely to enjoy, paving the way for creating tailored scripts that cater to specific target demographics.
Additionally, AI is vital in generating visual effects during content creation. AI algorithms can identify areas where visual effects can enhance scenes by analyzing video footage. These algorithms automatically generate the necessary visual effects, simplifying post-production and ensuring visually captivating content.
Deepfake technology (A type of AI) was used to de-age Harrison Ford in the opening sequences of "Indiana Jones and the Dial of Destiny". This allowed Ford to spend less time in makeup while still looking like his much younger self on screen. The results were so convincing that many people were fooled into thinking that the footage was actually old footage of Ford.
Robosoft Technologies developed a recommendation engine for Discovery+, a leading OTT platform in the global infotainment sector. The recommendation engine, powered by Adobe and Mux Analytics, understands user preferences and recommends content based on their viewing habits. This success highlights Robosoft's capabilities in delivering a high-quality and complete OTT solution for the world's leading media and entertainment brands.
AI in Post-Production: Moving to the post-production phase, AI continues to revolutionize the industry. Editing, a crucial part of post-production, benefits significantly from AI-powered automation. AI algorithms analyze video footage to identify areas for potential improvements in flow and pacing. Subsequently, the algorithms autonomously make the required edits, freeing up valuable time for editors to focus on more creative tasks.
Sound effects, another essential aspect of post-production, also benefit from AI integration. AI algorithms analyze video footage to pinpoint opportunities for enhancing scenes with sound effects. The algorithms automatically generate the required sound effects, saving time and resources while maintaining high-quality audio elements in the final production.
For example, "The Mandalorian" used AI to create realistic visual effects for the show's many action sequences. AI was also used to create realistic-looking creatures and environments. The AI-generated character of Baby Yoda has mainly become a fan favorite in the Star Wars franchise.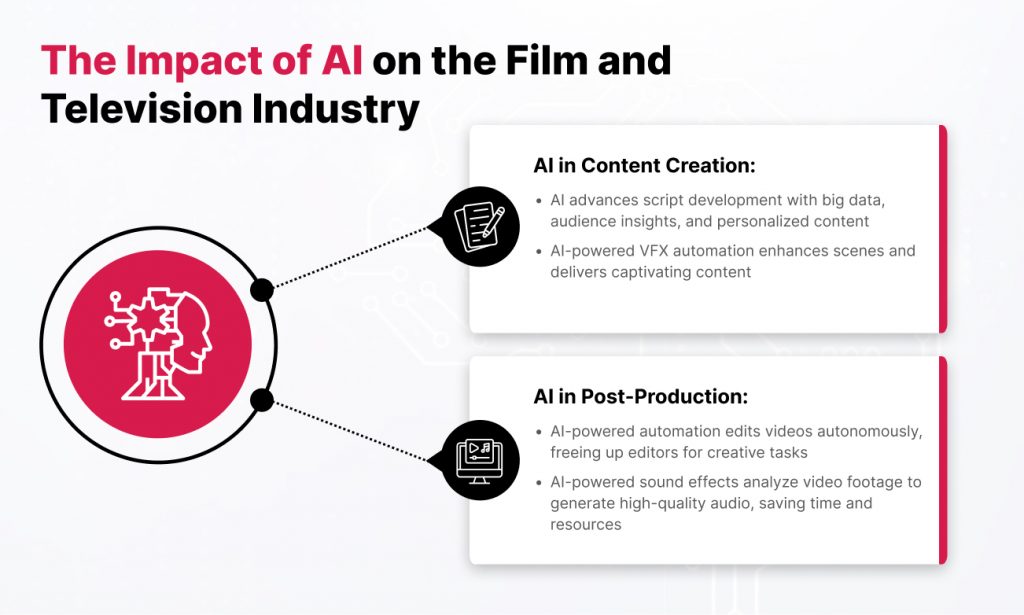 AI's integration in content creation and post-production has resulted in remarkable advancements for the entertainment industry, streamlining processes, predicting audience preferences, and delivering compelling content. Embracing AI technologies remains a strategic advantage for creators and producers seeking to elevate their filmmaking and video production endeavors.
The Impact of AI on the Gaming Industry
AI's growing popularity in gaming has introduced innovative possibilities in game design and game playing.
AI in Game Design: AI is revolutionizing game design through diverse applications. Among these, a prominent use is in crafting non-player characters (NPCs). By employing AI algorithms, game developers can create NPCs that exhibit more lifelike behaviors and offer increased challenges to players, enhancing the overall gameplay experience.
Furthermore, AI is instrumental in optimizing game mechanics. Through analyzing player behavior, AI algorithms identify areas where improvements can be implemented, creating more engaging and enjoyable games.
E.g., "Red Dead Redemption 2" utilizes advanced AI to enhance the creation of dynamic and immersive open-world environments. The game employs a sophisticated AI engine that replicates the behavior of animals, NPCs, and enemies based on their responses to the player's actions and the surrounding environment. As a result, the interactions feel more organic and lifelike.
AI in Game Playing: AI has also found significant utility in game playing. A primary application is designing AI opponents that present players with heightened difficulty and realism. Consequently, this contributes to an improved and immersive gameplay experience.
Moreover, AI is vital in generating procedural content, including dynamic levels, characters, and other in-game elements. This dynamic content generation helps maintain a sense of novelty and excitement for players, ensuring that the gameplay remains fresh and captivating.
E.g., in "The Sims 4", AI is employed to simulate the behavior of individual Sims, determining their interactions with other characters and their environment. Each Sim possesses distinctive needs, desires, and personalities, allowing players to craft personalized storylines and relationships. Essentially, AI serves as a catalyst for character behavior within the game's mechanics.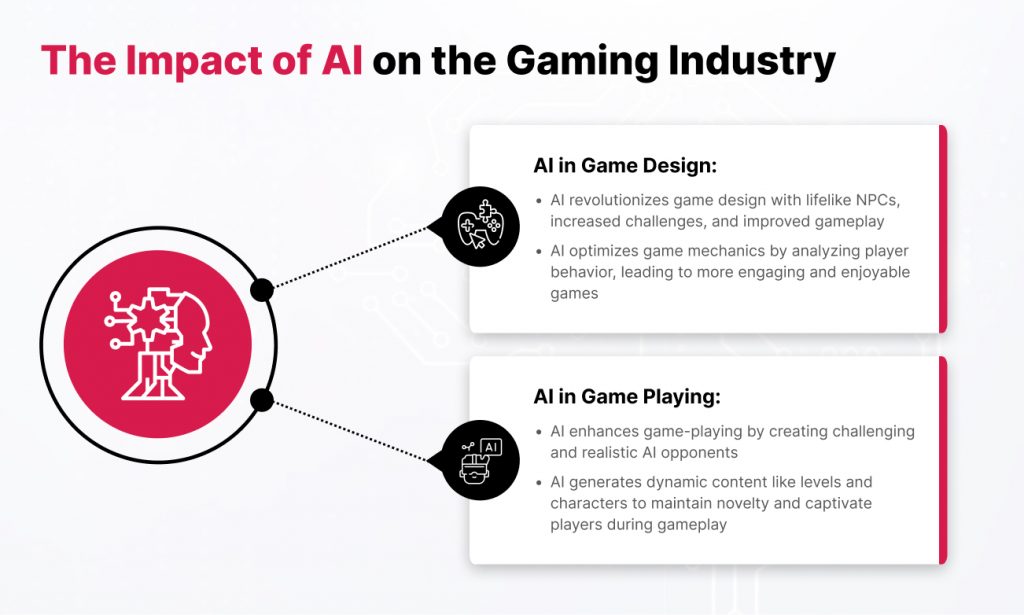 By strategically leveraging AI in game design and game playing, the gaming industry stands at the brink of unparalleled advancements, promising more immersive, challenging, and enjoyable experiences for players.
AI Revolutionizing AR and VR Experiences
Augmented Reality (AR) and Virtual Reality (VR) have emerged as rapidly growing industries, reshaping our digital experiences. The integration of AI in VR/AR holds immense potential to amplify immersion and engagement.
AI in AR/VR Content Creation
AI in Content Creation: AI is revolutionizing AR/VR content creation through diverse applications. One prominent use involves generating 3D models from 2D images or video footage, streamlining the process, and reducing costs associated with manual modeling.
Enhancing Interactions: Additionally, AI has facilitated the development of Natural Language Processing (NLP) algorithms that foster more natural and intuitive interactions between users and AR/VR content, elevating the overall immersive experience.
A good example of this is how Disney uses AI to create more realistic and immersive VR experiences for its theme parks. The company uses AI to generate photorealistic 3D models of its characters and attractions, which can be used to create virtual worlds visitors can explore.
Disney also uses AI to create more natural and intuitive interactions between users and AR/VR content. For instance, in its Star Wars: Galaxy's Edge VR experience, users can interact with the environment and characters using natural language commands. This makes the experience more immersive and engaging for users.
AI in AR/VR User Experience
AI in User Experience: In AR/VR user experience, AI plays a pivotal role in multiple ways. An integral application is the implementation of AI algorithms to analyze user data, providing personalized recommendations for AR/VR content tailored to individual interests.
Intelligent Agents: Moreover, AI-driven intelligent agents are deployed to establish seamless and natural interactions between users and AR/VR content, heightening engagement and immersion.
Netflix, for instance, uses AI to recommend movies and TV shows to its users. This same technology could recommend Augmented Reality (AR)/Virtual Reality (VR) content to users based on their interests, viewing history, and other factors. For instance, a user who has watched many action movies might be recommended a VR experience that allows them to fight zombies or explore a post-apocalyptic world.
Netflix also uses AI to power intelligent agents to help users interact with AR/VR content. E.g., an intelligent agent could allow a user to navigate a virtual world, provide information about the environment, or answer questions. This could help to make AR/VR experiences more immersive and user-friendly.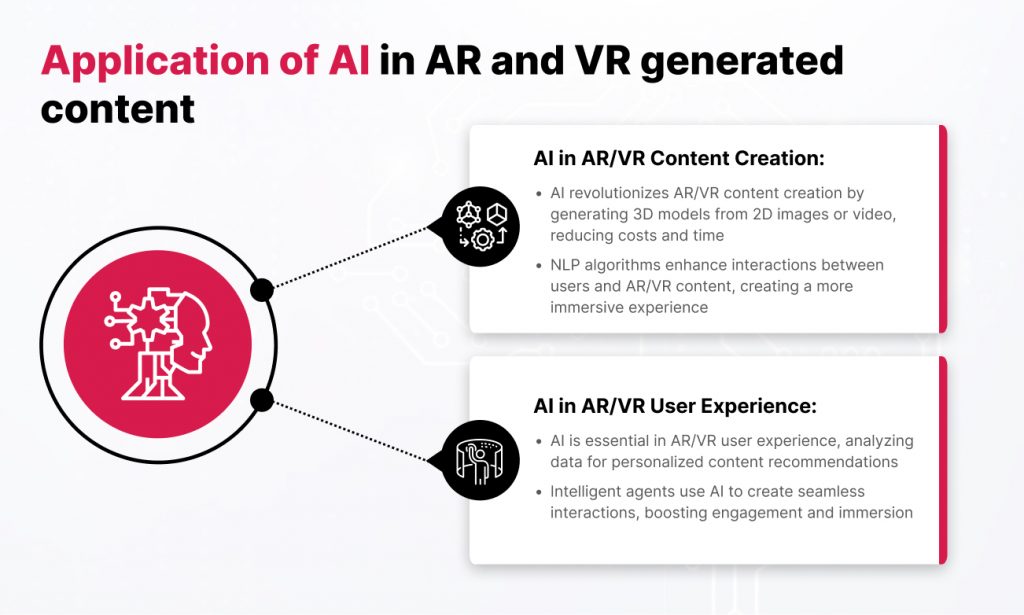 Integrating AI in AR/VR content creation and user experience is a game-changer. AI can optimize and personalize interactions, making AR/VR experiences more engaging and immersive. This has the potential to revolutionize the way we interact with digital content.
Conclusion
The entertainment industry is undergoing a profound transformation fueled by the integration of AI. AI has made significant strides in revolutionizing content creation, user experiences, and audience engagement across various sectors, such as music, movies, TV, OTT, gaming, and virtual reality.
From AI-generated music and personalized music recommendations to streamlining movie and TV production and enhancing gaming experiences, AI's integration promises captivating and immersive entertainment. Additionally, combining AI with AR/VR opens new frontiers, offering unprecedented levels of engagement and transforming our digital experiences.
The entertainment industry's future is bright, and AI plays a crucial role in shaping its trajectory. As AI advances and becomes even more integrated into various entertainment sectors, we can expect groundbreaking developments and continuous evolution of personalized and captivating experiences for audiences worldwide. This integration is a testament to the remarkable potential of technology to elevate human experiences and bring forth a new era of intelligent entertainment.