Taking a loan to pay for higher education is a common phenomenon in the US. But who would have imagined that due to food inflation, even essentials such as groceries will be considered for the 'Buy Now Pay Later' (BNPL) phenomenon? On Klarna, a leading player in this domain, more than 50% of the top 100 items bought on the app belong to grocery or household items.
As more younger consumers go online, they have been experimenting with alternative payments methods. The rise of smartphones and e-commerce, now integrated with social media platforms is among the top trends impacting online sales and payments. The creator economy too is fueling social commerce. Such trends have attracted a new demographic – the millennials and teenagers. Now wonder that Fintech players are crafting new solutions to meet this demand. Pre-paid cards and digital bank accounts for teenagers are meant to address this trend. Fampay, Junio in India and Revolut <18 in the UK are a few examples.
BNPL: 'credit' where due
Over the last couple of years, the BNPL trend also referred to as 'Pay in 4' model, is meant to address a market opportunity. The post-COVID scenario and inflation in many countries has made it even more attractive – especially for a demographic with limited income resources.
In a 2021 research in the US, it was found that 60% of those surveyed had used a BNPL service. The main incentive of course is the interest-free instalment option which reduces the spending pressure and provides an incentive for online purchases. Klarna, claims a 41% increase in order value and 30% increase in conversion through their BNPL solutions.
The adoption of BNPL is a worldwide phenomenon. According to research in 18 countries from YouGov, Indonesians made the highest proportion of purchases using a BNPL plan (27%) – almost double the global average of 15%.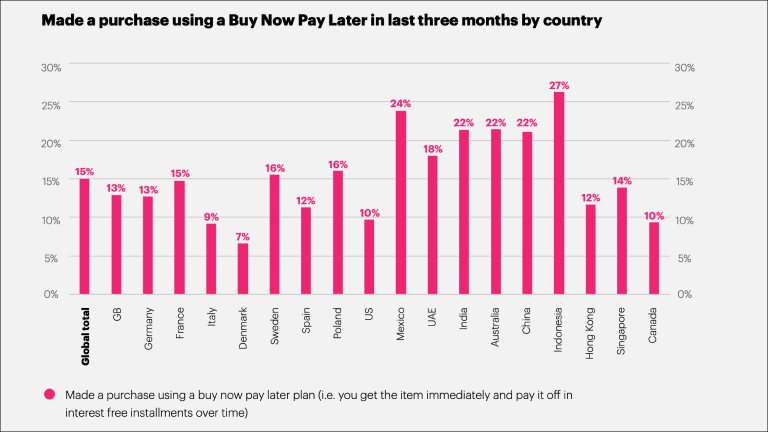 Source: YouGov
The same survey also mentions that in India, BNPL services grew a mind-boggling 637% in 2021. Naturally, such solutions are popular among the younger demographic. A whopping 75% of BNPL users in the US are Gen Z or millennials. Credit card penetration in India is still in single digits. BNPL was seen as the answer to a demographic which could be denied a credit card.
Fintech brands too were quick to spot the opportunity. In mid-2021 there were already 50+ companies offering 'Buy Now Pay Later' services across the world. The number is likely to have gone up in the ensuing period. In India, brands such as UNI have positioned themselves as a revolution in credit offering payment options in three or two instalments.
BNPL players are also tying up with large retailers such as Amazon, Macy's and Target – thereby gaining access to a large, ready customer base. Aside from the smooth user experience, some serious technology is at play behind BNPL experiences. Apparently, Affirm uses over 200 consumer data points for risk management, while its existing loan users improve its AI algorithm.
Some of the aspects BNPL pay attention to from tech POV are:
Infrastructure: The cloud infrastructure should help scale up operations easily, provide new products and services using on-demand computing. It should also safeguard consumer data and aid in maintaining regulatory compliance.
Risk Management: machine learning comes into play here in developing models for better risk identification and management, real-time credit score prediction, and payment management.
Security: BNPL players are expected to maintain the essential infrastructure in accordance with security standards. Major players such as Klarna collaborate with AWS's compliance and security assurance teams.
Analytics: The integration of data workflows should make it simple for data to be absorbed from a variety of structured (such as transaction and payment history) and unstructured sources (such as social media activity, credit bureaus, and spending behavior). Such information gives early warning signs of credit degradation during times of difficulty and assists in the creation of a 360-degree perspective of the consumer. The data analytics tools aid businesses in understanding the preferences of their customers and the performance of their own products.
Tech partners: to create better products and solutions, fintech companies merge or partner with services who add value. Block (formerly Square) acquired Afterpay a pure play BNPL company. To enhance its underwriting capabilities and speed up automated credit decision making, particularly to draw in millennials and Gen Zs, Klarna purchased the Italian payment business Moneymour. Additionally, Provenir, a provider of credit risk analytics, and Klarna have teamed up. Credit scoring, underwriting, and real-time decision-making at the point of sale are bundled as a result of their combined efforts.
So does all this point to a rosy future for BNPL? According to industry experts it may be prudent to exercise caution as regulators have taken steps affecting the business model of several players, in markets like India. What's driving such actions is the fear of triggering overspending leading to credit risk and worse still, poor financial discipline among a young audience.
Buy Now, Pain Later?
In June 2022, the Reserve Bank of India issued a circular banning non-banks from loading pre-paid instruments (PPIs) such as digital wallets or cards using credit lines. Several brands suspended their BNPL offerings following this development. According to Euromonitor:
The Financial Conduct Authority (FCA) in the UK has named the key risks the model holds for consumers and the wider credit market. These include, but are not limited to, the lack of information for consumers around the features of BNPL, the lack of consumer creditworthiness assessment, and the potential creation of over-indebtedness.
Nearly 70% of BNPL users admit to spending more than they would if they had to pay for everything upfront, according to LendingTree. What's more, 42% of them have made a late payment on them. While consumers maybe attracted by simple onboarding experience and ease of payment, the offline experience has not always been pretty in India. According to reports, lending apps have used unsavory methods to coerce users who have defaulted on payments.
These developments point to the industry being regulatory dependent in the near future and rightly so. What could be the broad contours of solutions for both end consumers and Fintech players? According to financial industry insiders, full-service banks seem to be better placed to make the most of the real demand for 'pay-over-time' services. Pure-play BNPL service providers may have to tweak their core offering based on the regulatory oversight in their home markets.
Trust, convenience and ease of use are three critical aspects of BNPL success. Traditional banks score better on trust – a critical factor in financial service products. According to YouGov study, only 36% in the 18-24 age group trust BNPL companies as compared to 61% in the same group for traditional banks.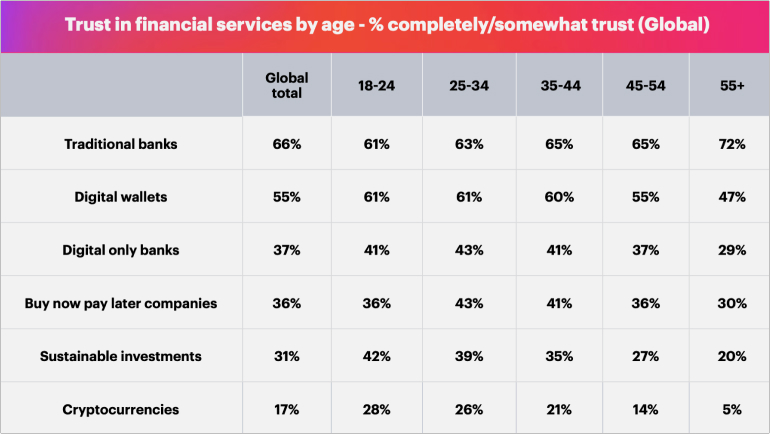 Source: YouGov
The implications for the ecosystem
There are several pointers for both end-consumers and the fintech ecosystem from this emerging trend.
Brands in the BNPL sector have a real obligation to educate users about financial prudence, especially to the younger demographic. It must be made clear to the end-user in every touch point that this is a loan and there are consequences for missed payments. Consumers must also be educated about the risk of over-spending and its fallouts. This is important as a key metric for BNPL players is the re-use of a service. According to PayPal 70% of their customers use the service within six months of first use. In the US, as BNPL is offered at more merchants the older demographic too is coming into the fold. So, it's not just the Gen Z's and millennials who will be target audience in the future.
For brands, convenience could translate to ubiquitous acceptance across online portals and POS at physical locations. Clubbing all BNPL payments with one brand would also make it easy to manage for the end user. Ease-of-use comes into play with respect to the app experience. The onboarding should strike a balance between being friction-free and conveying the details of the financial terms in a transparent manner, especially the repayment schedule and penalties for delay.
In sum, BNPL is a useful and convenient product feature especially for those with limited leeway in upfront spending capacity. But industry growth aided by great digital experience will depend on regulatory constraints and educating the consumer about the need for financial prudence.