Digital transformation or DX can be defined as bringing cultural, organizational, and operational changes in the organization, and across entire ecosystem through digital technologies, processes, and competencies across all function levels.
Over the past few years, Japanese companies have been focusing on digital transformation and modernizing their businesses to accelerate their growth. Pandemic gave an opportunity to further accelerate the transformation for the organizations.
Current scenario: Digital Transformation is serious business
Not just businesses, but even the Government of Japan is showing a keen interest in digital transformation and sees that as an opportunity to drive up productivity and build a stronger nation. They have set up an ambitious plan called Society 5.0 which is defined as 'a human-cantered society that balances economic advancement with the resolution of social problems by a system that highly integrates cyberspace and physical space'. In order to meet this objective they aim to integrate cyberspace & physical space, use technologies such as AI, IoT and Robotics.
However, certain structural challenges such as the ageing population and increasing skills gaps have hindered their digital transformation efforts. According to IMD's Digital Competitiveness metric 2021, digital talent in Japan is just 1% of its entire workforce and the country ranks 28 in digital and global competitiveness. Further delays in digital transformation could jeopardize their position as the third-largest economy.
Improvement in workforce productivity especially in the areas of digital experiences has been a challenge for several years. Japan has a digital workforce productivity of 7.6 as compared to US which is at 13.3.
I have lived and worked in Japan for almost a decade and my areas of expertise span across IT Consulting, large-scale Digital Transformations, bootstrapping IT setup and scaling it across organizations to drive business growth. Based on my interactions with business and technology stakeholders across leading organizations in Japan, I would like to explain how this problem can be tackled efficiently.
Challenge #1: Understanding the "WHY" part of transformation
McKinsey's recent report on Transformation Change says that only 16% of digital transformations are successful. Lack of clear strategy could be one of the reasons for such a low rate. The ideal approach would be to start with a clear strategy. Start with knowing the 'why'. For example, ask yourself why is digital transformation necessary? Will it increase the revenue or decrease the overall OPEX? Knowing the answer to the 'why' will give you a head start to a smooth and successful implementation. It is important to involve the Business & IT Strategy teams. The business strategy is the outcome that the company plans to achieve through transformation. The IT strategy involves the technologies that will be used to make the transformation successful.
Actionable tips
Build business-IT alignment and consensus. Research shows that better IT and business team alignment can improve operational efficiency by 58% and customer experience by 54%.
While both Business & IT teams find ways to build the consensus, IT teams can take the lead in explaining the values it can generate for the business. Visualization, road shows can help to solve this problem. They should be able to explain how the changes can help the business unit improve its productivity or enhance performance.
Seek help from a technology partner company to help you sharpen your technology strategy. This could be the best chance to overhaul your complete enterprise architecture as well.
Challenge #2: Resistance to change
Willingness to change is an important factor contributing to the success of Digital Transformation. Change in the mindset is very much required to improve the adoption of Digital Principles in running the IT of organizations.
According to McKinsey's research, two out of three Japanese managers feel they are not fully prepared to undertake digital transformation projects. There's also the fear of failure, as only 16% of projects in Japan have been successful. Getting executive and stakeholder buy-in is vital to greenlight the project with adequate budget and resource allocation.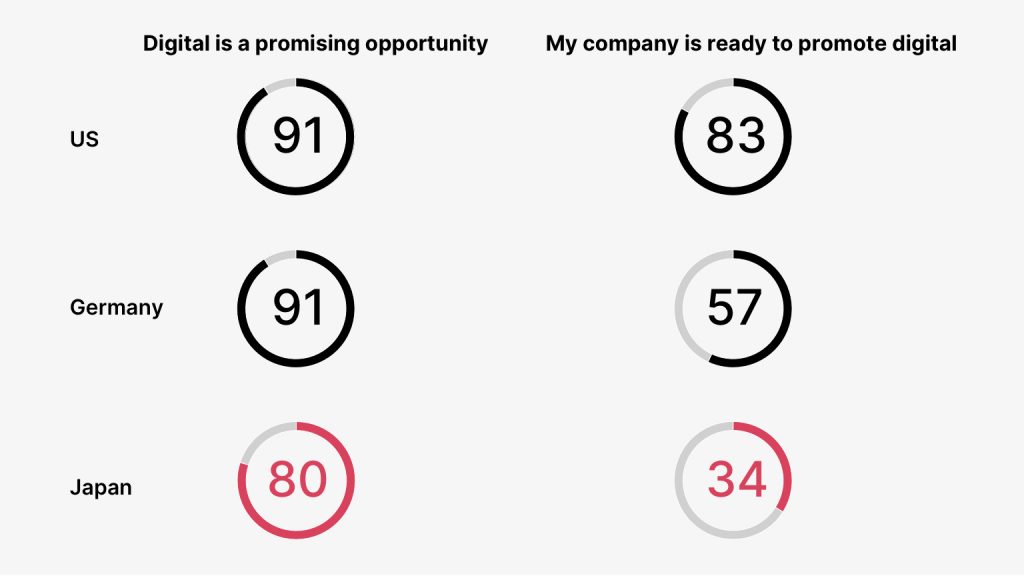 Actionable tips
Stakeholder buy-in and continuous engagement is of paramount importance.
Organizational Change Management practices must be followed and a Change Manager must be appointed.
Take help from technology partner companies to develop a proof of concept (POC) or proof of technology (POT)
Robosoft, for instance, does lighthouse projects to build POCs and POTs. We pick up small-scope projects that can be completed within weeks and collaborate closely with the customer teams. We demonstrate the outcome, show that as quick wins, conduct demos and help to win the confidence of stake holders. We observed this helps the customers to overcome the fear of failure, encourage them to adopt technologies and set their foot in right direction.
Challenge #3: Increasing skills gap
Call it a symptom of ageing demography or the dynamic nature of technologies that change quickly, Japan has a shortage of skilled resources. 68% of Japanese companies cited human resources shortage as a challenge. The reports showed that the country has a massive shortage of artificial intelligence and data analytics specialists and a major factor for this problem is the lack of funding and support on new investments in digital areas. Cloud Engineering, Artificial Intelligence, Analytics is expected to grow to 15.6 million and it is high time for the Japanese Organizations to catch up with this speed.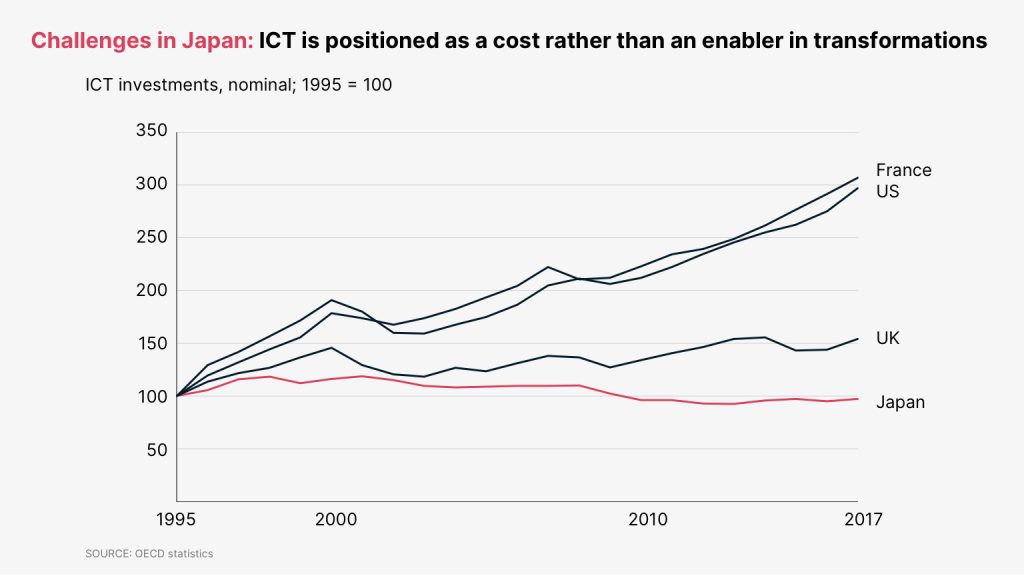 Actionable tips
Ongoing wave of digital disruptions requires multitude of roles within the organizations. They must re-organize their IT teams and fill key roles such as Product Managers, Product Owners, Scrum Masters, Change Managers, Enterprise Architect, Data Analysts etc. Companies must understand the typical roles they would need to keep it in house and start hiring for the same
Organizations traditional thought process to outsourcing – While the organization is building its own team, it is also equally important to start identifying outsourcing partner with whom the internal teams can work and gain exposure.
Do not ignore your internal team of experts. The external partner brings global and technical expertise and experience. But the internal teams know the business processes and systems of the company well. They represent the company and know what they want. They act as a support function and subject matter expert to the external technology partner. Always take a hybrid approach wherever possible.
Challenge #4: Lack of meaningful relationships with external technology partners
Traditionally, Japanese companies rely heavily on external partner companies for system integration and other tasks that are ideally done by the in-house teams. However, most of these external partner companies have a tough time understanding the business needs and have limited ability to perform a full-scale digital transformation. It is important to evaluate the technical partner on multiple fronts before you select the right partner.
Actionable tips
What the CXOs expect in their partner companies before choosing one and why Robosoft can be the preferred choice.
Global expertise is a must have for partner companies. Working with multiple global organizations ensures understanding of a wider spectrum of business and solutions.
Working with larger organizations helps to clearly demonstrate best practices, do's and don'ts of DX and get unbiased advice.
Time to market is always a critical factor. Technology Partner to have readily available and skilled talent pool.
Quality always matters. The availability of Subject Matter Experts in the domain and a strong Technical Team is imperative.
Ability to work as a trusted partner understanding the larger picture of business and to provide proactive solutions.
Challenge #5: Choice overload
There are hundreds of service vendors each in SaaS, PaaS, XaaS, pure play services IT play. Do you know that there are over 360 vendors for PaaS offerings alone? Companies are spoiled for choices. They can choose from an array of technology options and service providers. While this is good, so many choices can overwhelm you. CXOs often get caught up in the decision-making process.
Actionable tips
Find a partner who can work at all 3 levels of an organization: Executive, Business and Project". At Robosoft we aim to build deep relationships at level to align ourselves with the vision & mission, business goals of the organizations. Further, we help to narrow down the choices so you can make the right decision. Here's how we do it for our clients.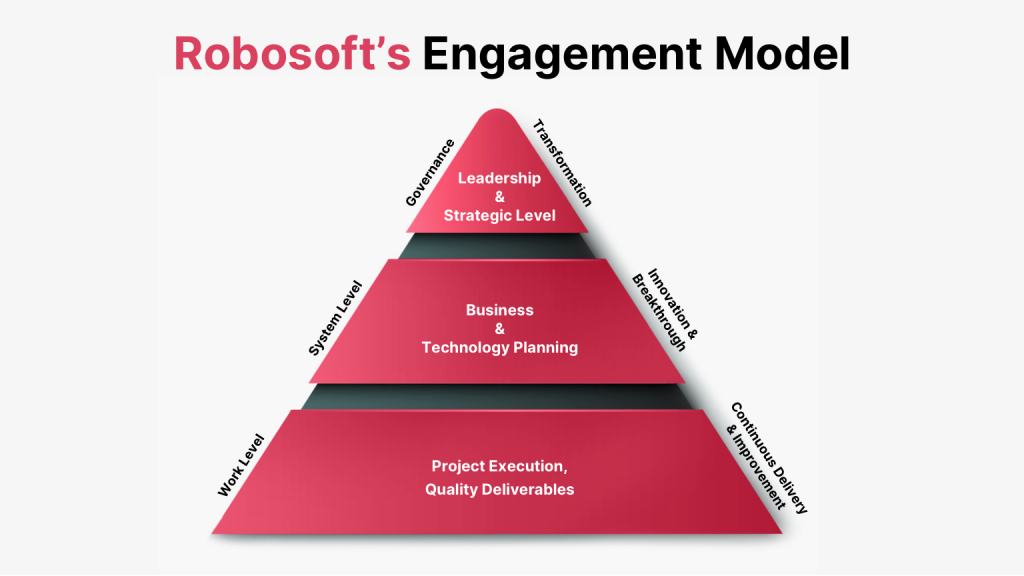 Enterprises want to make impactful strides in terms of scalable digital transformation and the Government of Japan is also pushing them to make efforts to deliver results. Despite the challenges organizations are well poised to take the next big leap. The right technology partner can accelerate your digital transformation project and help you realize its full potential.