Crafting digital experiences that delight your consumers and drive business growth is an on-going journey that keeps evolving with the changing customer expectations, ever-transforming business environment, technological innovations, and much more.
What is considered as an innovation at a point in time becomes a norm sooner than we realize.
For instance, in 2011 Google Wallet was introduced and today almost every smartphone owner uses a payments app. In less than a decade Instagram has changed the norms of social sharing. Uber launched in 2010, has become a necessity for most of us today. Slack, a messaging app for enterprises launched in 2013, has become an essential component of how employees communicate. Such examples are plenty.
In a post COVID world, the pace in which the business landscape and consumers' needs & expectations have changed has accelerated by leaps and bounds. It has changed the basic fabric of human behavior at a speed and at a scale that has never been witnessed before.
According to a recent report from Accenture, in this new post COVID world, the need for tools and techniques that can help understand the science of behavior and enable enterprises to monitor, collect data and analyze the changing consumer behavior will become foundational to experience creation. Most importantly, the speed at which companies respond to these changes will become a critical factor for competitive advantage.
Furthermore, businesses will have to progress from creating omnichannel experiences to delivering multi-experiences i.e. going beyond being merely present in various platforms to creating a consistent and seamless experience across all devices and platforms.
In fact, according to Gartner, by 2023, more than 25% of mobile apps, progressive web apps, and conversational apps at large enterprises will be built and/or run through a multi-experience platform.
Delivering such experiences will need continuously inventing and re-inventing the existing digital solutions. It will require people, processes, and technologies across an organization, working in complete harmony with each other. Many organizations understand this and have progressed towards making digital transformation a priority. According to a study, 84% of enterprises believe that digital transformation is crucial. However, just 3% of these have a company-wide digital transformation plan ready. But this scenario will have to rapidly change as COVID -19 has dramatically accelerated the pace of evolution of customer needs. Businesses understand that 'now' is the time for them to speed-up and accelerate digital transformation not just for customer engagement but also for internal processes.
The kind of digital experiences that an organization creates also depends on their digital maturity. Every organization is at a different stage of digital maturity depending on its priorities and customer needs. An e-commerce enterprise is bound to be more digitally matured than a brick and mortar retail store.
While most digitally matured organizations have a well defined digital strategy, enterprises that are just starting their journey might lack that prudence.
It is critical for enterprises to know where they lie in terms of digital maturity to create a digital roadmap for the future. It can be difficult for enterprises to embark on this journey on their own, this is where the right digital partner who can understand, complement, and augment an organization's digital maturity level becomes important.
There are various challenges that organizations might face while developing innovative digital solutions, and a digital partner can help them address these:
Visualize, mobilize, and realize your digital transformation strategy with the right digital partner
Choosing the right digital partner can help organizations visualize, mobilize, and realize their digital transformation strategy and hence enable them in delivering sophisticated digital experiences. To elaborate, the right digital partner can enable enterprises to:
Visualize Digital Future – enable your business to think ahead and create digital solutions for the future
Mobilize Enterprise Disruption – define the strategic change agenda for your business that will deliver measurable outcomes
Realize Smart Results – build rigor in the system to ensure that strategy delivers results
A well thought through digital partnership can help businesses in:

Revenue growth and build newer revenue streams – increase the top line
Optimizing costs – increasing the bottom line by reducing resource costs, infrastructure costs, admin costs, operational costs, and so on.
Ensuring compliance with all relevant governance, risk and compliance norms
Digital Innovation – creating new products and services or augmenting existing products for competitive advantage.
Acquiring, retaining, and engaging with customers with delightful digital experiences.
Choosing the right digital partner – key factors that can help you hit the bull's eye
Crafting end-to-end digital experiences has become critical for enterprises to drive competitive advantage and ensure business growth. In fact, according to this Forbes article, by 2020, CX will be even more important than price or product quality in differentiating one brand from another. Therefore, the need to choose the right digital partner can't be emphasized enough.
Here are key factors organizations should keep in mind while choosing the right digital partner: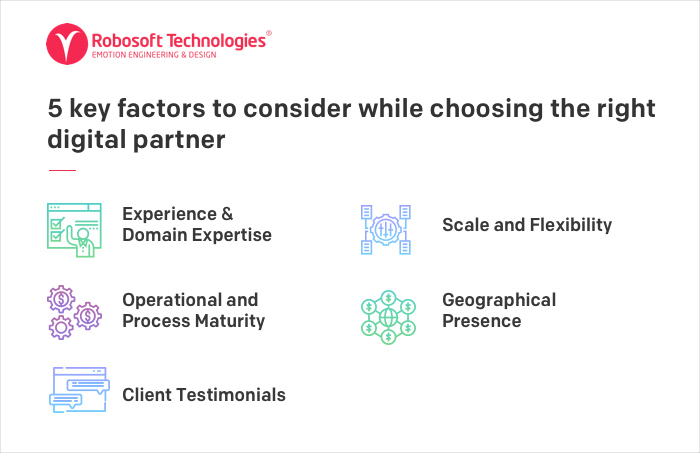 Experience and Expertise
According to Forrester, to accelerate digital transformation it is important to pick partners that understand transformation. What this means is, it is important to find a partner with the right set of capabilities to compliment your own team and with the kinds of technology tools, you can put to use immediately.
The best scenario will be, having a digital partner who can offer end-to-end digital services including advisory, design, engineering, and analytics. Such a partner will help enterprises realize and deliver digital experiences for the present, but also enable them to be future-ready.
Here are a couple of things that are key indicators to measure the right indicators of expertise of a digital partner:
Experience: The years of experience in the industry, more importantly, their experience in the domain of your business.
Scale and variety of digital projects: The scale and variety of digital projects executed across the globe. While a digital partner might have excellent experience in creating mobile apps, they might lack the expertise in creating digital solutions using emerging technologies or scale your product. Hence, it becomes important to work with partners who can augment your digital solutions and create experiences for the future.
Clientele: The list of their top clients and more importantly the kind of organizations they have worked with, in your respective domain.
Leadership: Any team is as good as their leader, hence it becomes important that your digital partner has a strong leadership team with an in-depth understanding and experience in creating digital solutions. It is critical that the leadership team is able to leverage their rich experience to guide the teams but also work with you to improvise on your digital solutions and deliver results.
Scale and Flexibility:
There are innumerable digital agencies or enterprises across the globe. But an important factor to consider while making the decision to choose a digital partner is their scale and flexibility. If your digital projects are large scale, you will need a partner who can match and manage that scale, whereas for an SME or a start-up it is important to choose a partner who will have the flexibility to quickly scale up or scale down on the projects depending upon the requirements.
Some of the key factors to consider while measuring the scale and flexibility of a digital partner are:
The scale of digital solutions executed and the size of enterprises that they have partnered with.
The kind of technological capabilities they have across all the services – Advisory, Design, Engineering, and Analytics.
The structure of the organization, the structure of their project team, and its capability to scale-up or scale-down the team size depending on the project requirements.
The kind of expertise and the composition of their team mix – for instance, the skills the team possesses in front-end and back-end digital technologies availability of experts in cloud and software deployment, etc.
Operational and process maturity
Given the pace at which digital technologies and consumer expectations evolve, speed, agility, and adaptability have become highly-prized attributes for any organization. Hence it becomes critical for enterprises to choose a partner that has digitally mature capabilities and processes in place. From requirement analysis to delivery of the project the kind of processes the digital partner brings on the table is a factor to assess while making a decision.
Here are some key points that you should consider to assess your digital partners' operational/process maturity:
1. The kind of practices and methodologies used across the delivery cycle. Some of the factors in this context can be:
Do they offer full-lifecycle digital product development?
The level of expertise they demonstrate across CI/CD, DevOps, Automated Testing, etc.
The processes and procedures to perform quality assurance.
How they can accelerate your go-to-market strategy. For e.g. Do they have microservices compliant digital middleware to fast-track launch?
Data Points that can help you analyze their Sprint Velocity.
How they can help you drive customer acquisition and retention goals of your organization.
What are the Service Level Agreements (SLAs) to upkeep applications?
2. What are the value-added services that they offer beyond the stated requirements of your project? – digital advisory services, workshops to chart out a product road map, design thinking capabilities can be some examples of such services.
3. Risk mitigation plan – a prudent digital partner knows that any process always has some scope or error, hence they keep their strategies in place to deal with any issues that might occur during the project. Various risk factors can be – control risk, organizational risk, performance risk, and security risk.
Geographical presence
It is important to keep in mind the geographical presence of the digital partner you are working with and how they plan to augment the capabilities of your team beyond the constraints of geographies. An effective digital partner will work with various teams and models and ensure effective communication is in place and deliverables are met irrespective of geography and time zones. A digital partner with a global presence with onsite and offshore teams can help in delivering cost advantage through a hybrid model of working.
Client testimonials
There is no better way to analyze your digital partner's capability than to hear it 'straight from the horse's mouth'. Client reviews and testimonials are an important factor to understand the work, capabilities, and authenticity of the work they showcase in their corporate portfolios.
In Conclusion
As we move towards a world where creating multi experiences will become the new reality, crafting digital experiences will require understanding the consumers' needs and pain points, harnessing the right technologies and platforms to optimize business models, operational efficiency, and more. And, this will be a continuous process where organizations will have to catch-up and deliver according to the pace of change of customer needs and evolving business challenges. The right digital experiences partner can help your organization navigate through this journey by integrating people, processes & technologies to create unified & positive customer experiences.
Download the summary of the checklist to choose the right digital partner here.
To understand how Robosoft can partner with you to create digital solutions for your organization and for information on our capabilities and services, you can write to me at [email protected]