The ongoing global crisis arising out of the COVID-19 pandemic has taken its toll in many ways – thousands of lives have been lost and the world has been disrupted like never before. Enterprises have been forced to adapt to new ways of functioning and employees are also discovering the pressures of working under severe constraints. Several industries like travel, traditional retail, hotels, MICE (meetings, incentives, conferencing, exhibitions) and more are affected adversely. The United Nations Conference on Trade and Development says the world economy will go into recession this year with a predicted loss of global income in trillions of dollars.
Clearly we are heading into an age of uncertainty on many fronts. Even after the COVID-19 crisis is over, which I hope is sooner than later, the impact of the crisis on our mindset and behaviour will be long lasting. In the coming months, focusing on customer experience be even more critical for enterprises.
Empathy: the need now – more than ever
Over the last few years, experience with digital channel reveals how critical understanding user behaviour has become. Consumers have faced anxiety over e-commerce deliveries, availability of products on retail shelves, health care services and more. In many parts of the world, consumers have become more frugal towards spending. Such behavioural changes will have an impact even after the crisis. It is critical for enterprises to gauge consumer mood by displaying empathy – a key trait of the Design Thinking process. How does it feel to be in the shoes of a restaurant goer or an airline traveller when such services resume? What will be their pain points and how can enterprises address them?
Remote-working is also expected to change the way we work in the near future. Lack of shared physical space and human interaction while working from home has its downsides too. Digital-only interactions in a non-working environment where distractions are possible can lead to poor attention spans and even create mistrust (as not all activities are monitored physically). Such subtle mindset changes can affect collaborative environments later. As work & personal life can get overlap while working from home, employees are conscious of the need to demarcate them and find time for personal hobbies like reading. When they get back to things as they were, they may resent it if work eats into their personal life.
On social media we see posts about how the lockdowns have triggered behavioural change. Binge watching streaming services, playing more games on the mobile phone or a digital detox through voracious reading, pursuing of hobbies like singing or playing musical instruments are some of the ways in which people are coping with the change. It remains to be seen how 'back to normal' will affect mindsets and behaviours.
The impact on key domains and CX
Fintech: the crisis triggered by COVID-19 had a big impact on share markets and thus, investors. It is a grim reminder of unpredictable nature of our lives which in is likely to impact those who interact with banks & fintech products through digital products. They might seek more transparency and re-assurance from fintech brand with regards to their money being safe.
Travel, hospitality & tourism: many countries have banned domestic flights, trains and buses. Brands in the industry face a huge decline in revenues. When lockdowns are lifted and the industry is open for business, brands may need to provide incentives for consumers to travel without fear. Consumers may have planned for trips which may have led to cancellation. Creative incentive schemes to defer their plans and not cancel them may have to be devised and communicated. Hotels may have to stress upon hygiene factors to reassure guests. The booking experience and notifications may have to thought afresh given the above.
Healthcare & wellness: tele-medicine is being adopted aggressively by hospitals for doctor consultation in the age of social distancing. Phone, text and video consultation is already available on apps such as MDLive, Lemonaid in the US and DocsApp in India have made the concept familiar to many. But as many new patients come into this fold, especially the senior citizens, they may need to be educated on how to use the platform well. This will have an impact on on-boarding, walk-throughs and the user interface of the app itself. Mental wellness has also gained focus as people struggle to cope up with the stress of possible health issues, isolation and fear of job loss. In the months to come, consumers may have to be encouraged to continue with the habit of using apps & other digital experiences to help calm nerves down.
E-commerce and Supply Chain: As the world increasingly adopts to shopping, food & grocery delivery through native apps, the impact is not just on robust engineering which can take on huge surges in demand but also on intelligent, empathetic UI and a whole new opportunity in communication.
"While it was said that the 3 most important criteria for success in traditional retail were 'location, location and location' in the era of social distancing, it could very well be 'supply chain, supply chain and supply chain".
Supply Chain and its impact on customer experience will play a big role in the days to come. Enterprises would need to set up systems which can provide real-time actionable insights, analytics and reports, all through a single, intuitive dashboard. Emerging technologies such as Artificial Intelligence will play a role in demand forecasting, production planning and order fulfilment – which eventually matters most to the end consumer.
Industries such as entertainment, OTT will also be well advised to adopt design thinking practices to understand the evolving consumer needs and tailor-make a customer experience.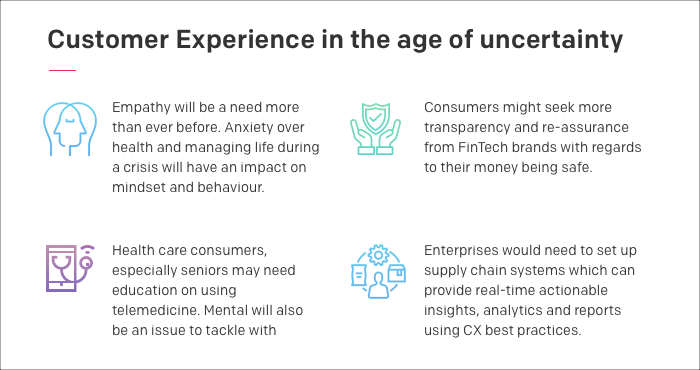 Digital experiences as a competitive edge
Digital channels, over the last few years, have overcome the trust deficit and emerged as secure and reliable way of transacting. The ongoing global crisis arising out of the COVID-19 pandemic has got industries to lean further on these channels. Social distancing norms has dented approaches that depended on person-to-person interactions and necessitated leanings towards digital. And the race to acquire more customers via this channel and to subsequently, retain them, is on.
At the same time consumers are getting choosy and lack patience. Loyalty is becoming difficult to earn. Self-discovery is emerging as a clear preference among the millennials. Hence, providing superior experience which hand holds consumers to achieve precisely their intended purpose quickly, in the simplest manner, is becoming the keystone of the digital journey.
Clearly we are heading into an age of uncertainty on many fronts. Even after the COVID-19 crisis is over, which I hope is sooner than later, the impact of the crisis on the economy how we interact with stakeholders will be long lasting. In the coming months, focusing on customer experience will be even more critical for enterprises.
The current times call for brands to shift focus from individual transactions to building customer relationships grounded in empathy, collaboration,transparency, trust, and care. With the world inclining towards digital, enterprises across industries need to rethink their digital strategies that can have a profound impact on the customer experience. Acknowledging changing customer behaviours and being able to ease their fears, instil confidence by prioritizing customer experiences that are embedded in empathy is the way forward.
Such scenarios across diverse industries presents unique challenges in understanding consumer mindset and how it affects their interactions and behaviour toward brands. Enterprises may well be advised to invest more in design thinking processes in the coming months. While none of us can predict what the world beyond COVID-19 is going to look like, customer experience will clearly be one of the key differentiators for brands looking to garner customer loyalty.