The EdTech industry was a darling of the investment community even before the break of the COVID-19 pandemic. According to EdSurge, investment in US EdTech companies reached $1.66 billion across 105 deals in 2019, a five-year high in value. Interestingly, eight of the top deals went to companies that offer educational services to employers and employees, typically focused on training.
Developing nations such as India too saw a surge in adoption of EdTech and are home to unicorns such as BYJU'S and several other big players such as Vedantu and Toppr, among others. A few years ago, we at Robosoft had developed the Meritnation app – through which study material for classes 6th to 12th for various school boards could be accessed. We also partnered with Room to Read, a leading non-profit organization based in California, to create an interactive & feature-rich digital platform to foster a reading habit among children.
Over the past few years, consumer-focused online education platforms such as Coursera, Unacademy, Simplilearn and Udemy have seen a surge in adoption, primarily for vocational learning. Educational institutions had also invested in their own virtual learning platforms in the recent past. SP Jain School of Global Management's Engaged Learning Online (ELO), launched in 2018 aimed to offer classroom-like interactive learning to MBA students across the globe. Harvard and Oxford have their own platforms in HBX and Hive respectively. NYU uses a multitude of interactive video and audio tools like NYU stream which is a media sharing platform for the NYU Community that allows NYU instructors to upload and share videos with students.
2020: when EdTech was disrupted
The COVID-19 pandemic upended the entire industry in ways they could not have imagined. Traditional product roadmaps were rendered defunct as the industry had to deal with an unprecedented demand, unique consumer requirements thus forcing them to adapt or implement changes quickly. Canvas, a learning management system prioritized backend engineering efforts so that the site stayed up amid a huge spike in traffic. They also strengthened video conferencing integrations as consumers turned to such features during periods of remote learning and working. Changes such as optimizing the user experience on mobile devices (the primary access device for many) and adapting to different paces of learning – asynchronous or live lessons, were also implemented.
Consumer-facing video conferencing solutions such as Zoom, Microsoft Teams and Google Meet (among others) have gained in popularity for such needs beyond just communications. Schools and colleges are also investing in bespoke interfaces and video communication solutions.
The digital experience – be it on the browser, native mobile app on a phone or tablet has become crucial in such a scenario. As with all customer experiences in digital, it all starts with following the basic tenets of Design Thinking – empathy for user's needs. The user in this case can be digital natives such as students or 'digital migrants' such as teachers or parents.
Aside from educational institutions, enterprises too had to resort to remote ways of working. According to a recent McKinsey report, organizations are using digital learning to increase collaboration among teams that are working either remotely or across different time zones.

While video conferences became the norm, they had to find new ways to continue the process of onboarding and training without face-to-face meetings. Video streaming in real-time or access through a catalog has become the go-to mode to meet such objectives. This in turn is likely to have a huge impact on Learning Management Solutions (LMS) in the months to come.
Video content management & experience: the key to LMS across domains
The mobile phone, specifically video calling, was not just a device to connect people but solve business problems – way before the era of remote everything. We created a video chat based claim survey for a leading insurance provider in India, making it possible for them to assess claims in real-time and thus reduce turnaround times. Consumers are also attuned to video consumption over OTT services during the extended lockdown periods.
As enterprises continue to adopt technologies for remote learning and collaboration for employees, technology companies are amending their features and support. In the years to come, effective use of Machine Learning and Artificial Intelligence, VR, adaptive learning approaches, gamification will increase in LMS.
However, video is set to play a critical role in Learning Management Solutions across industries in the months & years to come. Here are a few use cases: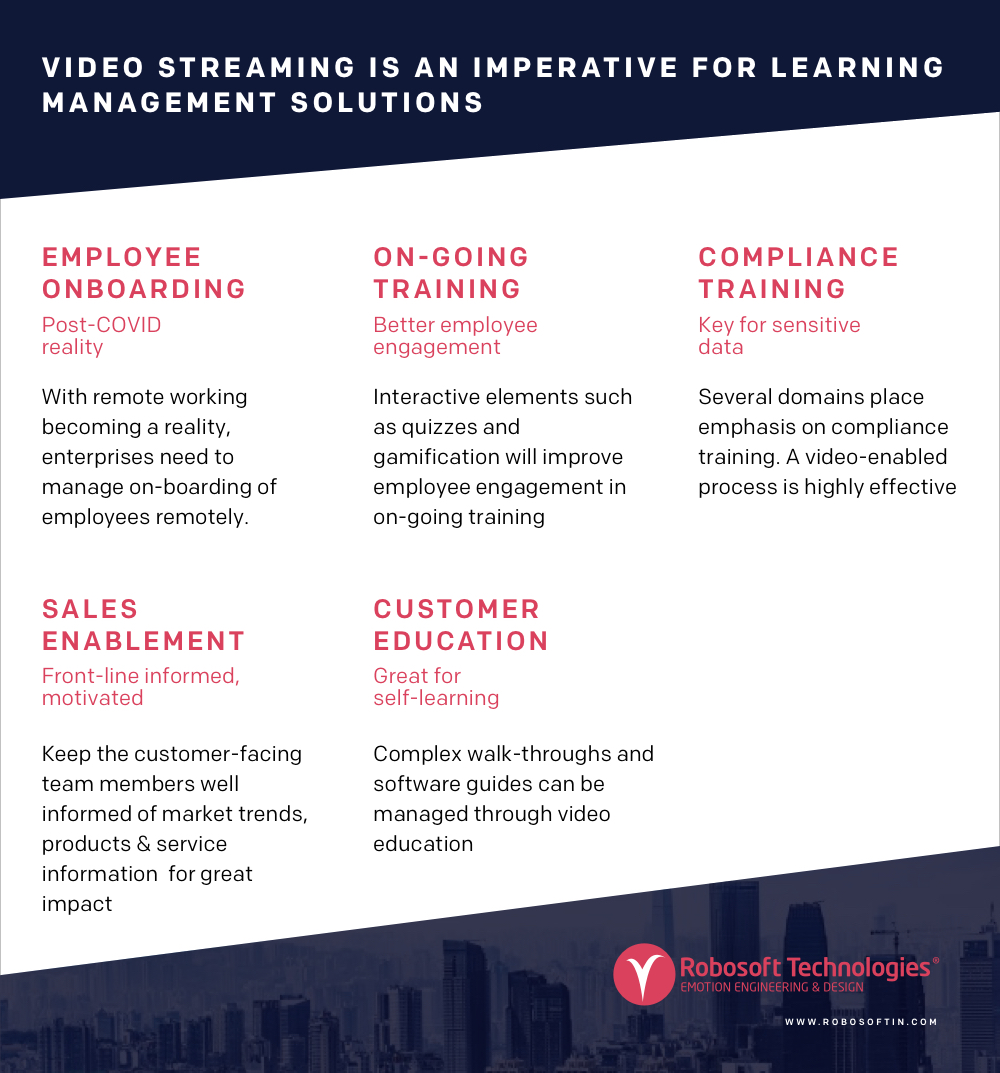 Employee onboarding: many companies have declared that they will offer remote-working as an option forever – not just limited to the uncertainty during the current year. So what was a face-to-face opportunity for bonding & learning will now have to be managed remotely. According to a report from Kaltura – 90% of respondents reported having used video to learn new information at their current workplace, and close to 70% said they preferred this medium over written documents. The onus is on enterprises to then provide a digital experience that not only informs but brings alive the business culture, values and processes.
On-going training & learning: a well-crafted LMS can ensure continuous learning & skill development of employees. It can improve employee engagement through effective use of interactive elements such as quizzes, rewards and more.
Compliance training: compliance training is a mandatory, yet most dreaded of learning programs for employees. A video-enabled compliance training can help enterprises launch a learner-centered strategy for their remote workforce.
Sales enablement: front line business development executives can be educated about products & services, latest market trends through impactful video content
Customer education: aside from employees, a video-driven LMS can also help educate customers – especially if it is a complex software or a product that needs walk-throughs.
Partner training: interactive videos in an LMS can be an effective tool for partner training programs, and help business' partners understand the features, branding, and selling techniques for products and service offerings of an enterprise.
Some of the common features that a Learning Management System should enable include:
Asynchronous learning: giving the option for users to learn at their own pace
Cross-device and platform compatibility: providing a seamless experience across web, mobile and tablet irrespective of the operating system
Ability to aid testing and assessment: in order to measure the effectiveness of the training modules and the employee's progress the LMS should aid testing and assessment based on metrics agreed upon
Catalog of content: as course material and video content increase, the LMS should allow for easy search through an easy to use catalog feature
Microlearning videos: these are short videos that focus on one issue or learning point at a time, making it easy for employees to pick up the knowledge and go back to their office work.
So what are the critical factors to consider when choosing a partner to create a video-driven Learning Management Solution that best suits your needs? Expertise in the technology domain, experience in crafting diverse digital experiences, hands-on leadership are some of the desired qualities to look for. Working with offshore teams is also a great option as what were once considered to be obstacles are long gone.
A convergence of empathetic digital experience, video technologies, content management systems are in the offing for Learning Management Solutions beyond EdTech in the years to come.