Introduction:
"It is not the strongest of the species that survives, nor the most intelligent that survives. It is the one that is the most adaptable to change." – Charles Darwin
In today's world, the above quote stands true for businesses as well. Digitisation is changing the landscape of every industry, and industries which are ready to adapt, and adapt fast will be the ones who will survive and flourish. Just like many other industries, the healthcare landscape is also seeing transformation owing to technology advancements.
Healthcare industry continuously works towards making patient care more efficient and cost effective. Digitisation stands to benefit the industry not just in optimisation at operational levels, but across the entire value chain. Starting from hospital management, to patient care, managing reports, even virtually assisting patients etc. the implications of using technology are innumerable.
As patients become more technology-savvy, digital technologies can reinvent the entire patient lifecycle, enabling a more personalised, timely and cost-effective treatment journey.
Evolution of technology in healthcare
Digital Transformation in healthcare
Smart-hospitals, surgical robots, wearable-tech assisted operations, telemedicine, are just some examples of how technology is revolutionising the healthcare landscape in a myriad of ways, for good.
Here is a look at how the healthcare industry is using technologies like AI, mobile apps, IoT, wearables, etc. to improve patient care and reduce spends across the healthcare value chain.
Technology Enabled care:
TEC or technology enabled care refers to the fields of telecare, telehealth, telemedicine, mHealth, digital health, ehealth etc. TEC brings health technology, digital media and mobile together. It has immense effects in providing an integrated solution for patient monitoring and care in health, wellness and social care sectors.
Below are some examples of how TEC can make healthcare more efficient and cost-effective.
Reducing the patient-care and monitoring costs for patients with long-terms ailments:
According to a report by Deloitte, a significant proportion of healthcare services in the UK and elsewhere goes for the treatment of patients with long-term illness. According to a study by NHS, TEC can help in reducing these costs immensely through improved access, overcoming geographical boundaries and giving them personalised solutions.
Digital and mHealth can improve enterprise processes and improve outcomes:
According to BCC Research, the mobile health market is expected to reach $21.5 Billion with a rise of whopping 54 percent by 2018, as compared to the market value in 2013. The increased penetration of internet and smartphones is one of the reasons for this growth.
Further, the rise in apps provided by the healthcare firms, and the high engagement rate of apps have contributed to the prolific growth of this market.
Mobile devices have become an integral part of people's life. Patients and Doctors both can leverage the benefits of going mobile. For patients, it can help them to self-manage and monitor their health, for doctors it opens up doors for real-time critical information made available when needed. Remote monitoring of patients' health status is another benefit which home telehealth can provide.
Image source: Deloitte
TEC is also helping healthcare providers with information and assistance they require through technologies like medical reference apps.
Athena Health's Epocrates is one such app.
Epocrates is the point of care medical application by Athena Health. More than 1 million health care providers trust Epocrates in the moments of care. Epocrates was released on stage by Steve Jobs when the App store was released.
Epocrates can assist doctors and physicians in
a. Reviewing drug prescribing and safety information for thousands of brand, generic, and OTC drugs
b. Checking for potentially harmful drug-drug interactions among up to 30 drugs at a time
c. Identifying pills by imprint code and physical characteristics
d. Access timely medical news and research information
e. Find providers for consults and referrals in the Provider Directory
f. Select national and regional healthcare insurance formularies for drug coverage information
g. Perform dozens of calculations, such as BMI and GFR
Technology is empowering patients
Technology is also helping patients in getting more information on ailments, symptoms, treatment procedures, etc. helping them to be informed, thus reducing anxiety and apprehension for them during the treatment cycles.
PatientTalk.com is one such web portal, which leverages the power of video to engage with patients. It is a health care site website for patients diagnosed with a life altering medical conditions, both acute and chronic. This network-quality video site features actual patients and health care professionals sharing vital information about the practical, physical and emotional issues that patients face before, during and after an initial diagnosis.
How Apple is front footing the digital revolution in healthcare.
Starting from the launch of its HealthKit application programming interface in 2014 to launch of Apple Watch and collaboration with various healthcare start-ups Apple is revolutionising the healthcare landscape in myriads of ways.
1) Apple devices are helping doctors in coordinating with peers and hospital staff, monitor patient records and manage their routines. In fact, according to a survey, 62.5 percent of physicians use an iPhone®, iPad®, or iPod Touch® within their daily care routines. With EHR (Electronic Health Records), secure texting and alarm management iPhones have become a one in all coordination tools for physicians.
2) HealthKit launched in 2014, helps the developer community in creating apps that interact with the Health app in iOS and enable other apps, access users' health data, all with users' permission.
3) The HealthKit was further strengthened with the launch of ResearchKit and CareKit which help amateur developers build research and consumer health centric apps.
4) Apple is also making it easier for healthcare firms to deploy and manage its products. Last year it launched Device Enrollment Program (DEP) that allows healthcare IT admins to pre-configured devices for users, Apple's Volume Purchasing Program, enables hospitals to bulk purchase and remote distribution by users.
5) Recently Apple has tied up with healthcare start-up Health Gorilla to add a medical data hub to iPhones. Health Gorilla will add diagnostic data to the iPhone, including such measures as blood work, by integrating with hospitals, lab test companies and imaging centres.
Wearables in healthcare
Wearable tech is a part of the larger wave of technology called IoT, and it is growing at a fast pace. By 2018, wearable market is projected to reach $20.6 Billion, with an annual growth rate of 36%. Wearables have found usage across industries like healthcare & fitness, retail, banking & insurance, fintech, etc.
Wearable tech has found usage in the healthcare segment beyond just monitoring and tracking health and fitness data of the user. Wearables continue to evolve as virtual reality applications provide experience-based applications for clinicians and patients.
Wearables for doctors
When the team at Google announced Google Glass in 2012, they said in their blog post
'We think technology should work for you — to be there when you need it and get out of your way when you don't.'
Five years down the line though the device could not take off and wasn't quite appreciated by the consumers, it opened doors for industries to put it into use. This year the Google Glass made a comeback with its enterprise version.
In 2013, healthcare saw first ever application of Google Glass when Dr Rafael Grossmann recorded a surgical process through Google Glass. In 2015, wearables took another step forward when the first surgery using Google Glass in combination with Olympus 3D imaging took place. Simultaneously, the Olympus Endosuite was fully controlled using the MYO gesture controlled bracelet.
The applications of wearables in healthcare have since gone beyond Google Glass where wearables are used in innovative ways, e.g.
AiQ Smart Clothing has developed a vital sign monitoring system built into a t-shirt which can monitor users' heart rate, respiration rate, electrophysiological signals, etc. This t-shirt can be extremely useful during video appointments sessions with doctors, where doctors will not have to rely on patient's old reports, rather they can get real-time data on their vital stats.
Wearable tactile sensor A group of scientists from National University Singapore have developed wearable liquid-based microfluidic tactile sensors. These sensors can be easily utilised for monitoring critical parameters in biomedical applications, in particular for those that may come in contact with human skin or where human movement is highly versatile.
Soon, we will start to see a good mixture of wearables and healthcare robotics in hospitals.
A team lead by Conor Walsh, assistant professor of mechanical and biomedical engineering at Harvard, and founder of the Harvard Biodesign Lab are developing wearable soft robots. The team has developed a soft exosuit that can assist with locomotion and perform small levels of assistance to a wearer and a glove that assists with grasping motions for those with hand impairment.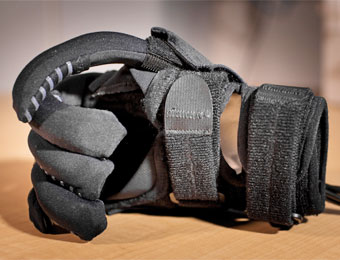 Multi-segment actuators used in the robotic glove enable an assistive range of motions. Image: Harvard's Wyss Institute. Image source: Asme.org
In the coming years, wearables will not just help in treatments but also in training medical professionals as well – An initiative called as 'Virtual Medics' team at London Medical School' aims to use wearables and other technologies to do just that.
In 2014, the team live streamed a surgery with almost 13,000 surgeons watching and asking questions as well. After this, a series of similar surgeries were streamed and were made available to a thousand or two surgeons through a password-protected login at a time.
Wearables for patients
Wearable-tech can simplify a patients' life beyond tracking and monitoring their health.
Automation and push notifications can help patients get a control of their own care, where the device can prompt them to check their weight, pulse, or oxygen levels, and enters results into mobile patient portals. Further, these results can be transmitted to the doctors in real-time. These details, when entered regularly, can predict the risk of ailments like heart diseases and keep a check on them.
Not only wearables help patients self-manage and monitor their health; they help doctors save money.
E.g. the Zephyr Anywhere's introduced a BioPatch which is a small device that is attached to a patient's chest monitoring their vitals minute-by-minute and collecting medical-grade data for doctors' use. The Biopatch alerts the nurses through smartphones, reducing their effort to physically check a patient in every hour. This also helps them to react promptly should a patient need to be attended immediately
Internet of Things (IoT) in healthcare
IoT is changing the way interactions happen across technologies and devices in different industries. According to a McKinsey report, by 2025, IoT will have an impact of worth $11.1 Trillion per year across industries.
With wearable devices and portable monitors, the Internet of Things has already started improving health outcomes especially in the treatment of chronic diseases such as diabetes. IoT helps in improving patient's adherence to prescribed therapies, avoid hospitalisations (and post hospitalisation complications).
It is estimated that this can have an economic impact of $170 billion to $1.6 trillion per year in 2025. Further, the value of improved health of chronic disease patients through remote monitoring could be as much as $1.1 trillion per year in 2025.
Here are some examples of how IoT is changing the healthcare landscape.
OpenAPS – closed-loop insulin delivery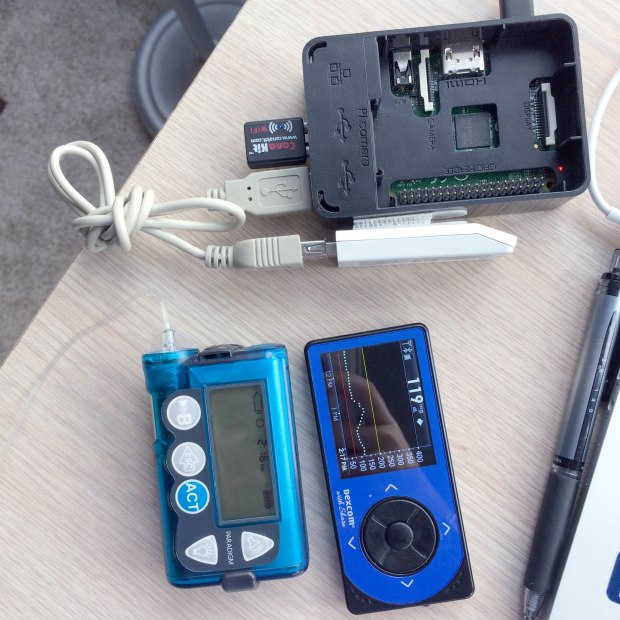 Early OpenAPS rig with an insulin pump, continuous glucose monitor, and Carelink USB stick. Photo by Dana Lewis. Image source: Makezine.com
OpenAPS is an open and transparent effort to make safe and effective basic Artificial Pancreas System (APS) technology widely available to more quickly improve and save as many lives as possible and reduce the burden of Type 1 diabetes.
OpenAPS is a simplified Artificial Pancreas System (APS) designed to automatically adjust an insulin pump's basal insulin delivery to keep blood glucose (BG) in a safe range overnight and between meals. It does this by communicating with an insulin pump to obtain details of all recent insulin dosing (basal and boluses), by communicating with a Continuous Glucose Monitor (CGM) to obtain current and recent BG estimates, and by issuing commands to the insulin pump to adjust temporary basal rates as needed.
Continuous Glucose Monitoring systems (CGM)
CGM is an implantable continuous glucose monitoring system, which uses a 90-day sensor underneath patient's skin, which measures the blood glucose level and sends it to the mobile app through a smart sensor.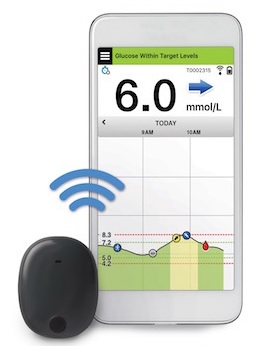 Image source: Econsultancy.com
Connected inhalers
One of the major advantages of IoT and its subset technology wearables is that both can help and motivate patients especially, the ones on a long-term ailment to adhere to their treatments. Propeller's Breezhaler device is one such device which connects to its digital platform via a sensor, passively recording and transmitting usage data and sends reminders and notifications to the patients, and also insights to the triggers of their asthma attacks, so that they can prevent one.
Image source: PropellerHealth.com
Ingestible sensors
Proteus Digital Health has invented 'digital pills' with ingestible sensors, dissolves in the stomach and produces a small signal which is picked up by a sensor worn on the body, which again relays the data to a smartphone app. Again, the purpose of this technology is helping patients with adherence to treatment.
Image source: Marsdd.com
Big Data & analytics in healthcare
Doctors and Physicians have long relied on their judgement while diagnosing an ailment and making treatment decisions. Big Data and Analytics have proved to be a boon for them, with the opportunity to provide evidence-based treatment to their patients. Big Data has opened up doors for doctors to systematically review clinical data and make treatment decisions.
Big data can aggregate individual data sets into algorithms and provides evidence based on a large pool of data for the right treatment.
According to a report by McKinsey, in the US alone, Big Data has the potential to reduce healthcare costs by $300 billion to $450 billion.
Some health-care leaders are already leveraging big data and are using it in innovative ways to improve operational as well as diagnostic efficiencies. For e.g.
Kaiser Permanente has fully implemented a new computer system, HealthConnect, to ensure data exchange across all medical facilities and promote the use of electronic health records. The integrated system had improved outcomes in cardiovascular disease and achieved an estimated $1 billion in savings from reduced office visits and lab tests.
Blue Shield of California, in partnership with NantHealth, is improving health-care delivery and patient outcomes by developing an integrated technology system that will allow doctors, hospitals, and health plans to deliver evidence-based care that is more coordinated and personalised. This will help improve performance in a number of areas, including prevention and care coordination.
Real-time health systems
In this age of data deluge, it becomes critical for the healthcare sector to make sense of this data and drive real value through it. RTHS is helping healthcare providers to process and interpret data quickly, to make it easily consumable by the patients and also use this data for operational intelligence as well. Today's consumers are used to accessing data in real-time via their mobile devices, and healthcare providers can leverage mobile apps, digital maps etc. to create a positive patient experience.
Experiential wayfinding is one such way to simplify patients' journeys and experiences inside hospital premises. Technology providers like Jibestream provide enterprises SDKs that give developers the tools to customise and integrate maps into apps.
Artificial Intelligence (AI) in healthcare
The AI healthcare market is expected to reach $6.6 Billion by 2020. The healthcare industry is cognizant of the impact AI can have in improving healthcare landscape. Last year, AI-driven medical technologies like computer vision, machine learning (ML), and robotics skyrocketed from $30 million in 2012 to $892 million.
Technology is helping the healthcare fraternity in predicting diseases and giving a helping hand to doctors in preventing them.
Artificial intelligence already found several areas in healthcare to revolutionise starting from the design of treatment plans through the assistance in repetitive jobs to medication management or drug creation. Here are some examples of how the healthcare industry has implemented AI:
AI based health assistants
AI assistants are helping doctors in optimising their time by covering a large part of clinical and outpatient services, freeing up doctors' time to attend to more critical cases.
Your.MD is one such AI powered mobile app that helps doctors with basic patient symptoms information. The chatbot asks users about their symptoms and provides easy-to-understand information about their medical conditions. The platform has a vast network of information that links symptoms to causes.
The assistant uses natural language processing and generation to provide a rich and fluid experience, and machine learning algorithms to create an intricate map of the user's condition and provide a personalised experience.
Early and precise diagnosis
AI algorithms can quickly ingest millions of samples in short order and gather useful patterns. The medical fraternity is using this ability of AI to come-up with precise diagnosis early by picking up subtle symptoms as well.
Researchers at Stanford University have created an AI algorithm that can identify skin cancer. Similarly, DeepMind, a Google-owned AI company, is using machine learning to fight blindness in cooperation with NHS. Morpheo, another AI platform helps in diagnosis of sleep disorders.
Improved patient care and treatment
Some diseases like cancer change the dynamics of patient's health at a fast pace. Keeping up with changes and adapting the treatment accordingly becomes critical in such cases. AI is helping in solving this problem.
IBM's with its AI based platform Watson is working on building effective treatment for cancer. It can ingest a massive amount of clinical trial data presenting cancer care teams with a list of effective therapies and treatment options.
AI is also helping patients in adhering to their treatment regimes. One example in this area is s AiCure, a mobile app that uses AI and image analysis to control patient adherence to prescriptions.
Healthcare data is sensitive, and healthcare firms have to be very careful about the security of such data. Technologies like Blockchain are helping firms in maintaining the privacy of this huge amount of user data. Morpheo, for instance, uses blockchain to ensure transparency and privacy of patient data on its platform.
How healthcare enterprises can succeed with digital transformation
More and more healthcare companies worldwide now understand the importance of investing in digital technologies and making it a part of their core strategy to benefit from it.
According to a report by Venture Beat, in 2014 health care providers spent 4.2 percent of their revenues on IT, compared to a 3.3 percent cross-industry average. Penetration of electronic health care records grew from 40 percent in 2012 to 67 percent in 2017. Still, there remains a long way to go for the industry to fully adapt digital transformation.
Image source: McKinsey
Healthcare organizations looking forward to adapting digital transformation will have to look at it comprehensively, rather than in silos. Here are four core principles suggested by McKinsey which healthcare enterprises can follow to achieve success at their digital transformation efforts.
1. Identify and prioritise their critical sources of value; they need to determine the products and services they provide that lead to competitive differentiation and that would benefit most from digitisation.
2. They must build their service-delivery capabilities—not just in physically integrating and managing new digital technologies but also in implementing new approaches to product development and distribution.
3. Healthcare companies should look for ways to modernise their IT foundations, for example, upgrading pools of talent and expertise in the IT organisation, moving to digital platforms such as cloud servers and software-as-a-service products.
4. Strengthening their core digital transformation capabilities by developing a deep bench of internal staffers with expertise in digital technologies and approaches.
With technology on its side, healthcare is slowly transforming into a patient-centric industry. Digitisation is benefiting both patients and caregivers alike. As technology advances, patients will be more informed and empowered to understand and deal with their ailments. For healthcare providers, digital transformation is opening opportunities to create cost-effective and more efficient treatments.