An airport is no longer just a temporary home for passengers in transit or those making their way to scheduled flights. Airport users can spend their waiting time between flights at any of the retail outlets, food courts, gaming arena or lounge areas for infotainment/recreational experiences.
However, as more airports get privatized, they're under pressure to show profitability by increasing their overall revenue with an emphasis on generating more revenue per customer. Considering the change in the nature of the airport experience, airport operators have the opportunity to transform the airport from a point of transit to a destination in itself. As a result, they can grow revenues by enhancing the emotional connection with customers and enabling a superior experience they would want to repeat – by crafting relevant digital solutions.
The Airports Council International shared an interesting overview of the airport economy:
Passenger satisfaction can be achieved in two ways at the airport – by ensuring seamless transit or by keeping them engaged during their time at the airport. In recent years, technology has proved to be the differentiator between a nightmarish or boring experience, and a memorable experience they would eagerly repeat. As illustrated below, there are infinite touchpoints at the airport where technology can help airport management design a welcoming and intuitive experience for passengers.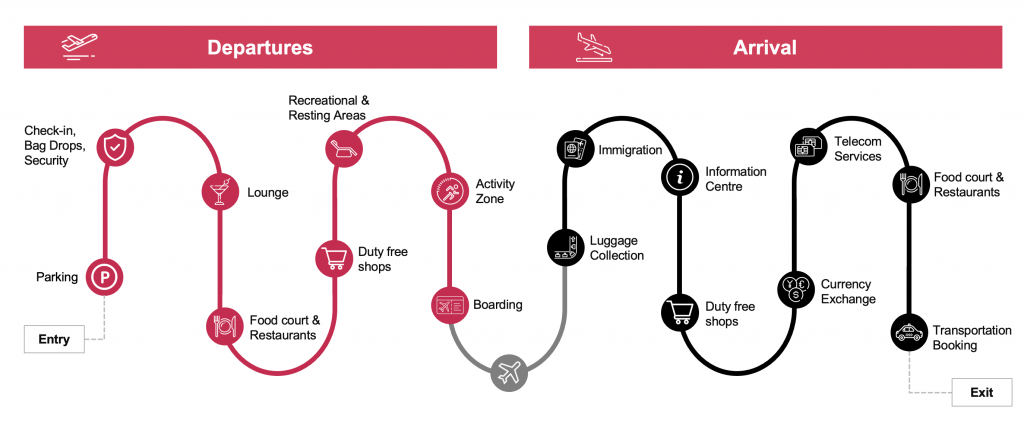 The need for a unified and seamless experience for airport users
Many airports offer a fragmented customer experience as they force passengers to crisscross different touch-points from the point of entry through to parking, check-in, baggage, navigation, food and recreation, boarding, immigration, and so on. Often, they lack a single source of information and don't have digital means to pre-book or check availability of certain services such as lounge area etc. In specific cases of first-time travelers or elderly flyers, navigating through busy, large airports can be overwhelming and disorienting.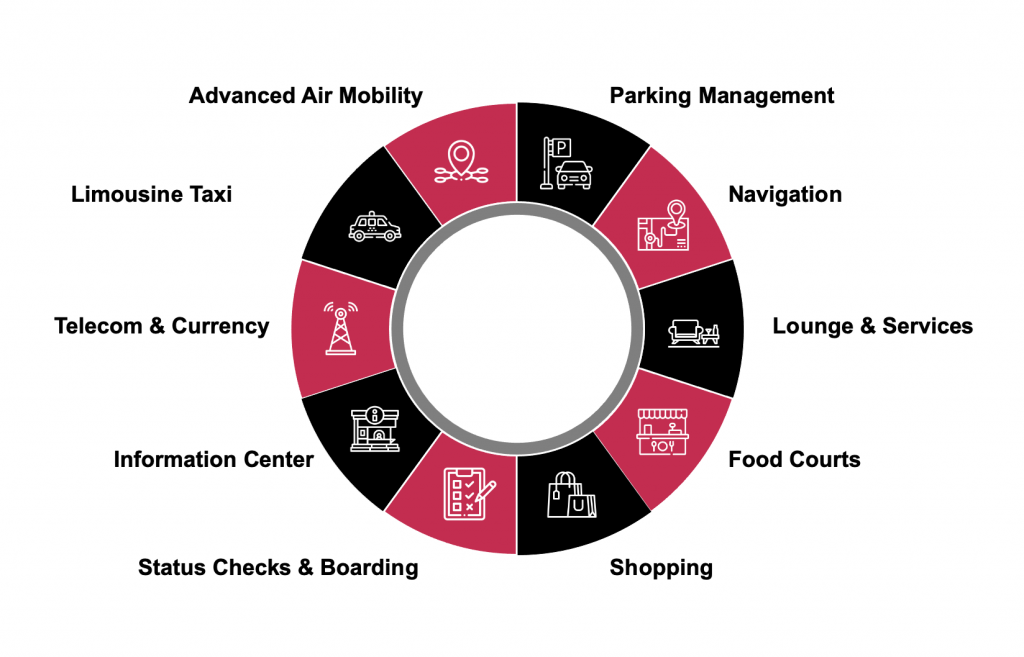 However, through technology interventions, airports can go a long way to provide a more unified and harmonious experience for airport users. For example, they could develop a mobile-based app or website that integrates the passenger's journey at various touch points and enables a single point of information for all their needs from the time they arrive, transit, and depart from the airport.
Here, we illustrate the different possible ways in which technology can intervene to enable a unified and seamless airport experience.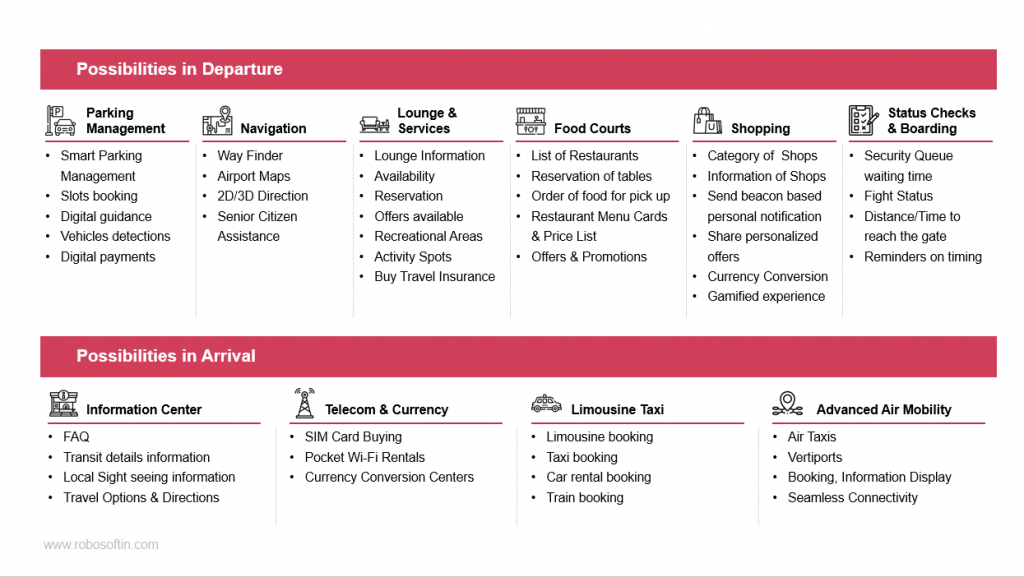 Many airports, including the best, busiest, largest, and popular ones, are implementing some of these digital solutions. Here, we present some of the innovative use cases that are emerging as a result.
Simplifying the passenger experience through technology
Airports of the scale of Changi or Heathrow are among the busiest in the world and navigating through these crowded spaces can be a stressful, even tedious experience for passengers. Listed below are some of the passenger-centric digital paths that are redefining and simplifying the airport experience across different touch points.
#1 Smart parking – Airports can integrate a parking solution on their app/website that allows passengers, especially those who are hard-pressed for time, to reserve spots in advance. They can use their allocated QR codes to pay for this service and enjoy the benefits of knowing exactly where to park and plan their travel/commute accordingly. This can address the stress points and improve efficiencies for airport authorities and passengers as well.
#2 Easy navigation enabled by Augmented Reality (AR) – Passengers can use AR guided navigation on their phones to find their way through vast airport spaces, avoid crowded spaces, find the least congested lounge areas or restrooms, and get to their destination gates faster, especially when they are running late. The UK's Gatwick airport has invested in beacon technology in the form of 2,000 battery-powered Bluetooth Low Energy beacons for this purpose. Also using beacon technology at United Airlines' Newark airport hub, its app users can pin their location inside the airport and be guided to their boarding gate, ATM, restroom, dining area, waiting areas and more. This is drastically reducing travel day friction for the airline and its passengers at the airport. Other approaches being developed in this area include built-in mobile sensors and cloud-based AR that superimposes user-centric digital content over physical objects.
#3 Information and navigation with robots as guides can provide flight-based information to help passengers navigate through the airport unhampered. British Airways has invested in autonomous robots who interact with passengers at Terminal 5 in multiple languages and keep them informed with real-time updates. Also at Heathrow's busiest terminal, self-driving luggage vehicles are being used to trim down lengthy waiting lines. The future for robots at airports looks promising with other airports including Seoul, Munich, and New York's LaGuardia also trying out autonomous machines on their premises. Robots will take over check-in processes by the end of the decade predicts a 2020 report by Vero Solutions.
#4 Wheelchair assistance using AI & ML – Clever implementation of AI and ML can help those with mobility challenges or sensory impairments who need to be assisted through airport procedures including check-in, security, baggage claim etc. An innovative example of this is being implemented at India's Sardar Vallabhbhai Patel International Airport in their AI-based surveillance desk that will serve senior citizens, infants and other passengers seeking timely wheelchair assistance in case of an emergency.
Enhancing leisure and entertainment at airports
The convenience industry is growing significantly as people expect everything to be delivered wherever they are. Digitalization is enabling this along with time saving, cost-saving benefits for the airport authorities who need to deploy fewer staff for various processes. For passengers, the biggest advantage is less time spent at the airport as they don't have to come hours in advance to the airport to complete checking in before boarding their flights. But there are times when passengers are forced to have long layovers especially, in international travel. Here, the airport management knows that real value comes from offering premium services in ways that make users feel the premium-ness of the experience.
Airports are using several technology deployments to create a premium leisure experience and increase their non-aeronautical revenue.
#5 One-stop-shop for all travel-related info, especially when traveling in countries where passengers don't understand the local language, having a single app can smoothen their transit with timely notifications to move from point A to B and so on seamlessly. If their layover is lengthy, they could also benefit from local travel suggestions, and personalized offers and recommendations for leisure, entertainment, food as well.
#6 Gamification opportunities at the airport – Authorities at Cochin's International Airport introduced interactive video games to inform passengers of first-aid principles for heart disease. Gamification will allow new-age travelers who have long layovers to entertain or distract themselves. There could be a competitive element introduced by offering players discounts or airport-specific reward points that can be redeemed at retail or duty-free outlets. Airport authorities can also draw more attention to certain portions of the premises such as lounges and direct people towards these in order to decongest other parts of the airport.
#7 Using geofencing/ beacon technology and location, airport apps may be able to push targeted offers and messages to people at the airport. For example, the Miami International Airport app sends offers and recommendations to travelers prompting them to patronize food and retail outlets.
The age of the digital airport is here
Technologies like AI/ML, AR/VR are holding sway in the market as they continue to disrupt, enable, and engage passengers with the power of digital experiences at airports. These digital solutions offer benefits to the airports, airlines, and travelers alike and the opportunities that they open up, are truly infinite.
Using these solutions innovatively, airports certainly have significant potential to grow non-aeronautical revenues while strengthening ecosystem relationships and addressing some of the inherent complexities and pain points in the industry. These possibilities are captured in the visual below.
Nevertheless, the new-age traveler still expects the human touch to an extent. Therefore, airport authorities must refrain from blindly investing in technologies, which can be costly and ineffective. Instead, they need to take an iterative approach to digitalization and create a clear blueprint of the right technologies and tools that retain enough of the physical aspects to make the digital airport experience real and memorable.
This article was co-developed with inputs from the team at I&I Division of TechnoPro Holdings.