As enterprises rightly focus on health & safety in these challenging times, employees are trying to utilize this period to upskill. In a bid to turn the lock-down period into opportunities for collaborative learning, we at Robosoft Technologies are organizing a series of webinars. PoojaBal, our Head of Digital Advisory Practice and Priyanka Shroff our Associate Director – Design Strategy, successfully conducted the first webinar on Facilitating Remote Design Thinking.
Remote working and Design thinking are often viewed as two separate entities that cannot be integrated together to drive-in measurable results. Through this webinar we've attempted to bust this myth and talk about how their common value systems can maximize product efficiency & growth.
Here are a few common value systems of remote working & design thinking:
Bring-in better results when the teams are multidisciplinary
Better visualization to share collective knowledge
Increase team motivation and collaboration
Optimize operational efficiency across industries & diverse geographies
The 3 phases of the remote design thinking process are commencement, co-creation and consolidation. To ensure successful product execution and seamless transitioning of these processes, it is important to gain insights on the functionalities of the top tools and best practices that can facilitate this journey.
An Overview of all the Design Thinking Stages & Tools: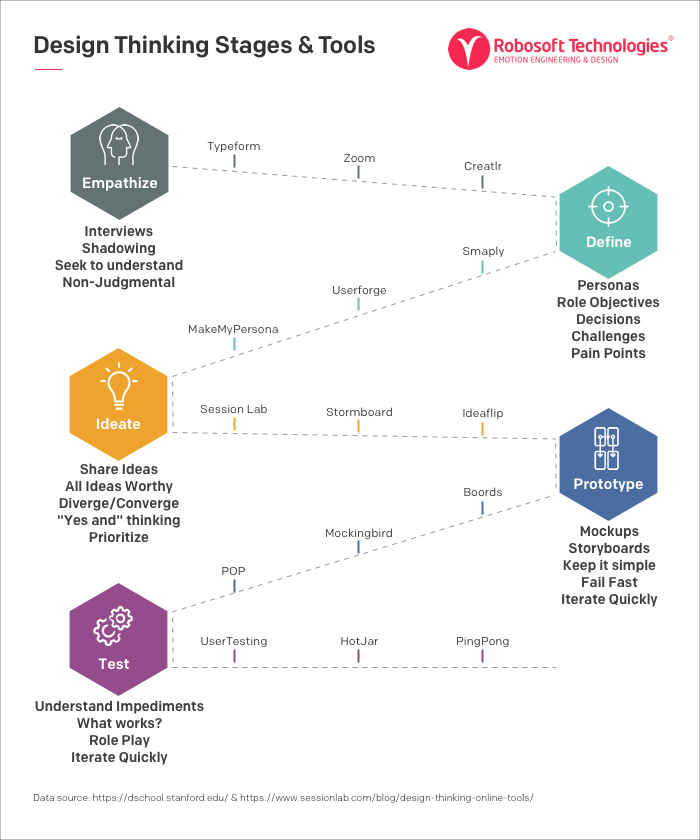 While there is no one-size-fits-all approach to remote design thinking that is product or industry-specific, selecting the most appropriate tools and techniques depends on the customer goals you wish to accomplish. It is recommended that one conducts a few mock sessions to get started with a hands-on approach. This exercise will help in gauging the experience with these tools and give you the flexibility to mold these tools to elevate your team participation and the end–outcomes.
Here's the webinar video for more insights into the tools and best practices that can help you accelerate your journey into the remote design thinking realm.
If you'd like to know more about how to drive the remote design thinking process at your enterprise, please feel free to drop me an email at [email protected].
I hope you found this webinar overview useful and look forward to joining us in our future webinars on other topics pertaining to Design Thinking and specific domains.