'The task of scaling up Robosoft as a premium brand in the US is exciting' – meet Brooks Rhinehart, our new President & Country Head, USA.
Since the time we started out in 1996, we at Robosoft have witnessed several growth phases and landmark changes. We were among the pioneers to spot the potential of mobile and offered app development services in 2008. Since then, the digital experience domain has evolved as consumers welcome new technologies and gadgets. Enterprises have to constantly adapt to the changing environment, and we are proud to have played a role in crafting digital experiences across web, mobile, wearables, and more. While we have customers across the world, USA continues to be a critical market for us to meet our growth ambitions. We have had several years of growth, customer success & satisfaction in the US.
Now to take our growth to the next level, we are pleased to welcome Brooks Rhinehart as our President & Country Head – USA.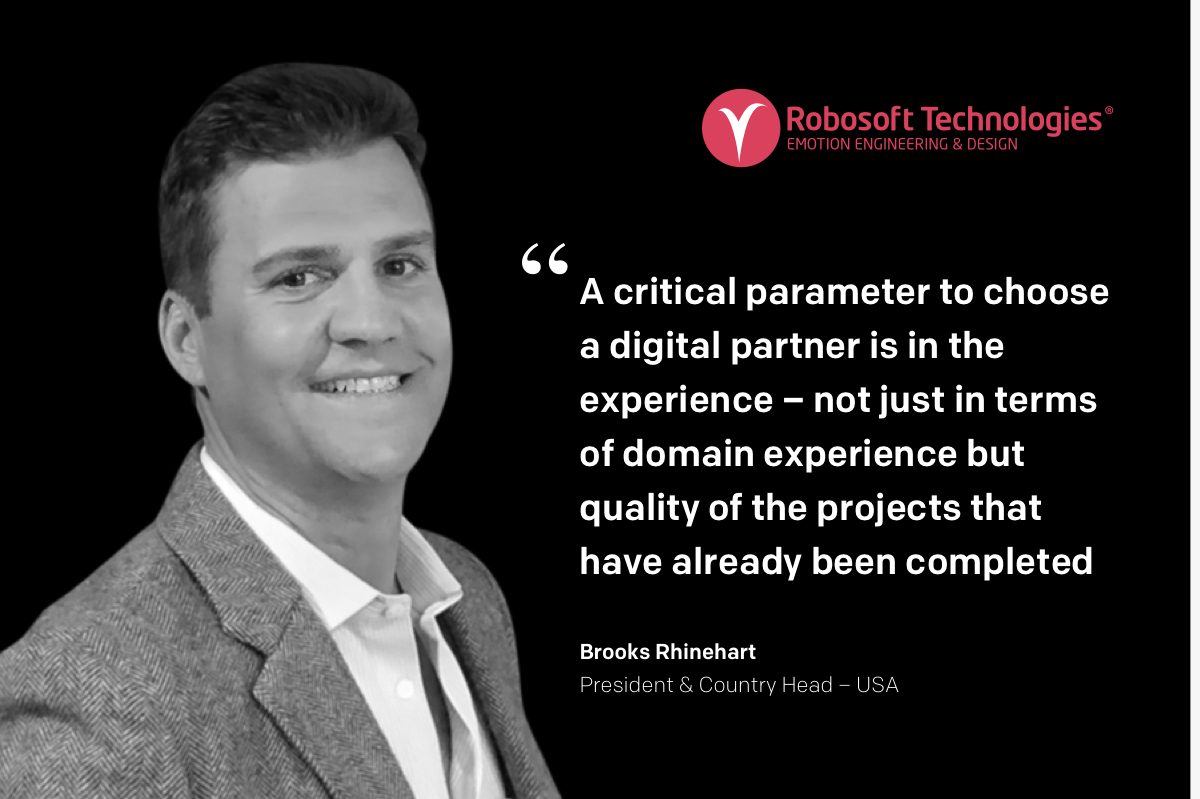 Brooks is a seasoned technology & business development executive with a 360-degree perspective on building digital experiences for enterprises. We had a brief chat with Brooks on his background and challenges CXOs are likely to face in offering digital solutions. Read on:
Q. Welcome aboard, Brooks. Tell us a little bit about your career and journey thus far.
It's been an interesting and fulfilling journey over the past 20+ years. I started working with technology companies as an Account Executive during the internet boom and subsequent crash in the early 2000s. However, working in the fast-paced start-up world, I was forced to accelerate my understanding of how to navigate complex enterprise organizations and how to clearly articulate to CXO's or members of leadership at some of the biggest companies at the time. You could probably say it was a case of being young, determined, and I didn't know what I didn't know, that helped me succeed, fairly quickly. I had limited experience and mindset that was not filled with a bunch of pre-determined assumptions on how to engage, that I have seen haunt many sales professionals.
Shortly after the internet bust, the entrepreneur inside me saw a few opportunities and investments. I owned a few small companies, was a partner in a multi-state franchise, and learned the hard way the ups and downs of business. As good, and as hard as it was, these types of learnings are something you can't get from a book, you have to experience them firsthand. I consider myself fortunate to have experienced such as it makes one realize how hard it is to build a brand.
In 2010, I knew mobile was going to be 'the next big thing' after as it was close on the heels of the launch of the iPhone and the App Store. There were only a few players in the market at the time as end-to-end service providers in app development. I joined and grew up the ranks in a growth stage B2B tech services company. I spent over a decade there as a partner to enterprises – crafting the digital strategy, creating a roadmap of solutions, and leading the execution of rich customer experiences.
Q. What made you join Robosoft?
Robosoft as a brand has great equity and reputation in India as a top digital partner – rightfully so. In the US, we are not yet in that league, but have worked with some of the most highly sought-after brands and executed many mission-critical projects for them. These projects are not behind the scenes, but massive public-facing projects that most of everyone in the US have seen or might use the services at some point.
Ravi, the CEO and I had many conversations before I decided to come on board, or maybe that he decided I should come on board – but it was clear that we had a connection, not only in business but at a personal level. I was genuinely interested in what he had to say and offer. Many of our conversations had nothing to do with business, and I really enjoyed having the opportunity to see that side of him and not just talk business.
With over 800 employees, the quality of Robosoft's customers and work was quite impressive. I loved the challenge of scaling up the organization to becoming a premium brand in the US, which is well on its way.
Q. What are the challenges faced by CXOs when it comes to crafting digital solutions in the post-COVID world?
Not as much as everyone would think. The pandemic has created opportunities for all of us. Working remotely and having teams all over the world is nothing new, we just did it in an office. Sure, the hallway conversations can be helpful, but, as we quickly found out, they are not necessary to be successful. That doesn't mean meeting face to face has lost its value. I still believe in the one-on-one meeting with a handshake – I call this the trust factor, can't be forever replaced. Nor should it. We all have to stretch our muscles and hold online meetings that we are not used to.
Zoom fatigue is a real thing and we have to be cautious of it. We will have to break up long whiteboarding sessions into smaller timeframes and timelines might get extended, but not by much. We all continue to learn how to be more efficient with our time and how to communicate. This is the 'new new' until we can get back to normal but until then, we are able to continue business as usual. And, effectively.
Q. Consumer attention across multiple platforms and devices is a precious goal for enterprises. What are the various steps they can take to gain their attention?
Tough question and there is no one answer to this. We see businesses going back to native experiences instead of web to make sure the customer experience is as good as possible. However, we also see businesses that want to create a simple web experience that is quick and easy to use, without having to download an app. This practice will be widely adopted for companies that know they won't capture their audience if they require an app download. Or, companies that want to create a simple version of their applications that nails the fundamentals of their needs, you will see many companies adopting this strategy. Think of it as sharp blades, not a swiss army knife. The results are still very compelling.
Q. What are the key factors enterprises should consider when choosing a digital partner?
Time to market: how quickly can you help me get consumers to experience my offering?
Location: do you need full team onsite? While it maybe nice to have is an on-site team mandatory? Given the 'remote everything' world we can say 'geography is history'.
Cost: onshore or offshore, most customers have already been through the development process and are much wiser buyers these days. Stacking a full team onshore is a thing of the past and our buyers expect to have cost savings for development efforts. That doesn't mean everyone is offshore and the meetings are all early in the morning or late at night, it means, you have a highly functional team that can leverage and translate, the necessary requirements to help contain cost and quality.
Experience: does that mean you need to know everything about a certain vertical? Not at all. If you're doing transactional data, it's transactional data – it doesn't mean that I haven't done 15 projects in that space, so I'm not qualified. I hear many people expect this and it's far from practical. The experience is in the quality of the projects that have already been completed. I am not saying that having a specific knowledge in a CMS, EMR or API integrations isn't important – it is, and can "maybe" save some time. But if you have bad code, bad designs and bad PM's, you will never be ahead in the end. Possibly, worse off.
Do you like them? Seems odd, but this is a huge factor. If you want a simple website, sure, it doesn't matter what kind of relationship you have with the vendor. If you are looking to build out a core product or new solution for your company, the relationship is critical. It's software, things will go wrong, period. It's how these issues are handled that makes or breaks a relationship. Once you get into a large project, you are somewhat married. Sure, you can get out, but it's painful. Sometimes, it makes sense to bail but software and it is hard. If anyone tells you differently, I promise it's not a healthy marriage and you should run.