At Robosoft, our mission is to create digital solutions that simplify lives of millions across the globe. Our talented team of software and product engineers, design thinkers, digital consultants and more, consistently work towards driving this mission.
In our interview-based series, we chat with the 'behind the scenes' experts – know their passions and inspirations. We will also try and understand what drives them to create digital solutions that touch lives of millions of users and drive business results.
Today, let us get to know Cyrus A D'silva, our Creative Group Head. Cyrus has been a part of our team for over 7 years now.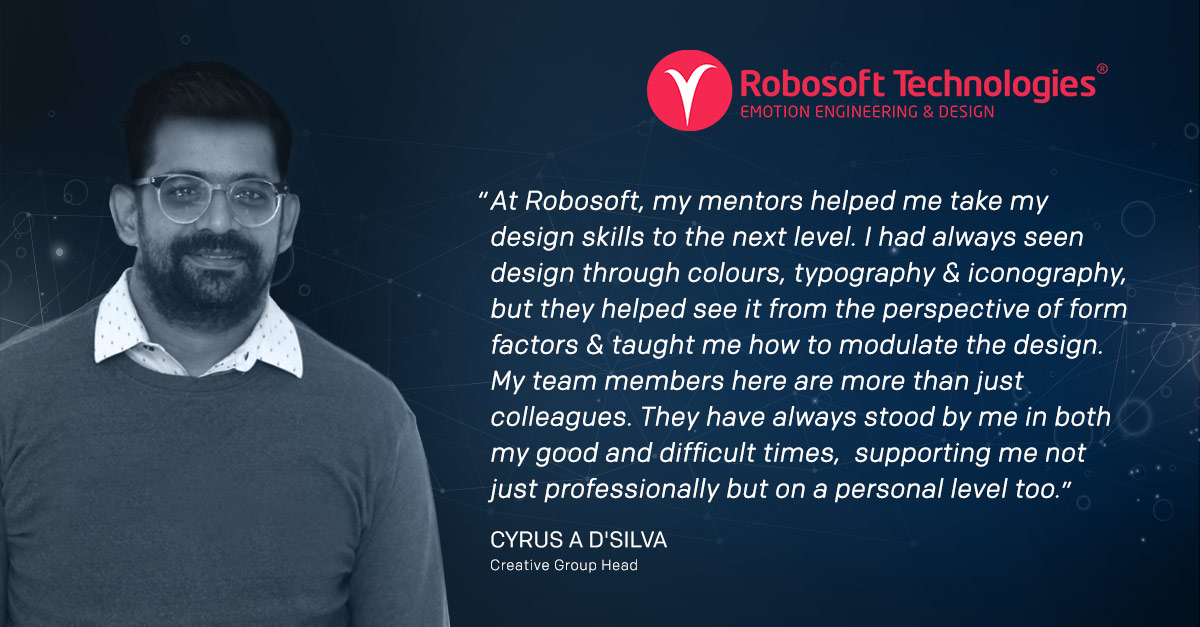 Q: Tell us about yourself and what you do, your hobbies and more?
I live in the suburbs of Mumbai. While growing up, my mom would tell me that music was an integral part of the family and had been practiced regularly, for ages. Eventually, me and my brother had to pick up an instrument to learn. While my brother was a natural musician, I always enjoyed listening to it more than playing it. My grandmother used to make art from any object lying around. She inspired me to learn new art forms and sketch out my ideas. Since then I have always been more attached to arts and crafts. I have always seen creativity into everything I do.
I always wanted to create games, animations, gaming characters, visual graphics for games. But as I said we live in the suburbs we were not so well versed with how to start a career into gaming, as back then print media was booming and game design was a fairly new concept. But soon I decided to deep dive into design and took it on as a career option. Till this day, I still practice arts & crafts as a hobby. I have seen the same in my daughter. She is more inclined towards it and I encourage her to practice the art. She is really good at it.
Q: What inspired you to choose Robosoft Technologies, what is it that inspires you?
As a designer, I always like to keep up with the new design trends and stay updated with the design industry. When I was at my previous organisation I wanted to learn or know more about UX design.
Back then, Behance had just started, and as till date, is a good platform for designers to showcase their work. I was really looking to join a company that would understand the importance of working hands on with both UI & UX. I came across Robosoft Technologies, and I found it is a perfect fit for my expectations. I decided to apply for a position of UI designer with my Behance portfolio, passed the interview round and I got a break into Robosoft.
I joined Robosoft Mumbai, when it was just small set up in Mumbai. Being the core member of the team has been really exciting. Since my first day, I got to meet exciting designers, share my ideas & learn a lot from them. My mentors Dean and Vikram guided and helped me to take my design skills to the next level. I had seen design through the colours, typography & iconography, but credit to these two mentors, who helped me bring in the perspective of form factors & how to modulate the design.
At Robosoft I have worked with different team members, who are more than just colleagues. They have always stood by me in my happy and difficult times, both on a professional level and a personal level.
As design is never constant, there are always new trends in the market that you need to adapt to. The tools or software that we use, are constantly updating and so are the devices we design the products for. The challenge is always to be at par with it, and that's what inspires me to to keep learning and doing better at my work.
Q: How has the quarantine phase been? What is it like to manage home and work responsibilities and your advice to peers alike?
Quarantine had been very challenging during the initial stages. For us, how to ground the kids into the four walls of the house was quite a task at the beginning. Children's safety was our top priority. Thanks to my wife and all her hard work, we could put up a routine for everything now with time we have managed everything very well.
In the month of February we luckily moved into a much bigger place than the previous one, which came in handy while setting up my office space. My son is always happy to see me at home when he gets up in the morning.
Things are not the same way it used to be in the past as there are so many restrictions and "the new normal" in which masks have become integral part of our lives. But a peek into history teaches us that humans can adapt well and find a solution to everything.
I believe that the digital transformation has helped us live through this pandemic. Right from the local grocery stores to restaurants to schools, all of them have gone digital. My local grocery store guy who use to always believe in cash based transactions, now says "Paytm karlo Sir". Schools have shifted to online platforms, which was challenging for both teachers as well as the kids initially, but now my daughter can begin the sessions of her class by herself. This year we had to celebrate all festivals indoors. The pandemic has taught us the core values and importance of nurturing nature. If you don't treat it well it will come back at you.
Q: Your advice to students & freshers exploring opportunities in this field?
Art and creativity is not something that can be taught, it always comes from within. It is for you to express your thoughts and mould them in your performance. You need to find the form you like & enhance it by regular practice. Picking a right tool or software enable you to explore the different dimensions of that form. Looking at different people's work adds more perspectives and helps you widen your thoughts. It provides you the necessary inspiration to continuously learn and grow.
Q: In your view, what is the scope of this industry in the years to come?
I think that the digitalisation has given a boost to the IT industry. Every kind of business, be it a small scale or large scale, is supported by IT, and it enables businesses to go beyond survival & grow to higher levels. Design has been the most important factor in the process helping businesses translate their value to users.
In the near future, AI & Machine learning are going to be the most innovative and exciting enablers of technology, making them key skills to learn. It will be fascinating to see and adapt to the changes they will bring in the design industry.