At Robosoft, our mission is simplifying lives with delightful digital experiences. Our talented team of product strategists, designers, software engineers work towards driving this mission.
In this interview-based series, we chat with our 'behind the scenes' experts – to know more about their values and inspirations. We also try and understand what drives them to create digital solutions that touch the lives of millions and drive business results.
Today, let us get to know Jolene Melita Saldanha, Senior Software Engineer at Robosoft. Jolene started her career with Robosoft and has been a part of our team for over 6 years now.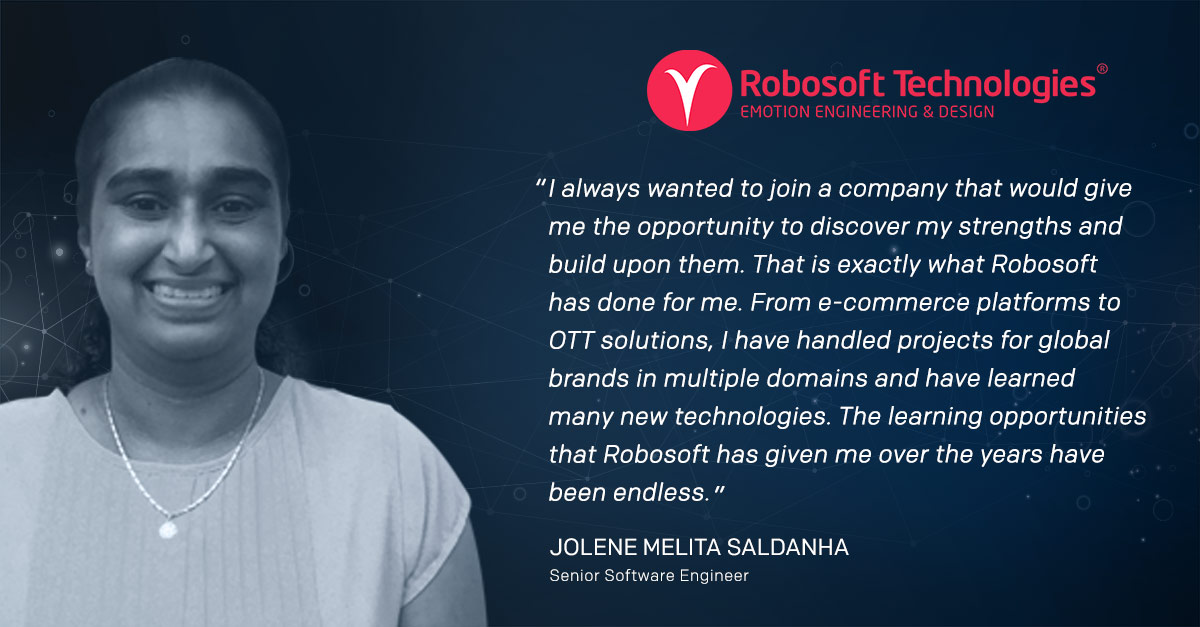 Q: Can you tell us about yourself – your family, interests, and work philosophy?
I was born in Muscat and was brought up in Mangalore. I have two younger sisters. Being the eldest child of the family comes with a lot of responsibilities. It has taught me to be sensitive towards the needs of others, the value of sharing, and being empathetic. I always strive to follow these learnings in all aspects of my life.
Growing up, I was the nerdy one and the bookworm of the family. Reading has always been my passion and one of my fond childhood memories is going to the book store to pick up novels as my birthday gift. I still try to spend whatever leisure time I have, in reading books. I also enjoy traveling. I always have a plan ready for my next trip. It brings me a lot of joy and gives me an adventure I can look forward to. Traveling is my happy escape. It also helps me to look at life from a completely different perspective. Apart from this, I also love creating travel journals. Revisiting those pictures and the travel experiences brings back happy memories from the trips.
As a professional, I have been an iOS developer for the past 6 years. I have worked on projects for global brands from multiple domains like entertainment, banking, and e-commerce.
Q: What made you choose Robosoft & what is it that inspires you?
I completed my engineering from Sahyadri College in Mangalore. During placements, many companies came but I was reluctant to attend interviews for tech giants. I did not want to be a part of a large enterprise with thousands of employees and lesser opportunities to grow.
I had heard about Robosoft Technologies, a software company in the small town of Udupi, and was fascinated by it. My Seniors who were working there had told me that it was a good company to start your career with, as I would be able to learn all aspects of application development here.
I always wanted to join a company that would give me the opportunity to discover my strengths and build upon them. That is exactly what Robosoft has done for me. When I joined Robosoft, I was put into an iOS development project. I had not learned iOS development in my college and it was a completely new experience for me. I was the only fresher in the team and all the other employees in the project were seniors. They took me under their wings and taught me everything that I needed to know about iOS development. With this began the growth curve of my professional life and I have never looked back.
Robosoft has given me multiple opportunities to learn. I remember in the initial days I was the only employee in Robosoft to work on the watchOS application. I was given an opportunity to work on projects from scratch till the deployment and support phases. This has helped me learn about the complete application development life cycle.
Robosoft has also given me opportunities to directly interact with the customers and understand their expectations from the project. This enabled me to look at the solutions we are working on from both customer and end user's perspective and not just from a developer's perspective.
I have also been given the responsibility to mentor my juniors in projects, like I was mentored by my seniors when I joined Robosoft.
Over the years, I have handled multiple projects and have learned many new technologies. I started with learning iOS development with Objective C and now I am working on Swift. From e-commerce platforms to OTT applications, I have handled projects for global brands in multiple domains. The learning opportunities that Robosoft has given me over the years have been endless.
Q: How was 2020 for you? What is it like to manage home and work responsibilities? Any advice to peers?
With lockdowns and extended WFH, 2020 was a difficult year. To a person who enjoys traveling, sitting in a room all day without going out, is quite challenging. I guess none of us had presumed that WFH would last this long. I moved in with my parents when the lockdowns began. Spending time with my family, enjoying small day to day activities like playing badminton together, helping mom in cooking, or enjoying with pets, is how I've been spending my time after work.
On the professional front, It's not easy to work at home without the office environment. There are times when a family member intrudes in between a call with the client or it gets very noisy. But, we have to be patient and realise that it is our WFH schedule that is intruding on the lives of our family and not the other way around. It is important to manage work around the home environment.
Prior to the pandemic when offices were open, I could go to a colleagues' desk to discuss a particular problem that I've been stuck with. Now it's really difficult to communicate with the teammates just with calls. The most critical thing while working from home is knowing when to stop. Being at home 24 hours, we tend to continue working late in the night as well. Balancing time to spend with family and work is quite challenging. But we need to follow a schedule. I have stuck to a daily schedule and I try to finish my work within that time. Being with family for such a long time after so many years has been a blessing. We never know when we might get this opportunity again.
Q: Your advice to students & freshers exploring opportunities in this field?
Today, almost everyone is online. With access to cheap data and affordable smartphones, the number of people across the globe who have access to the internet has increased exponentially. Digital is no longer a want it has become a basic need for people in their day-to-day lives.
Technologies are also evolving with the needs of the end-user. Those wanting to explore opportunities in this field need to stay updated with the new and emerging technologies. There are a plethora of technologies to learn, it is important to identify which technologies interest them and then gain expertise in that. One way to do that as a student or a fresher is by working on projects related to one's interests, attending seminars, and learning more about them through online courses. The opportunities in the digital market are immense, but freshers and students need to know what is relevant to the current time and keep themselves updated by learning continuously.
Q: In your view, what is the scope of this industry in the years to come?
Many companies are shifting their focus from traditional channels to connect with their customers to digital mediums. Considering the current COVID crisis, the job market will also increasingly focus on digital and technology skills and remote work will become a standard practice.
In the near future, we will also see the impact of Artificial Intelligence and Voice-based search on our day-to-day lives. Currently, tools like Amazon Echo, Google Home, and Google Instant have become a part of our lives. Even though Voice search is something that has been around for many years, it is only now that it has become less of a novelty and more of a necessity. Soon our lives will be more dependant on such AI-based technologies. So, it is important for enterprises to leverage AI-based solutions to offer better customer experiences. Artificial Intelligence will soon be the biggest opportunity for companies and industries across the globe over the next few decades.
Another technology that will gain momentum will be Extended Reality (XR) – a term that covers several new and emerging technologies that are used for immersive digital experiences. More specifically, it refers to augmented, virtual and mixed reality. These technologies will soon become a way for companies to interact with customers and provide an immersive experience to them.