At Robosoft, our mission is simplifying lives with delightful digital experiences. Our talented team of product strategists, designers, software engineers work towards driving this mission.
In this interview-based series, we chat with our 'behind the scenes' experts – to know more about their values and inspirations. We also try and understand what drives them to create digital solutions that touch the lives of millions and drive business results.
Today, let us get to know Nanda Kishore, Delivery Head at Robosoft. Nanda started his career with Robosoft and has been a part of our team for 18 years now.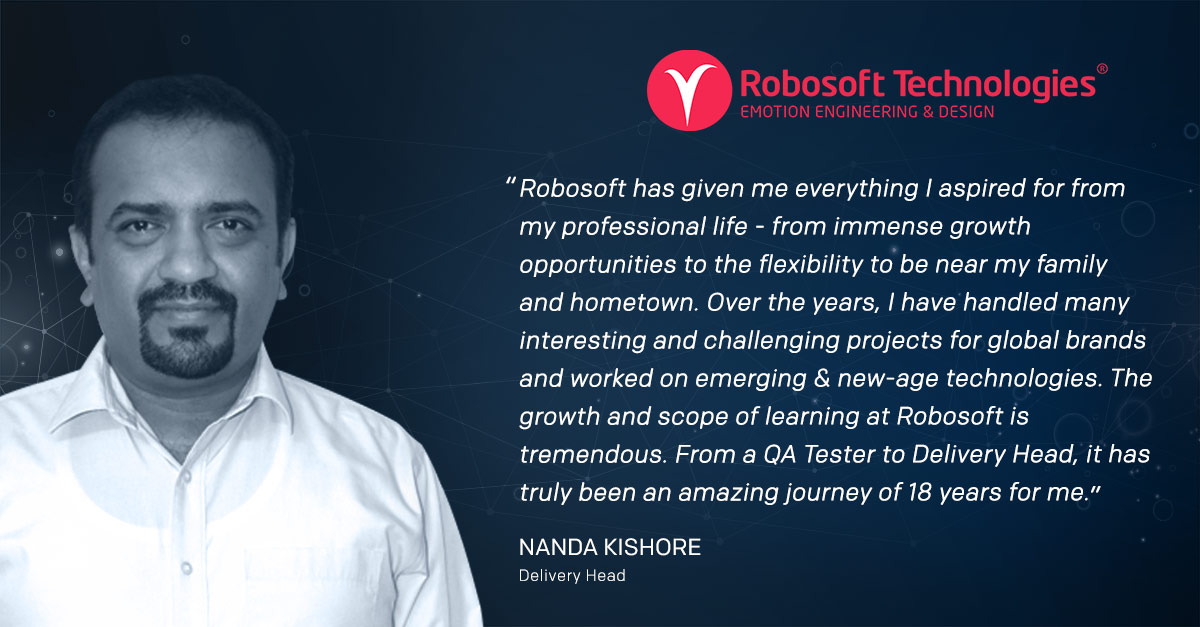 Q: Can you tell us about yourself – your family, interests, and work philosophy?
I am from Mangalore and I grew up in Udupi. Of all the roles I play in life, being a father is my favorite. I have two kids, a 12-year-old son and a 7-year-old daughter. I believe in leading a simple life and being approachable to people who need my guidance. I think that's one of the most important qualities that any leader should have.
Being transparent and straightforward has been the guiding factor in my life while dealing with people, both in personal as well as professional life.
I love outdoor sports and have represented my college too, in Cricket and Volleyball. Earlier, I used to spend weekends playing Cricket in various tournaments. Now, I love playing with my kids during the weekend. Other than that, I love traveling and cooking. I like experimenting with new recipes often. YouTube is my go-to guide when it comes to cooking.
Q: What made you choose Robosoft & what is it that inspires you?
I completed MCA from Manipal Institute of Technology. After my internship in Bangalore, I moved back to Udupi and started looking for a job. I used to hang out with my friends near the Robosoft office, which was just 100-200 meters away from my home. I was fascinated with this software company in the middle of a small town like Udupi.
I always wanted to be a successful IT professional. As luck would have it, there was an opening for a QA testing role in Robosoft. I applied and got selected. I was supposed to join on January 1st, but my manager asked me to join on 31st December instead and attend the new year celebrations with the team. Since I was joining in the night shift, my first interaction with the team happened during the New year's party, where I met all the team members and the management! That was an ice breaker for me. There has been no looking back for me since that day, and it has been 18 years!
I started as a tester for Mac applications on Mac OS 9. Within 3-4 months, I got an opportunity to lead a QA team for a global project. We were working on Deskjet, Laserjet & Photosmart printers, scanners, and copiers during those years. Today, I lead several projects for global brands across sectors and geographies. From a QA professional to Delivery Head, it has truly been an amazing journey for me.
From the flexibility to be near my family and hometown to immense growth opportunities, Robosoft has given me everything I aspired for from my professional life. Over the years, I have handled many interesting and challenging projects for global brands and worked on every possible emerging and new-age technology, be it AI/ML, Blockchain, voice, and more. The growth and scope of learning here are immense. Every day we handle a new challenge and work towards creating exciting and disruptive digital solutions, and that keeps me inspired.
The work culture here is extremely friendly. With some amazing peers and a senior management that is always approachable and ready to hear you out.
Q: How was 2020 for you? What is it like to manage home and work responsibilities? Any advice to peers?
With the pandemic, lockdowns and the extended WFH scenario, 2020 was a challenging year for all of us. On a professional front, we learned to adapt to unprecedented situations faster. Earlier we had a few teams that were working remotely. But with the entire company working from home, managing communication within teams was difficult initially. However, with time we have learned how to plan and manage communication and work better.
I have followed a regular work schedule every day. While there will always be disruptions in your schedule, especially when you are handling so many projects simultaneously, it helps to make a daily to-do list. Earlier, I used to de-prioritize a couple of things for the next day. But given that we are at home, I try to finish the work I have scheduled for a particular day on the same day.
I think WFH has increased productivity for all of us. But, it has also extended the working hours due to more calls and meetings. It is important to be involved in a stress-relieving activity – be it yoga, meditation, or any other hobby that relaxes your mind.
I love singing and have been a closet singer so far. During this time music has acted as a stress buster for me. Earlier, I often sang in a place where no one is nearby. But now I have started performing in front of small gatherings of friends and family too 🙂
On the personal front, 2020 has been a year of tremendous learning. It has taught us the value of taking hygiene and health seriously. Fortunately, at Robosoft we had a steady business and we also expanded as a team. This is not the case for other industries. Many people have lost their jobs during this time. This realisation has taught me to be grateful and be more prudent about savings.
During these times when many people are struggling to even get food on their plates, 2020 has taught me to be more empathetic towards the less fortunate. It has also reinforced the value of sharing, being more cautious towards our spending patterns, and reducing wastage.
Q: Your advice to students & freshers exploring opportunities in this field?
Technology will always evolve. Some years ago we were talking about device communication, today we talk about technologies like Artificial Intelligence, Machine Learning, Robotic Process Automation, Big Data, Blockchain, and more. These technologies will also change in the coming years. My advice to students and freshers is to pick a technology which you are genuinely interested in and gain expertise in that – instead of following the herd, follow your heart.
Having said so, it is also important to be updated with the new technology trends, learning continuously, and exploring newer avenues. This will help you stay relevant for the industry. But don't be a 'jack of all trades and master of none'. Gain an in-depth understanding of the technologies that you choose to learn.
Q: In your view, what is the scope of this industry in the years to come?
In the coming years, cloud computing and automation technologies will gain more traction. Data analytics will also be an important area that will grow.
But most importantly, enterprises will choose digital partners who provide holistic services and not just one-off solutions like app development. At Robosoft, we have also evolved to offer end-to-end digital services to our clients. We started with Mac development but as we grew, we moved to mobility and web solutions and today we are a full-service digital agency offering services like advisory, design, engineering, and analytics.