At Robosoft, our mission is to create digital solutions that can simplify lives of millions across the globe. Our talented team of software and product engineers, design thinkers, digital consultants and more, consistently work towards driving this mission.
In this interview-based series, we will meet these 'behind the scenes' experts, know their passions and inspirations and understand what drives them to create digital solutions that touch lives of millions of users and drive business results.
In this interview, we will get to know Poojarani G, Technical Leader at Robosoft Technologies. Pooja has been a part of Robosoft for 8+ years now.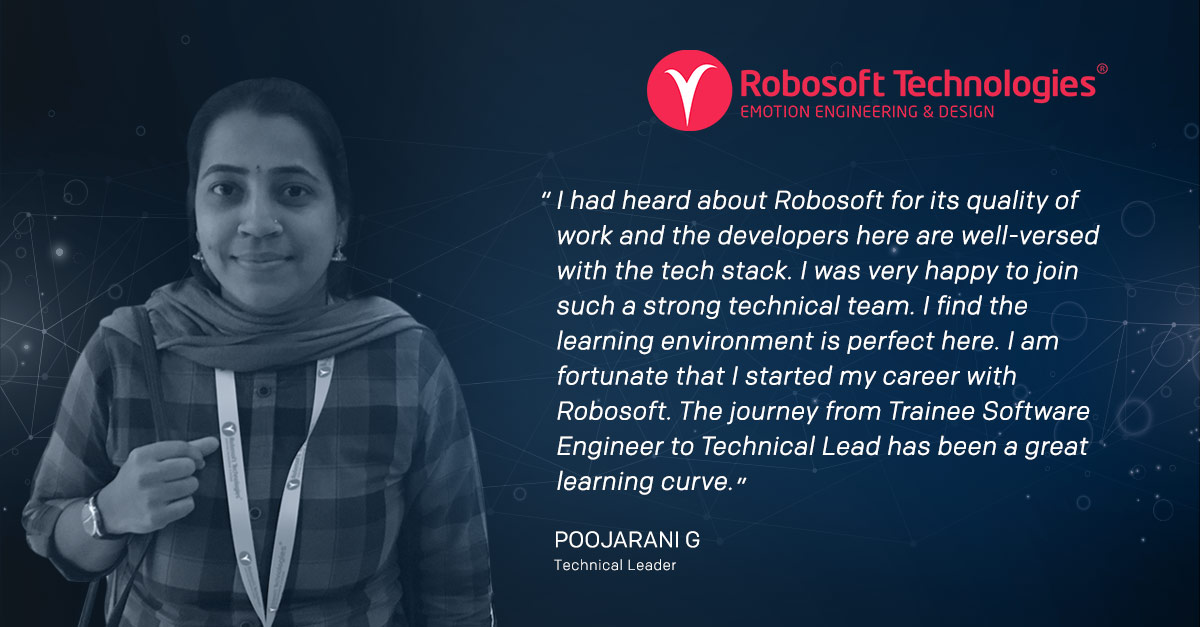 Q: Tell us about yourself and what you do, your hobbies and more?
Pooja: Coding is my passion. From my childhood, I had an interest in Computer Science. I wrote my first computer program when I was in 5th standard. Here in Robosoft, I work on the Android platform.
I believe in making myself a priority every single day and that is why I start my day with Yoga for an energetic headstart and music to infuse positivity. Once your day starts well, the rest of the day will fall in place.
I also like painting and gardening and I am a keen reader. I love to read non-fiction books. My best weekend is to sit with my kid on the balcony with a book. While I read, my daughter listens and asks plenty of questions. I love to read about technology, parenting, cooking, travel, health, music, dance, emotional intelligence, and more.
My inspiration has always been women tech leaders. They are technically strong. The way they balance their work and family is amazing.
Q: What inspired you to choose Robosoft Technologies & what is it that inspires you?
Pooja: I attended a pool campus interview. There were 10 colleges with 200+ students from which Robosoft recruited only 3 students. I am very proud that I was one of those 3 students who were selected.
I had heard about Robosoft for its quality of work and the developers here are well-versed with the tech stack. They are known for their clean code. So I was very happy to join such a strong technical team. I find the learning environment is perfect here. I am fortunate that I started my career with Robosoft. The journey from Trainee Software Engineer to Technical Lead has been a great learning curve. I always look up to my seniors who are technically sound and supportive.
The recent project I am working on is Mercury Credit Card android app by Creditshop, an easy-to-use mobile application for users to manage the Mercury Mastercard. Security is paramount for this project and I ensure that the platform meets robust security standards. Besides this, I also train new engineers who join the organization, and that is one of my favorite tasks.
Q: How has the quarantine phase been? What is it like to manage home and work responsibilities and your advice to peers alike?
Pooja: Initially I found it difficult, but not impossible. Later I spent some time planning the deliverables at work and the chores at home. With the support of my husband, I was able to manage both without stress.
My daughter was also very supportive and made sure I attended client calls without disturbances. Sometimes, She will sit and attend audio calls with me. She enjoys it very much. During this quarantine phase, I have become more disciplined and productive than before.
Advice: Life teaches us the right things at the right time. This is very true and we must be prepared for it.
Q: Your advice to students & freshers exploring opportunities in this field?
Pooja: I have always considered Programming as not just a professional skill but as an art. So, if you really want to show your coding architectural skills then this is the best platform. Every line of code matters. Also, we must have knowledge about all the technologies but we should have full expertise in at least one.
Q: In your view, what is the scope of this industry in the years to come?
Pooja: This industry is one of the actively growing sectors in the global app market. This is because of technology's ability to boost mobile apps. AI and IoT apps will be smarter and help you understand user behavior. So much to learn, explore, implement, and deliver.