At Robosoft, our mission is to Simplify Lives. Our talented team of product strategists, designers, software engineers work towards driving this mission.
In this interview-based series, we chat with our behind the scenes experts – to know more about their values and inspirations. We also try to understand what drives them to create digital solutions that touch the lives of millions and drive business results.
Today, let us get to know Vidyalaxmi V. Shenoy M. – Senior Software Engineer at Robosoft. Vidyalaxmi joined Robosoft right after her college in 2013 and has been an integral part of our family for over 7.5 years now. She joined us as a Trainee Engineer after her campus placement. Over the next 7 years she not only grew her career but also helped Robosoft create many delightful digital experiences for its clients.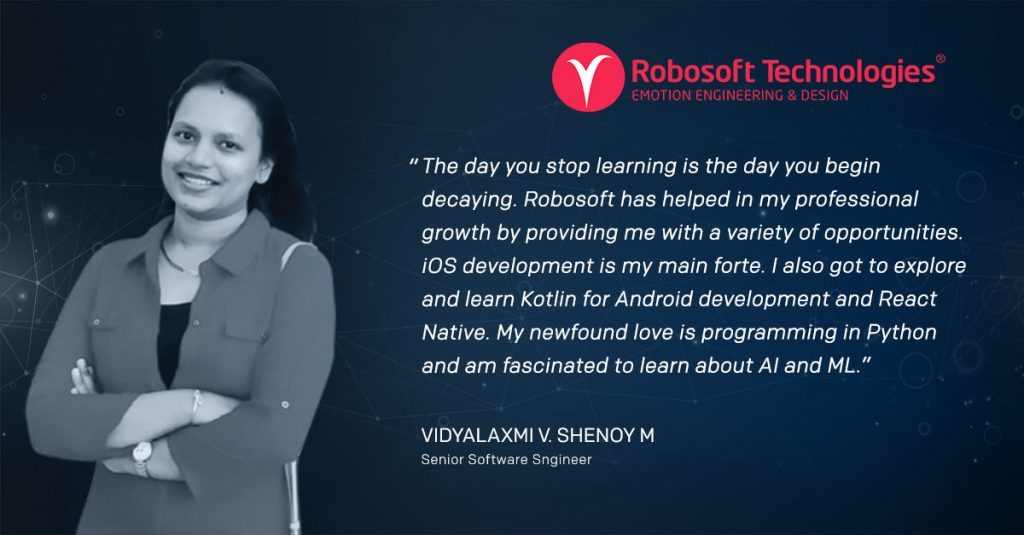 Let's learn more about Vidyalaxmi from our conversations below.
Q: Tell us about yourself and what you do, your hobbies and more?
I was born and brought up in Mangalore. My dad loved traveling and he would take us on spontaneous road trips when I was younger. I guess that's how I got my love for traveling. I like to explore new places and try the local cuisines and wish to be a travel and food blogger someday.
If you follow me on Instagram, you will know all about my love for exploring new places and restaurants. Apart from that, I'm interested in sports like throw ball, basketball, and badminton. I have also participated in state-level basketball matches during my school days.
Q: What inspired you to choose Robosoft Technologies & what is it that inspires you?
I got into Robosoft through my campus interview. I was one of the 2 selected candidates among 100s of others who sat for the placement in Robosoft. I heard a lot of positive things about Robosoft and was excited to join as it was close to my hometown. This decision helped me stay close to my parents as I didn't have to leave my city.
As a trainee engineer at Robosoft who was passionate about coding, I got a lot of support from my seniors, mentors, and my managers. They helped me improve my coding standards and master the art of coding to some extent. I know we cannot master coding completely as it is a never-ending journey of learning new things every day, which keeps me inspired.
Robosoft has helped in my professional growth by providing me with a variety of opportunities. iOS development is my main forte. I also got to explore and learn Kotlin for Android development and React Native. Currently, I'm working on a macOS project but my newfound love is programming in Python and am fascinated to learn about AI and ML.
Q: How has the work from home phase been? What is it like to manage home and work responsibilities and your advice to peers alike?
I developed a passion for cooking in the WFH phase and love trying out new recipes with my husband. Apart from that, I have also started taking some time out to exercise daily and adapted a lifestyle of healthy and clean eating.
Apart from some initial readjustment period, I didn't face many challenges working from home. Although, I miss face to face interactions with the team members daily. I can consider myself lucky to have got a wonderful and supportive team. We plan our tasks very well and communicate everything in a clear and concise manner.
My advice to peers would be to keep oneself calm and dedicated in these unprecedented times. Remaining connected in this isolation has been possible through the virtual world. Stay connected with your team and avoid unnecessary distractions during work. Social media is a big distraction. For some unknown reason, we tend to check it every 10 minutes to see if we're not missing out on something. This absolutely kills your productivity.
Also, dedicate some time to yourself. Do something that helps you calm your mind like meditation, yoga, or exercising. Understand and appreciate the role we play as individuals and as a team, and work towards a common goal. This is the mantra to move all the spokes of the wheel in seamless coordination.
Q: Your advice to students & freshers exploring opportunities in this field?
"The day you stop learning is the day you begin decaying."
This is true especially in the tech world where things change at a rapid pace. Always stay hungry for knowledge and be open to new ideas and opportunities. Try to learn something about everything and everything about something.
You can try your hands on as many technologies as you wish, but make sure to master at least one technology. Be passionate about what you do and stay up to date with the latest and trending topics in your field of work.
Be open to inputs and suggestions from people around you, be it your mentor, senior, or even a peer. Pick the right tools and never hesitate to play around and find out what's working best for you.
Q: In your view, what is the scope of this industry in the years to come?
The most alluring part of the IT field is that it is limitless. One can keep innovating in a sector that is expanding by a quantum fold.
Digitization has given a big boost to the IT industry and changed the way customers view businesses. Almost every kind of business is backed by IT. Creating digital solutions using emerging technologies like AI, Machine learning will be the main catalyst to create a smarter world and will lead the way in the future.