From Uber to Amazon to Airbnb, two-sided marketplaces have disrupted multiple industries. The workforce or labor industry is now going through disruption that retail, hospitality and automotive industries have gone through due to the emergence of such marketplaces. The 'freelance economy'  currently makes up 35% of the U.S. workforce and is projected to reach 50.9% by 2027. Labor marketplaces have been key players in shaping the freelance ecosystem. In this article, we explore how two-sided marketplaces will impact the future of work and how these models could augment in the future.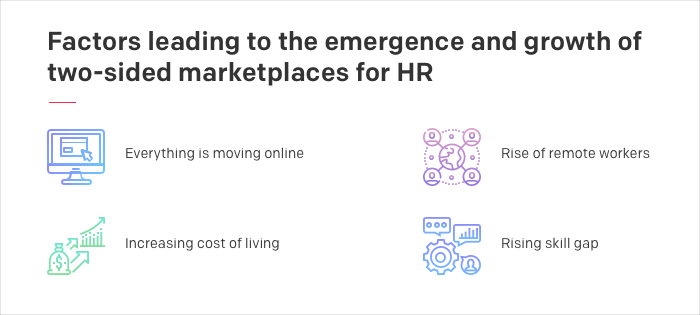 There are various macro-trends that have led to the emergence of such marketplaces:
Everything is moving online: This trend started with eCommerce portals like eBay and Amazon, which were among the first industries to move online. But as the internet and economies matured a lot of industries followed and the internet became the entry point of work.
Increasing cost of living: The other macro trend that has contributed to the emergence of two-sided marketplaces is the increasing cost of living and people across the globe are looking for ways to supplement their income.
Rise of remote workers: In today's gig economy people are looking for flexible lifestyles. They do not want to spend a lot of time commuting to their workplaces. Even companies spend substantially to shuttle employees to offices.
What is unique here is, two-sided marketplaces are not just restricted to traditional gig-economy workers, limited to one category like graphic designers. Such type of work has always been outsourced to freelancers, but now we see other categories of work going online too.
Rising skills gap: The demand-side of the marketplace is facing a skills gap. Organizations are increasingly finding it very difficult to identify the right resources at the right time. In the Bay Area, it takes an average of 3 months to find the right resource, which may be too long a waiting period for many enterprises.
How two-sided freelancers' marketplaces are different from traditional Managed Service Providers
A Managed Service Provider (MSP) is an entity that large enterprises could engage with to manage their contingent workforce. MSPs help enterprises in the complete cycle from hiring contingent workers to paying them and ensuring that it is done efficiently. Such services drive a lot of efficiency and value for large enterprises.
Whereas gig-economy or freelancers' marketplaces like Upwork provide a different way of engaging with the worker. In most MSPs, the operators are staffing companies, and they continue to operate with their traditional models. They call hundreds of potential candidates each day to fill the on-site vacancies. The drawback is these companies have a very large footprint.
The challenge most organizations are facing today is the skills gap, especially in emerging technologies like AI, ML, RPA (Robotic Process Automation), and Blockchain. Additionally, considering that MSPs are under pressure to deliver cost-savings, it becomes difficult for them to balance the equation because of the overheads.
Two-sided marketplaces bring technology as a solution to the cost and skill gap problem. They replace the traditional overhead in recruiting with a global marketplace platform that essentially flattens the world. Once you take the location out of the picture, the skills gap is not so wide.
Also, these platforms enable hiring managers to self-source candidates and allows them to hire candidates faster, and at a much lower cost. In the case of MSPs, the process takes much longer – from submitting a requisition, waiting for it to come back from the suppliers, reviewing the resumes and so on.
The gig economy marketplaces deliver on the speed, cost, quality equation really well – just like Uber and Lyft have done in the taxi aggregator space.
How the two-sided marketplace is redefining the future of traditional HR in enterprises
Traditionally, HR's role in most organizations has largely been of risk mitigation – coming into effect when employees are not performing well, resources need to be reduced or during employee onboarding. All these can be labeled as fairly reactive.
But HR has also to be at the front center when it comes to the macro-trends with skills gap – how an organization's talent pool is in comparison to other organizations, how to retain, grow and re-skill resources and so on. As these macro trends evolve HRs role now has become much more strategic. The two-sided marketplaces are giving HR an incredible tool for strategic workforce planning.
Traditionally strategic workforce planning was about the talent inside the four walls of an enterprise. But the workforce of the future is going to look like construction crews or movie production – where experts come together to build something and then disperse.
As HR starts playing a strategic role, there is an opportunity to include these gig marketplaces into their workforce planning and beyond winning the talent war, delivering strong outcomes for their stakeholders. This is one of the things that is redefining HR from managing risk to playing a more strategic role to deliver real quantifiable results for businesses.
With online marketplaces, HR teams can deliver on speed and cost – both of which are quantifiable and can be a game-changer in the domain. This will impact the traditional roles of HR in terms of background checks, training, etc. as most candidates will be self-trained. Some gig workers can also act as mentors or trainers going forward. For instance, Everwise connects resources to mentors, and LinkedIn matches mentors to profiles. Further, e-learning is becoming increasingly popular. A growing trend suggested that large enterprises will soon use online marketplaces such as these to help their employees experiment. This is something that Google already does. Enterprises can allow workers to enroll on these platforms, interact and share their skills, and get real experience. This benefits the employee as they can get trained and paid for the project at hand, as well as the enterprise as they get a skilled resource.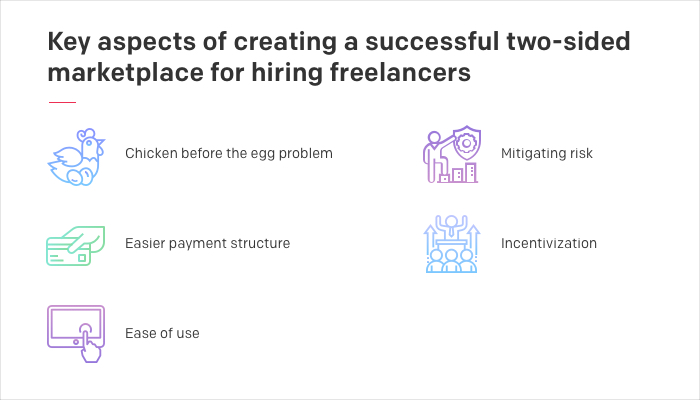 The chicken before the egg problem: Marketplaces should have good jobs that are matched to the right resource. So they have to be really good at profiling and matching freelancers with opportunities based on their skill sets. Marketplaces struggle with the 'chicken before the egg' issue of whether they should get the supplier or the demand first. In an ideal labor marketplace, we need to find both. For instance, Uber started with both, they seeded demand and also had drivers.
Making payment structure easier: Make payments easier is one of the biggest pain points for freelancers. On an average, payouts take 30 to 90 days, which can prove to be inconvenient for freelancers who rely on this income to pay their daily bills. It is important to create a marketplace that makes it easier for them to get paid soon after the completion of the project. This gives rise to another important marketplace – the responsibility of collecting payments from clients.
Ease of use for hiring managers: It is imperative to design an easy request creation process for resources, much like Amazon. Additionally one can bring value to them by curating relevant talent and building trust through reviews, ratings, etc.
Mitigating risk: For buyers, HR, procurement and legal teams it is important that these online marketplaces mitigate risk. For example, through classifications like the 1099 forms for freelancers as in the US. If you are engaging someone from a gig economy it is important to ensure that all relevant documents are in place – from registration to insurance.
Incentivization: It is also important that these marketplaces provide incentives to both sides to get them on the platform. They have to kickstart liquidity (transaction) through tactics like lowering transaction fees, offering referral codes and making some transactions free. While it is not difficult to get freelancers on such platforms, demand-side is the tougher nut to crack, especially with large enterprises.
Key challenges in successful onboarding of both parties to a two-sided marketplace
Some things play an important role and should be considered while creating a two-sided marketplaces:
For freelancers:
Easy profile creation that can be matched to their skillsets
Fast and frictionless payment process
Finding quality demand and quality projects
For hiring managers:
Fast and easy search of relevant resources
The right collaboration tool
Imbuing a sense of trust with the platform and those registered
Protection from below-par delivery or non-performance
Additionally, these are some points to consider in the case of legal and procurement teams:
Visibility on spends
Usage pattern of the platform by hiring teams
Proof of value for the organization
Protection against misclassification
How two-sided marketplaces can build trust on their platforms
The data provided by freelancers is usually not validated, much like how resumes work in the traditional recruitment world. It is important for marketplaces to validate the information to build trust. For instance, it is highly essential to verify a creative freelancer's portfolio. Hiring managers should also be able to verify their work portfolio by way of displaying renowned client logos. For engineers, Github is a great platform to validate their skills. They could complete skill-based tests and get rated in order to get verified on the platform, thereby mimicking a storefront where one can make a decision to purchase after careful consideration of the quality of the product and its reviews. Evidently, this means the marketplace has to use elbow grease in verifying the recruiter/freelance profile in the initial stages.
Marketplaces need to evoke trust in freelancers, especially for SMEs by using Escrow as a way of protecting freelancers' work, holding money in a trust and releasing it only when the work is completed to satisfaction.
Few learnings for HR based two-sided marketplaces from counterparts in other industries
One of the biggest learnings from a platform like Uber is how they match buyers and suppliers. Similarly, Airbnb curates suppliers by identifying them on behavioral metrics and highlight things like – 'This host is known for being friendly'. Uber suggests features like 'This driver is known for great conversations.' Labor marketplaces can take a cue from this and up their curating game by classifying freelancers beyond their listed skill sets. It can make a difference between a good digital experience and a great one.
Impact of technologies and business models in such marketplaces
From a technology perspective, AI, ML, and Blockchain will play a huge role in how the marketplaces establish trust, resource profiling, getting matched, and getting paid quickly.
Blockchain will play an important role in building trust because of it's shared ledger model. It is a great opportunity in labor marketplaces to make it more transparent versus the current models that are siloed and closed.
In terms of business models, the prevalent business model is a transaction fee or percentage fee that is taken from the freelancers and buyers. This model will probably stick for a while. However, over time these marketplaces could have difficulty commanding higher prices.
New models such as retainer-based SaaS models where you pay a certain amount and get services on a monthly fee, may emerge. In such models, both freelancers and the marketplaces get paid on a revenue-based recurring model. One such example Legalzoom – an online legal technology company that helps its customers in creating an array of legal documents without having to necessarily hire a lawyer.
Unequivocally, the freelancer economy is on the rise, and the two-sided marketplace is sure to transform the future of work into a more flexible, efficient and cost-effective system.