Generation Z, or Gen Z for short, is the new generation poised to refine and redefine the way the world shops. Retail brands want a slice of this ever-growing pie, vying for attention from this coming-of-age consumers, predicted to account for approximately 40% of all retail traffic, by as early as 2020.
The global retail industry is predicted to grow to a staggering $31.88 trillion by 2023 (an increase of 5.3% since 2017). Retailers are not only expected to meet the needs of these consumers with slick, user-friendly mobile apps, but also create delightful online experiences, that leave them wanting more.
Let's explore the nuanced buying habits of the millennial generation, and how technology can create & augment seamless omnichannel retail experiences.
Gen Z ─ The Always-Connected Generation
Gen Z shoppers (born between 1995 and 2014) have been raised in one of the most diverse societies in history, with greater access to information and equality across genders and races. As such, they are steadily changing the way we shop, what products we buy, and how we decide on which brands to support, based on their values.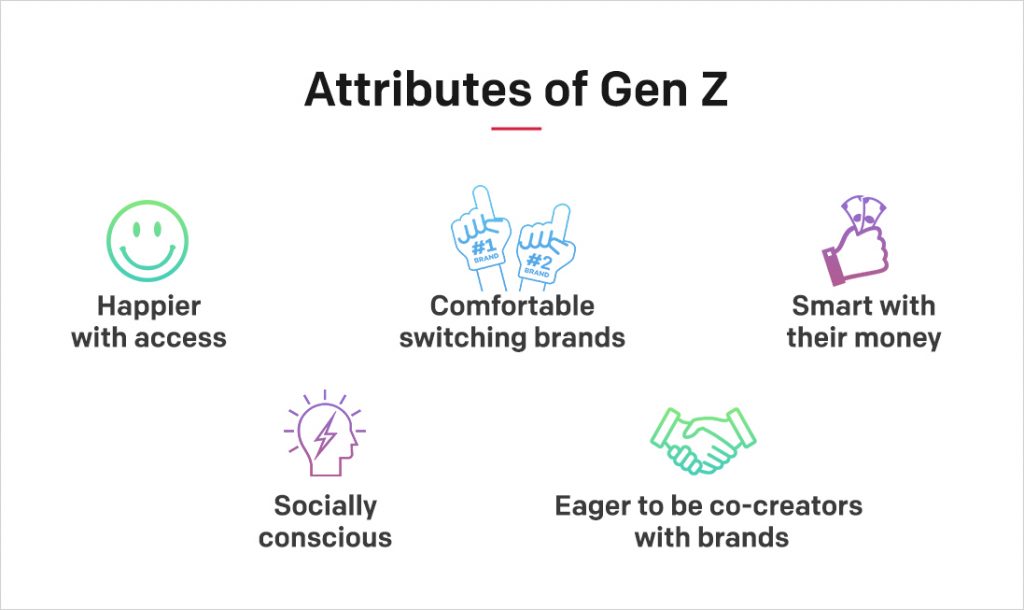 Generation Z shoppers as a group tend to be:
Happier with access to rather than ownership of products
Comfortable switching brands if retailers don't add value to their lives
Smart with their money and prefer to price shop to find the best deals
Socially conscious and aware of brands that share their values
Eager to be co-creators with retailers and be part of the design process
These characteristics are a subtle yet significant difference from previous generations, where the expectation for products were met, but with little to no say in their design, purpose, or creation. However, trends are shifting, and Gen Z is proving that they care more about collaboration and community access than keeping everything for themselves.
"This generation desire involvement in the entire chain of activities that brings a product to market — from conception, design and creation, to marketing and retailing, even to funding and rewarding."
─ Pricewaterhouse Coopers: "TNS Retail Forward"
In this regard, social media has played a crucial role in the lives of millennials and Gen Z, dominating their retail experiences in the past few years. These platforms offer an accessible space for these generations to engage with brands everyday. Users can scroll through their posts while in line at a coffee shop, tap to see the prices and product names, and subsequently purchase them, as shown in these social media posts, all within a few minutes.
On average, people check their smartphones, about 50 times per day. Their interactions may range from browsing social media sites (60%), making mobile payments (31%), to using voice assistants for information (64%); with them being marked as some of the top activities. These numbers back up the business case that retailers must be interacting with customers on their devices─lest their brand be left in the dust.
According to a KPMG survey, Gen Z consumers prefer brands that personalize user experiences and gain loyalty from their customers. For example, Dresden, an eyewear retailer lets its customers create their sunglasses by offering interchangeable lenses and frame parts. Similarly, Birchbox asks its customers to share their beauty preferences, and in return, the company creates a customized box with a mix of different brands for them.
But what specific technology tools are retailers using that get results from a group of consumers that have never known a world without smartphones or the Internet?
Technology That Augments Retail Experiences
With their smartphones being as essential as their shoes, Gen Z believes that retailers exist both on their devices and on the street. That means retailers must be there for them in those spaces as well, encouraging organic touchpoints that feel more like a conversation with an acquaintance rather than a business transaction with a large corporation.
For one thing, the customer service associates that Gen Z customers connect with must be helpful and well-informed about brands, products, and services that are available. In fact, 40% of shoppers state that their in-store experiences would be significantly enhanced by a sales associate with deep knowledge of both the company and its products. Knowing this, it's easy to understand why Gen Z shoppers value experience above anything else.
These savvy, plugged-in shoppers seek opt-in services, two-way dialogues, and mutual rewards from their retail experiences. IBM conducted a recent study and found that over half of Gen Z consumer would switch brands in a heartbeat, if they felt that the company's products and services were average or subpar. Those from the Gen Z crowd are more willing to share their data with organizations, when compared to previous generations. However, they need to be aware that it's being used to add value back into their lives with rewards programs, notifications about sales on products they've liked, and incentives to invite their networks.
Some retailers are already successfully capitalizing on the obsession of GenZ with social media and are using it for their benefit. For instance, clothing retailer Hollister regularly connects with Gen Zs on Snapchat to get real-time product feedback.
Voice Assistants coupled with home AI systems is another technology that is reshaping the course of retail. A recent survey suggests that Gen Z is more enthusiastic about voice assistants compared to their predecessors. In fact, in the US nearly one in five consumers have purchased a product using a voice-controlled device in the past year.
For Gen Z, speed and availability are a priority. Tech-first retailers like Amazon understand this and innovate to meet this new-age consumer demand. Amazon has introduced Amazon Go that allows shoppers to leave the store without having to check out or use a credit card to pay. Instead, their account automatically gets charged.
Gen Z values experience and Augmented Reality is helping retailers to offer engaging user experiences. Take for instance, Sephora, a leading specialty retailer in beauty introduced a new 3D augmented reality mirror. This AR-based mirror tracks the precise location of a user's facial features and applies eye shadow colors directly on the video feed from a camera.
A Case for Omnichannel: Technology Success in Retail
Retail leaders should keep a simple yet important truth in mind when developing their omnichannel experience for the next generation: online for efficiency, offline for experience.

A recent IBM study found that a whopping 98% of Gen Z visit stores to discover products in person; of those, 67% visit brick and mortar stores "most of the time" to browse around, even as they're on their devices checking out competitors' offerings and prices to find the best deals.
Gen Z shoppers continue to expect that their in-store experiences will complement their online visits to your brand, not simply mirror it. They are the first generation to be born into a world where the Internet and smartphones have always existed. As such, they intuitively understand that online and offline interactions will be different, and they expect retailers to understand this, too ─ or they'll take their business elsewhere.
And this is crucial for retail leaders to note, because this generation makes up one-third of our global population, and they're going to account for approximately $3.5 trillion in annual household spending.
Here are a few examples of how leading brands expertly use technology to create these sought-after experiences for Gen Z shoppers.
Omnichannel Retail Leaders
Walmart has been making impressive strides to chip away at the market share from their primary online competitor Amazon by buying up e-commerce companies, a strategy that enables them to merge both offline and online assets and take advantage of their newly-acquired partner tech experience…instead of building a technology-focused platform from scratch.
We partnered with Digital Mall of Asia to merge both online and offline customer experience in their latest offering, the Virtual Trial Room, which allows customers to browse through and test out products just as they would in a store. This gives them the impression that they haven't missed out on anything, even though they are unable to visit in person, but rather gain the same value from the comfort of their home or office. Digital Mall of Asia, a first-of-its-kind initiative by Yokeasia Malls Private Limited is an amalgamation of real estate and digital space. It is a unique concept that introduces digital malls with digital shops, where an individual can buy, sell and rent. DMA brings together the best of offline and online worlds – the shopping experience of an offline mall where brands have dedicated shops and convenience of online shopping where we get unlimited selection and benefit of buying anytime, anywhere.
Companies are also utilizing applications such as geotargeting and geofencing to offer clients promotions and discounts via their smartphones while they're near or in stores. American Eagle, for example, uses geofencing to send consumers loyalty points and rewards when they are trying outfits in the change rooms. Starbucks and McDonald's both use geotargeting to send coupons and deal reminders when you're walking within the vicinity of one of their stores.
Whether retailer leaders choose to pursue a technology-forward path using AI or augmented reality applications such as VR mirrors to "try on" outfits, to cover their bases with their in-store interactions to improve customer service and engagement, or even combine the two for a powerhouse omnichannel approach, retailers need to keep in mind that they should be offering valuable, unique experiences to the Generation Z crowd that they couldn't get elsewhere.
Conclusion
It's important to stress that a retailer's omnichannel path is just that – a journey, not a destination. Customer conversion happens across multiple channels, not just in-store or online. Omnichannel options will continue to evolve with both advances in technology and shifting consumer behavior, so be sure to revisit your marketing efforts regularly to ensure you are meeting consumers where they expect to be heading, not simply where they've been before.