2020 has forced enterprises to rethink and re-evaluate their business challenges and opportunities. The role of digital experiences is even more critical for enterprises as consumers interact with mobile apps for everything from ordering groceries to payments to watching video streaming services. Mary Meeker's recent COVID-19 impact report suggests that businesses doing the best, have products that were always in demand but especially so in uncertain times – and that list now includes entertainment.
In this scenario, apps which can help consumers accomplish a multitude of tasks – also known as Super Apps have gained currency. Such apps were popular even prior to the COVID-19 outbreak especially in markets such as Indonesia, China and India – where consumers took to mobiles as their first entry to the online world as opposed to a gradual shift from desktops, laptops and mobiles as seen in the western world.
Super Apps was a term introduced in 2010, by BlackBerry founder Mike Lazaridis. He described Super Apps as a closed ecosystem of multiple apps used on a daily basis due to their ease of use. In today's world Super Apps are a combination of functions like social, financial, utility services and entertainment integrated into one app. We have seen food delivery apps extending to grocery deliveries and offering video recipes, cab aggregator apps evolving into food delivery and payment apps encompassing everything from e-commerce to news. This phenomenon will only rise rapidly in the near future.
Why Super Apps are popular – the consumer's perspective
A recent KPMG report suggests one of the major driving forces for the rise of Super Apps at a global level is the shift in consumer behavior and preferences. Specialist apps focused on delivering one service well– which led to a proliferation of apps in a device. After nearly a decade of fragmentation and unbundling of services in their lives — consumers are starting to revert towards re-bundling, says the report.
Of course, consumers are not specifically stating that they need a Super App. However, the shifts in their demands from a digital solution are leading to the rise of such apps. Here are a few such shifts: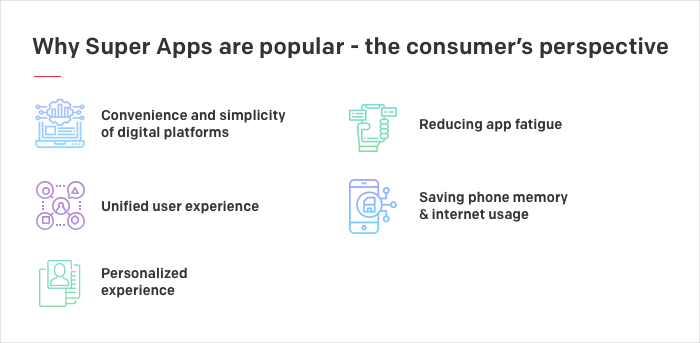 Convenience and simplicity of digital platforms: ease of use, and convenience play a critical role in the acceptance of any digital solution. Super Apps helps enterprises offer that.
Choosing one-stop-shops vs plethora of apps: 'there's an app for that' was a popular saying. There are apps available from bankingbanks, bank-like neo banks, telcos, digital wallets, ride-sharing, food delivery and so on – leading to app fatigue. In fact, a recent Clevertap study suggests that most users haven't downloaded a single app in a 3-month period. And, it is a known fact that smartphone users spend most of their screen time on just 5 apps. Integrating all those most used 5 apps into one single Super App is definitely a win-win proposition for the user and the business.
A unified user experience: in a digital world user experience can be the key driver for retaining and engaging with the user. Super Apps can provide a uniform and individual user experiences across offers.
Save phone memory &internet usage: On an average, a smartphone may have about 30 apps with only a handful of apps being used regularly. Adding more specialist apps – thus affecting device storage is a problem for most users. Hence, an 'app which does it all' is seen in positive light. It is also seen as a productivity aid as it reduces the time to complete tasks, as users no more need to download multiple apps for different services. It saves phone memory and mobile data. These are two important factors while serving customers in emerging markets and engaging them.
Data from Super Apps helps offering personalized customer experience: a Super App can be a repository to a wealth of data from various services it offers. Brands can use analytics, track consumer habits, and offer an effective and personalized experience.
The rise of Super Apps and why they make business sense
The rise of Super Apps started in South East Asia and is now becoming a worldwide phenomenon. The success of the Chinese giants like WeChat and Alipay is encouraging the rest of the world to tap into this opportunity. Recently, Yahoo Japan's parent Z Corp. merged with LINE, a popular chat app in Japan, Taiwan, and Thailand to develop super-app models for both brands.
In India, our client Paytm rose from being a payments app to becoming a Super App and offer a range of services such as bill payments, movie ticketing, e-commerce and now contactless food ordering [users can scan restaurant menus through the app, place and orders and pay the bill thus maintaining social distancing]. In a recent interview, Vijay Shekhar Sharma, the founder of Paytm said, 'Customers on our app should complete as much as their day's tasks'. The merits of this approach is plain to see – make the app a single destination for a multitude of needs and tasks. Recently, we also worked with one of the leading e-commerce players of India to integrate insurance aggregator services on their platform.
In Indonesia, Go-Jekhas emerged from ride-sharing platform to offering a range of services like food delivery, medical advice and financial products. According to Go-Jek, 'the biggest moat Go-Jek built is payments. Once you're handling money for a user, you can build a castle of services within it.'Such Super Apps leverage their existing infrastructure in innovative ways like using their ride-share drivers as bank tellers.
In India too, we are seeing such apps gaining investor's attention – Tencent has the most prolific India portfolio including Ola, Flipkart, Swiggy, etc. Softbank, which backs Paytm and Ola in India, has also invested in Grab.
The much-revered Mary Meeker's 2019 internet trends report cites how local services are evolving into super apps that fuel usage at scale. One such example is Meituan, an on-demand delivery platform with 412 million annual users, growing at 26% year over year. During the COVID-19 pandemic, a large number of consumers have turned to the platform to order non-food items. Understandably spiking the company's confidence that food delivery service will become the infrastructure service for China's urban population. In India, MeituanDianping has also invested in the local food delivery service – Swiggy. Another such example is Alibaba's Alipay which has become a Super App with services that support payments for more than 1 billion users.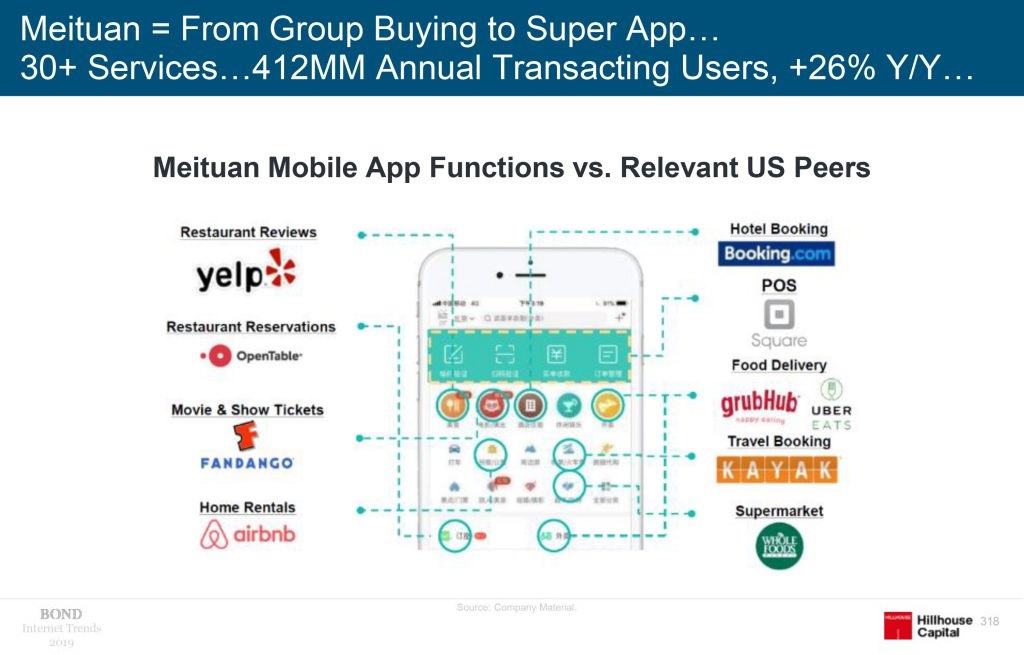 Image source
Besides the shifts in consumer behavior, another factor that has led to the growth of Super Apps is the blurring of boundaries between industries. A digital wallet platform has emerged as a competitor for e-commerce players, a ride-sharing platform can be a competitor for delivery apps and so on.
The growth of the platform economy has also led to the flourishing of Super Apps. Super Apps like Grab, WeChat, Alipay, Go-Jek, Paytm, Kakao, Line in Japan, or Rappi in South America, are examples of the platform business model.
In fact, the most valuable companies in the world – Facebook, Amazon, Google, Microsoft, Apple, Tencent, and Alibaba incorporated the platform business model years ago. The acceleration of this trend has led to enterprises shifting away from a single-purpose to multipurpose apps, resulting in the rise of the Super Apps.
Some organizations are also integrating their offers to break away from dependencies on third party platforms. For instance – Ikea is breaking away from Amazon and is working on building its own platform. While some enterprises are partnering with existing payers to build Super Apps for e.g. Berkshire Hathaway and JP Morgan have together launched a healthcare venture with Amazon.
It is evident that Super Apps make sense in the current world and the world to be, especially for enterprises that already have the infrastructure to evolve into one, with minimal resource and cost implications. And, we have seen that happening with the likes of platforms like Zomato, Swiggy, etc which quickly adapted to essential services delivery platforms from being food platforms.
Recently, our client Noon.com, one of the leading online marketplaces of Middle East, launched Noon Daily, a next-day fresh grocery delivery service in Dubai, via the noon App. The launch of the app was accelerated in the current situation with pre-payment and contact-less silent delivery features. We have also partnered with the client to launch their mobile wallet app – 'Noon Pay' which will make payments easier for their customers, hence closing the entire loop from ordering to payments.
Here's how Super Apps can help enterprises in business growth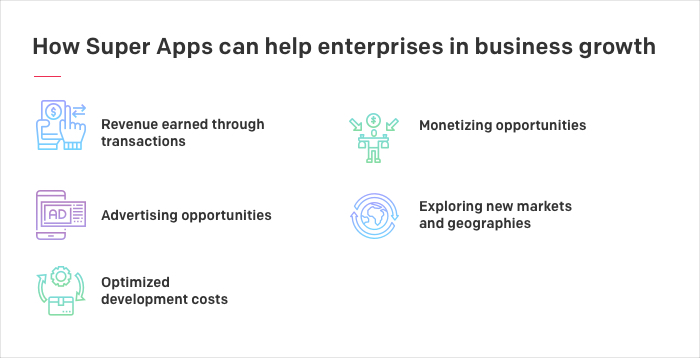 Revenue earned through transactions on the apps' marketplaces and platforms.
Scope of partnership with various merchants to provide their services on the app; introduce and monetize credit to consumers, agents, and merchants.
Revenue growth by allowing advertising capabilities on the platform.
Super Apps can help enter new markets/geographies: the only prerequisite being identifying user's pain points, provide great customer service, provide add-on offers and services on the same app, and do all of this seamlessly across geographies and industries.
Lower product ownership and development costs: Most of the 'mini-apps' on WeChat were not developed in-house, but created through integration by companies who wanted to conduct business with WeChat's immense user base. Most 'super apps' follow the platform-based approach to scale their products. In fact, WeChat opened its ecosystem in 2017 for developers to create mini-programs that work within the WeChat ecosystem. LINE has done something similar with mini-apps
As rightly pointed by Cristian Citu, the World Economic Forum's Digital Transformation Lead:
"Today if you smartly combine established and emerging technologies with a data-driven and customer-centric approach organizations have a major opportunity for exponential growth".
The same stands true for enterprises entering into the arena of Super Apps.
Key points to consider while building Super Apps

Start with a core product with high engagement and then build more use cases – Most Super Apps started as single purpose apps and extended their services after acquiring a substantial user base. WeChat, after accumulating a large customer base with its instant messaging service, introduced new features to its users, such as its own payment method, house rental, and ride-hailing services. Subsequently, the platform gained new users beyond the initial ones.
Have a supply-side economy of scale-like Uber, GoJek, Grab, Lyft, Swiggy – Go-Jek leveraged their success as a transport service and later offered more services to their existing clients. Similarly, the likes of Grab and Uber used their stronghold in supply-side services in transportation to later offer additional services to their clients.
Understand the needs of the users, the market and the economy before extending services – The success of apps in the Asian markets have been also largely driven due to the large number of the unbanked population in these geos. According to the World Bank, only 27% of the population in Asia has a bank account. With their integrated wallet feature, super-apps have been welcomed by this huge unbanked population in emerging countries. This might not be the case in the western markets, like the United States, where credit cards provide a great ease in making payments.
Build strong partnerships and ecosystems – Cross-industry partnerships can also be a determining factor for the success of Super Apps. For instance, Grab, the ride-hailing company headquartered in Singapore and with heavy market presence across the SEA region acquired the local sub-division of Uber and UberEats. At the same time, Grab also started paving its way towards payments and invested in OVO, a popular payment platform in Indonesia.
Super Apps – yay or nay for your enterprise?
While building a Super App might seem like a promising idea, however, it might not be the right strategy for every business. Some factors that companies should consider before making this leap:
Cost, time, and resource consideration: the cost, resources, and time involved in building a Super Apps is relatively higher when compared to creating a single-purpose app. Business leaders should consider and ensure their business priorities align with the need for a Super App.
User experience: a single-purpose app can sometimes offer a great experience that might get diluted with the integration of multiple services, if not done well. If your business is ready to create and offer a similar or better experience through a Super App, it might hamper your core business and brand.
Specificity of the services: many businesses offer multiple services under one brand.For instance under Facebook – there's a social media app, a messaging app, Instagram and WhatsApp. However, every app is a separate entity because they serve very distinct purposes. If your services are too specific and distinct in might not make sense to integrate them in one platform. Alipay made several unsuccessful forays into social networking/chat. WeChat too faltered in its attempt at direct e-commerce.
In conclusion
The Southeast Asian markets have seen tremendous growth and the rise of Super Apps. With the rise in the number of internet and smartphone users, this trend will only see further growth. However, enterprises have a long way to go when it comes to capturing western markets which are digitally mature and regulatory norms are way more stringent. Enterprises like Uber have already led the way to Super Apps in these markets and initiated offering services like food delivery, ticketing with Uber Transit, and payment services with Uber Money. Irrespective of the market and geographies it will be critical for enterprises to consider the why, what, and how of their Super App strategy before taking the leap.