With the onset of the COVID-19, OTT and video streaming saw a surge like never before. This rise was attributed to a number of factors: the amount of time people spent at home, fewer avenues of entertainment, reliance on digital media for day-to-day interactions like business meetings, doctor consultations, online classes, and more. Video platforms also became a necessary means to fill the gap of human connections in people's lives. According to a survey done by Limelight, in July 2020 over 89% of respondents used video to communicate, and over 50% used it daily.
Last year, video conferencing became one of the most critical tools for all kinds of businesses including Edtech, Retail, Healthcare, BFSI, etc. A cloud communications service provider based in the US saw an increase of 843% in the video minutes consumed by its users across domains, out of which Telehealth usage grew the most. The financial services and education sector also saw a significant spike in usage.
In our earlier article, we explored how the new-age LMS platforms are leveraging video streaming and creating innovative solutions across all their offerings – employee onboarding, partner training, customer education, employee training, and more.
''As enterprises continue to adopt technologies for remote learning and collaboration for employees, technology companies are amending their features and support. In the years to come, effective use of Machine Learning and Artificial Intelligence, VR, adaptive learning approaches, gamification will increase in LMS.'' Srinidhi Rao, Senior Vice President – Solutioning and Account Management, Robosoft Technologies
In another article, we outlined how the Retail industry is using video for customer acquisition, retention and engagement.
''Out of sight, out of mind, is more pertinent than ever before. Hence it is essential for retailers to use innovative approaches to remain on consumers' radar. Videos play a crucial role in this as it's a more visually engaging medium.'' Jay Shah, Vice President, Pre-sales & Solutioning, Robosoft Technologies
OTT and video streaming have become a force to be reckoned with in an age when all the rules of engaging and communicating with customers have changed. In this article, we will outline how video streaming is being used in 5 key industries: Healthcare, FinTech, B2B SaaS, Real Estate, and Manufacturing.
Healthcare: Medical streaming becomes a powerful channel for medical professionals
Medical streaming in healthcare is a phrase that has a broad range of use cases. Starting from providing consultations to patients in remote places to supervising surgeries, live medical video streaming has seeped into every crevice of medical aid to simplify doctor-patient relationships. In response to the COVID-19, the Spanish health authorities implemented Telehealth services at the primary care level. In addition, some private health providers offered video consultations for the general public free of charge. For Vonage, a cloud communications service provider, overall video minutes used by its healthcare clients spiked by 727 percent from February to March last year. The major use cases where video conferencing was used were: telehealth apps providing remote consultations, therapy sessions, online staff training etc.
Even prior to the pandemic, usage of video in healthcare was already picking pace for video consultations, training, and more. Below are some key use cases of how the healthcare sector leverages video streaming:
Telemedicine: Telemedicine is a stream coined to make medical assistance reachable to a vaster population. Medical live streaming, though primarily used to provide consultations, has also been used to share knowledge, research, and equipment demos.
Remote Medical Scribes: Documenting medical records to keep track of patient history and other key details is important but also time-consuming if done by physicians manually. Thus, the medical community created scribes – a virtual medium where doctors outsource these clerical jobs to people offshore. Live streaming these details has cut down a great deal of time and increased work efficiency in hospitals. Apps like SmartMD helps physicians record their visits. While the app scribes notes directly into the patient's chart, saving everyone time and getting the most out of your EHR.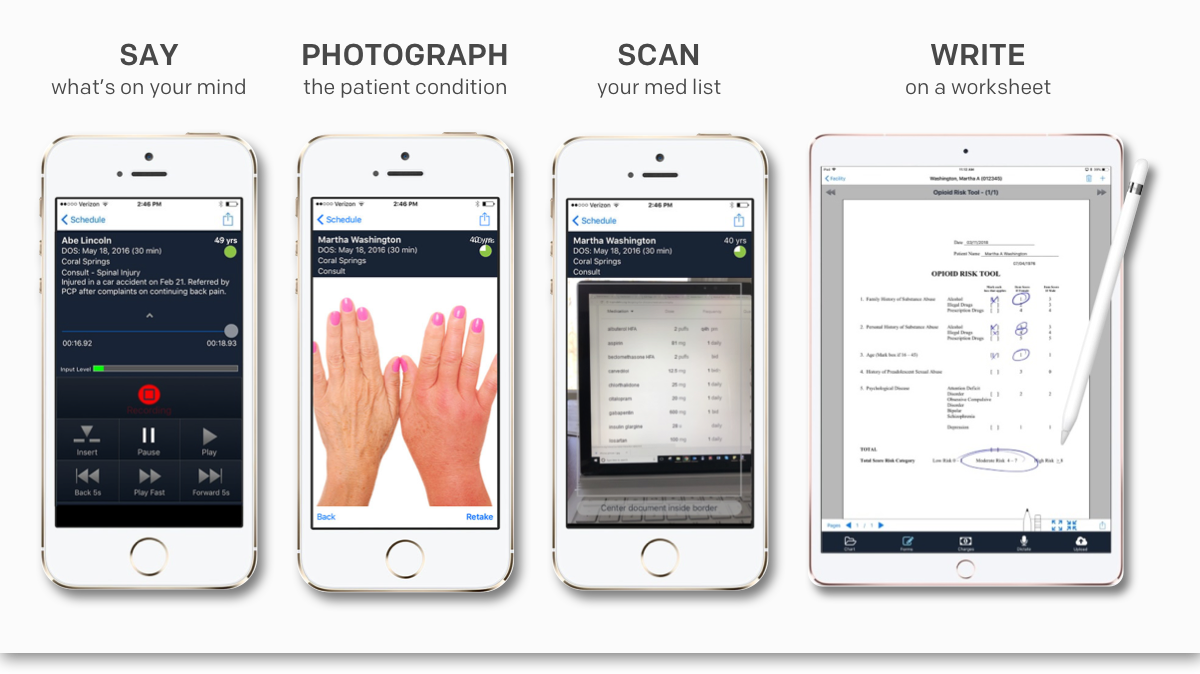 Image source
Virtual Training: Medicine is an ever-evolving field that needs its professionals to keep up with the catching technologies and other advances. Even practicing doctors are often in need of requiring brief training. Live streaming can help the medical community updated through e-learning options.
Surgeries: Surgeries that do not consist of a senior doctor in the place have been monitored through live video streaming and hold an interactive session to eliminate surgical risks. In some cases, surgeries have also been broadcasted to a larger audience as lessons to educate those who are in training.
Online Consultation: Live streaming consultations have given the patients a wider choice of good doctors, not only for treatments but also for attaining opinions on diagnosed problems. These online live streaming consultations in healthcare can be used to review prescribed medicines, treatments, and other medical records such as scans and X-rays. This feature has vastly enhanced the experience of medical assistance and has also cut down on patient wait time as they do not go to meet doctors in real-time.
Last year owing to the pandemic, many hospitals and health systems launched and expanded telehealth programs in a matter of days. In response to the quick demand in access, HHS healthcare began leveraging platforms such as FaceTime and Zoom for virtual visits covering a wide range of conditions, from urgent care, primary care check-ups, medication follow up and COVID-19 screenings. Owing to the increased usage of video streaming services healthcare providers like Aetna Healthcare, UnitedHealthcare, Humana also starting including telehealth in their reimbursements.
Fintech and BFSI: Video-based content to acquire, engage and retain customers
BFSI and FinTech sectors can leverage the power of video streaming to not just engage with customers but also help them use their products and services with ease. According to a report from Accenture, 48% of US millennials would like their banks to offer video banking.
Here's how the video streaming is being leveraged in this sector:
Video Banking: As physical branches become less relevant banks are upgrading their digital channels and introducing innovative methods to communicate and connect with their customers. Video Banking is one such innovation, which helps bridge the human-interface gap. For instance, LiveBank offers Virtual Branch Banking for the banking sector. It is an omnichannel communication and collaboration hub for banks that aggregate all communication channels like text chat, video, and audio. LiveBank provides retail banks secure and friendly contact channels for its clients.
Reducing the processing time: the BFSI sector is using video streaming to simplify the paper-based processing of loans, accounts, etc. Ping An, a wealth management company based in China reduced the loan application time to 6 minutes with the face recognition feature of Live Bank. At Robosoft, we partnered with a leading insurance company for the integration of Robosoft's Video Chat solution to support online claim surveys for motor insurance. The integration of Video Chat solutions helped to personalize the digital interactions between the claim managers and customers and eased the claims process.
Making BFSI more inclusive: SignVideo, a British Sign Language (BSL) video interpreting service, was used by Lloyds to make their customer service more inclusive by making video an integral element of their customer services operations. Similarly, Santander UK and HSBC also use SignVideo to make their services more inclusive.
Better customer service: In a survey done by Accenture, more than half of survey respondents expressed an appetite for a true omnichannel banking experience that would allow them to switch seamlessly between physical and digital channels. In a post-COVID world where physical interactions are limited, channel innovations such as video conferencing, virtual reality, and chatbots can bridge the gap of face-to-face interactions.
"Video banking shows customers that behind the bank, there is something. There are people that can actually help you. It's not like talking to a machine, it's like talking to a real person." Grzegorz Młynarczyk, vice president of virtual banking services provider LiveBank.
Video-based marketing: 85% of businesses use video as a marketing tool, and of those, 88% of marketers report getting a positive return on their investment. Furthermore, videos can be more engaging learning tools than other forms of content. Service and product offerings in the BFSI and FinTech sectors can be complicated. Videos enable businesses to distill complicated concepts into a short, digestible format and to tell a story that showcases even the most complex technology. Customers can visualize how a product or service can solve their challenges, even ones they may not have known they had.
An example of video simplifying a complex FinTech solution for its customers can be this video from Crypto Arbitrager, a Fintech enterprise that enables investors to make money on the difference in rates of cryptocurrencies: bitcoin and litecoin. The fintech solution video shows how Crypto Arbitrager allows you to profit from exchange rate differences.
B2B SaaS: Embracing the power of video across the sales funnel
B2B marketers have found that video content is more effective than written content. 59% of senior executives said they'd rather watch a video than read an article. Videos can play an important role throughout the sales funnel leading to conversions.
''Video marketing, especially for SaaS companies, involves utilizing video through the funnel to attract, convert and delight customers" Ed Laczynski, CEO of Zype.
Video isn't just for marketing anymore; it can play an influential role in the sales process now. The introduction of sales video platforms like Vidyard's GoVideo and Wistia's Soapbox has made it easy for sales reps to integrate video from their very first approach email.
These videos can be of various types – product demos, customer training videos, personalized videos embedded in email marketing campaigns, etc. Some examples to take a note of are:
Product explainer videos: Finalsite is a B2B SaaS company with more than 20 products and each one has a product video lasting under 60 seconds. PrecisionLender does a great job of addressing the key product questions in short 90 seconds videos.
Personalized sales videos: The Angle, a B2B tech marketing company used Wistia's Soapbox to create a personalized video to promote a blog post. The video can be easily shared by the sales team in their emails to engage with the prospect.
Customer testimonials videos: Slack, produced this fun, two-minute video to tell the story of how the company's platform improved Sandwich Video's productivity. The video answers the main questions of any good testimonial video addressing the key concerns of decision-makers like quantifying the impact the product has made, product features, and more.
Real Estate: Video-streaming changing the rules of real estate purchase
The buying process in the real estate industry has evolved and Real Estate companies are using new-age technologies to engage with buyers throughout the buying cycle. At Robosoft, we partnered with one of the leading real estate development companies of UAE to create a mobile platform that can help buyers keep a track of their property-related transactions and create an engaging experience throughout the journey of home buying to living. We also worked with a service realty solutions organization that helps manage real-estate for private individuals, landlords and investors. We partnered with the client to create an aggregator web solution for landlords and tenants, for their property management requirements. From looking for a property to managing transactions and legal documents – digital has become a critical element.
Videos can help real estate enterprises engage with their customers better. Various ways in which the Real Estate sector leverage videos are: Virtual tours of the property, provide agent profiles to gain buyer's trust, educational videos helping buyers learn more about the complex concepts surrounding the housing market like subprime mortgages, depreciation, and foreclosure, etc.
Tools like BeLive.tv can help real estate enterprises to take interested buyers or agents on a virtual or remote tour of the house. Another type of video that the real estate sector can use is creating 360 views like Google Street through imaging equipment like Matterport 3D equipment, which is an enhanced imaging software. This camera does a high-res scan of every room in the house and creates a virtual, immersive, 3D experience.
Manufacturing: Customer education to process training videos are simplifying the manufacturing landscape
According to a Video Benchmarking report by Vidyard, High Tech, Professional Services & Media, and Entertainment & Publishing are the top three industries for video production. Manufacturing also ranks high on the list at number eight.
The manufacturing industry is leveraging videos as a powerful tool to show their customers, and investors, how the processes inside their factories work. For example, Rocket International, a national distributor of packaging supplies and equipment, put together a video that showcases the machinery that can be added to a line to place a carry handle to packaging. Similarly EVS Metal – a leading provider of end-to-end metal fabrication and manufacturing services gives a factory tour video that allows their buyers to see the size, conditions, capabilities, and products and services available at EVS Metal.
Another important use case of videos in the manufacturing industry is Process Training. Process training is an integral part of the manufacturing industry and videos are ideal to demonstrate step-by-step instructions that are useful for teaching the operation of a tool, product, or procedures. These how-to-videos pertaining to manufacturing are a better alternative to reading bulky manuals on the process because they provide visual stimulants that are easy to remember.
For the employer, these process videos reduce the time and resources spent on training employees how to carry out a process, while decreasing the learning curve for employees.
The manufacturing industry is also using immersive videos with AR/VR technologies for process tours, training, ensuring safety, and more. For instance, At the UK's Eggborough Power Station K, tech companies Arithmetica and Transmission TX partnered to create an immersive VR training experience for workers at the power station, which delivers coal-fired power and biomass conversion. The VR experience simulated a real-life hazardous environment, providing a 360-degree video experience via consumer-friendly and fully available Samsung Gear VR headsets.
Ford, which outfits its employees with VR experiences to simulate the construction of upcoming models in its plants, years before the cars start rolling out of the warehouse doors. The intent of this VR application is to encourage workers to create the tools and processes they need in order to create a safer production environment. The introduction of VR in the manufacturing process resulted in an injury reduction rate of 70 percent.
In conclusion:
OTT and video streaming market is growing, while the COVID-19 pandemic accelerated this pace, the adoption was already underway. Industries beyond media & entertainment are leveraging video streaming for higher engagement with their customers. Be it educating the customers, communicating with them, or engaging with them – videos have become a critical aspect of strengthening the customer experiences. Additionally, videos are also helping in employee training, communication within enterprises, and more.
At Robosoft, we have the width and depth of experience crafting OTT and video app solutions. Our solutions are anchored on multiexperience – an approach focused on customer journey – providing multi-sensory, multimodal, and seamless experiences. We have partnered with several brands in crafting OTT solutions that have captivated users and delivered business growth through a combination of cutting-edge product strategy, UI/UX, and engineering services.