In the 'new normal' the rules of how and why consumers shop changed drastically. Some of these shifts included – reliance on e-commerce channels, less confidence about in-person or in-store shopping, seeking safety and hygiene assurance from physical stores, and a rise in online deliveries for grocery and pharmacy products.
The world is slowly bouncing back and consumers are seeking to go back to older ways. Almost two-thirds of people (63%) have dined in a restaurant during COVID-19, indicating a demand for alternatives to eating at home. People working from home want the flexibility to work from both office and home. There's also been a rise in outdoor activities – skis and snowshoes went flying off the shelves this year in January. After the panic buying of essential items, people are now back to normal buying habits in terms of quantities of purchase.
But some of the behavioral shifts that brought convenience in people's lives during the pandemic will continue to stay. 76% of consumers switched to exercising more at home during COVID-19, and of those, 66% say they prefer it. During the pandemic, people shifted to home cooking and healthier food – a trend likely to continue. Recent USDA reports point to a surge in demand for healthy, whole foods – especially ones seen as immune-system boosting and in wealthier countries, this includes sharp increases in demand for organic food.
The pandemic accelerated the digital transformation of retail and a shift to e-commerce channels by at least 5 years. Delivery services also re-invented their digital experiences with services like contactless deliveries, drones, digital payments, and more. Delivery services have fastened their pace of digital shift to meet the evolving customer needs.
Just before the pandemic, Lowe's underwent a major website overhaul to grow its e-commerce business. The store created a seamless omnichannel experience by investing in supply chain, IT, and leadership development. This well-timed digital overhaul, helped Lowe's to launch curbside pickup in just three days during the pandemic.
Wendy's revamped its website and app to create a more robust ordering system that can be updated in real-time. With uncertain supply chains, Wendy's could easily remove certain menu items that aren't available – so customers don't place an order which can't be fulfilled. The company expanded its delivery services and used its communication channels to alert customers of contactless ordering and payments for a more seamless digital experience.
The digitization efforts by retailers during the pandemic can be categorized into: Strategic changes, Operational changes, and Engagement/Communication methods. In our webinar Mart to cart role of digital experiences in online delivery, we discussed the evolving consumer behavior and key factors that can help delivery services in crafting great digital experiences.
Watch the webinar video here.
The role of multi-experiences in retail
In a post-pandemic world, digital experiences have come to play a critical role in creating brand preference. Delivering great customer experiences (CX) has become imperative for all enterprises.
"In the digital world, it is said that winning consumer's attention is important. But I would argue that beyond mere attention, enterprises should strive to win consumer trust – as that is what leads to retention and consumer loyalty. Design can play a role in retaining customers, especially in businesses where subscription and repeat purchases are critical. In the post-COVID world, it is imperative that CXOs embrace the multiexperience mindset and craft effortless and seamless experiences that enable customer delight and win their trust.''
~ Ravi Teja Bommireddipalli, CEO, Robosoft Technologies
For a long time, the retail industry has focussed on creating omnichannel experiences. However, in the new normal creating multi-experiences is an imperative not just for the retail sector but for enterprises across industries. What this means is retail enterprises will have to move beyond enabling consumers to engage anytime and anywhere to allowing them to interact in any way that is most convenient for them – online store, mobile app, voice, social media, etc.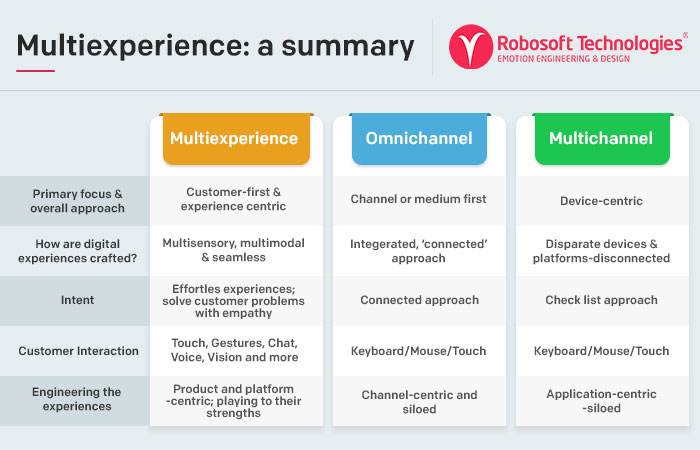 Here's how retail enterprises can incorporate a multi-experiences strategy for their business:
Design Thinking approach as the starting point
The journey of creating multi-experiences starts from understanding the users and empathizing with them. It calls for a customer journey-centric approach providing multisensory, multimodal, and seamless experiences. Principles of Design Thinking – a human-centric framework can help create solutions to understand customer's stated and latent needs & pain points and address them.
It is a holistic problem-solving framework that can help businesses create a blueprint, for service delivery to an optimal design experience. This human-centered, iterative design process consists of 5 steps—Empathize, Define, Ideate, Prototype, and Test. At Robosoft, we work with clients through collaborative Design Thinking workshops to identify user pain points, define user journeys and create a product roadmap.
Leverage MXDPs (Multiexperiences Development Platforms)
MADPs (Mobile App Development Platforms) are evolving into MXDPs (Multiexperiences development platforms). According to Gartner's definition of MXDPs – Multiexperience development involves creating fit-for-purpose apps based on touchpoint-specific modalities, while at the same time ensuring a consistent user experience across web, mobile, wearable, conversational and immersive touchpoints. MXDPs serve to centralize life cycle activities — designing, developing, testing, distributing, managing, and analyzing — for a portfolio of multiexperience apps.
The global multiexperience development platforms market size was valued at USD 6.52 billion in 2019 and is poised to grow at a CAGR of 18.2% from 2020 to 2027.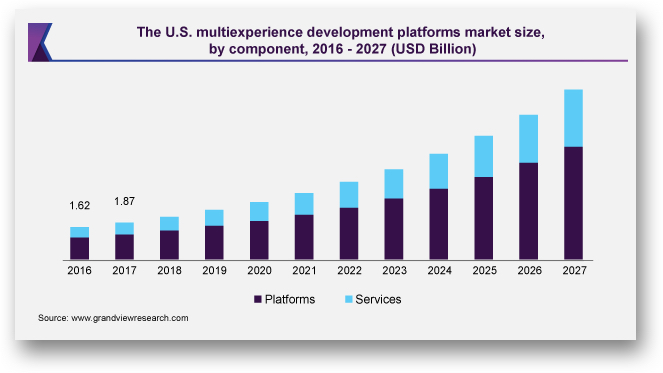 Source
According to Jason Wong VP, Research & Advisory, Gartner
"We are observing technology changes in mobile app development platforms (MADPs) and in adjacent technology markets where development platform vendors are expanding their value proposition beyond mobile app and web development. This market evolution and platform expansion have resulted in the emergence of multiexperience development platforms (MXDPs) that are used for developing chat, voice, augmented reality, and wearable experiences — as well as mobile and web apps — in support of the digital business.''
In 2019, Gartner published the Magic Quadrant for Multiexperience Development Platforms. According to which many traditional mobile application development platforms have extended their use cases and offering to meet evolving business needs. This includes capabilities to develop:
Mobile and web apps, including iOS and Android native mobile apps
Progressive web apps, and responsive web apps
Smartphone and tablet apps
Wearable, AR/VR, IoT, AI apps.
The use cases of MXDPs expand across verticals including healthcare, BFSI, retail, and more.
At Robosoft, we work with clients across sectors offering digital advisory, design strategy, UX/UI services, application development across platforms and devices, and expertise in emerging technologies such as AR, IoT, AI, blockchain, chatbots, and more.
COVID-19 pandemic accelerated the pace of digitization and also reinstated the need for technology partners that can help enterprises to adapt to this rapid change. For the retail industry, the shift of consumers to the online channels will not just continue to rise even after the pandemic is over. Thus, the role of multi-experiences becomes more critical than ever.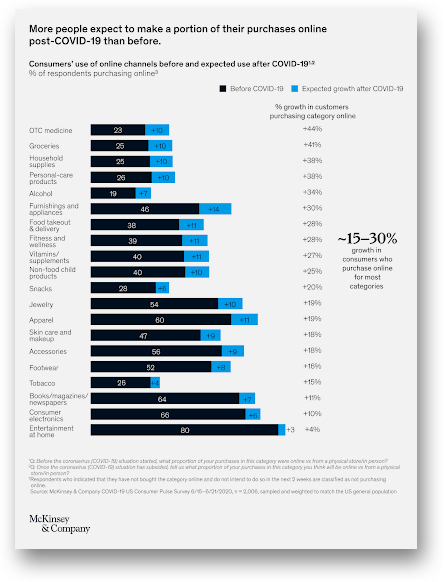 Source
MXDPs can help retail enterprises develop web and mobile apps, along with voice, Augmented Reality (AR), chat functionalities, and wearable experience, etc. on a single platform. These experiences created on a single platform can be deployed on various devices as per business and customer requirements.
Retail enterprises will have to create robust and seamless digital experiences within optimized time and cost. Multi experience development platforms can:
Increase operational efficiencies and improve app development time using streamlined design processes and reusable codes.
Eliminate the shadow IT, which is a probable security risk that most of the organizations face.
Mapping end-to-end customer journeys
"Experiences are more important than products now. In fact, experiences are products."~ Brian Solis, digital anthropologist and futurist and an award-winning author
In the experience economy, the customer experience with a brand is a sum of experiences across touchpoints.
''Buyers don't just materialize on your website. Instead, it often requires multiple touchpoints along multiple channels or platforms before they eventually pull the trigger. As a result, it's also more critical than ever to optimize people's experience as they move from one platform to the next.'' ~ Kerry Munro, VP of Ecommerce at Home Depot Canada
When it comes to creating multi-experiences, how seamless the journey is across modalities that consumers prefer plays the most critical role. In this context, mapping a customer journey and delivering experiences around it becomes critical.
In its most fundamental form, a customer journey map begins with compiling a series of user goals and actions into a specific timeline framework. User actions across various use cases can trigger a set of opportunities. If one were to map a similar journey for a food ordering app, it might look like this: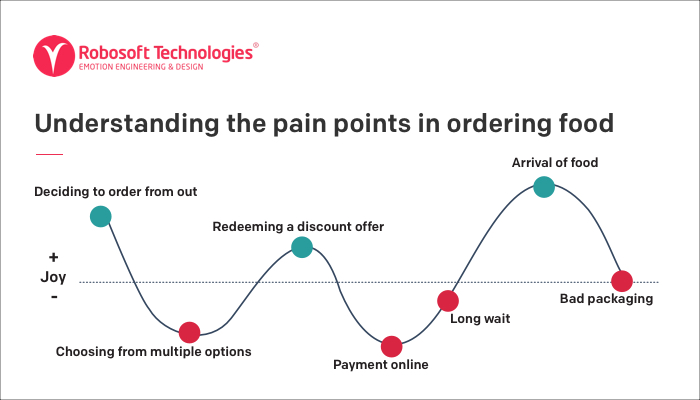 The key elements of any customer journey map will be:
Persona – The motivations, behavior patterns, pain points, needs, aspirations, and other characteristics of the target audience
Scenario – defines the situations the journey map addresses that are associated with the goals.
The Timeline or Journey Phases – A specified time interval from the point of first exposure to the point of achieving the end objective (sale) and all the distinct phases.
Emotions – The behaviors, thoughts, and feelings the user experiences throughout the journey alongside the phases.
Touchpoints or Channels – The customer actions while interacting with the brand at different stages and touchpoints in the journey.
Opportunities – The insights gained from the mapping process and what can be done with these inputs to optimize the customer experience and identify opportunities.
We worked with a restaurant aggregator platform that helps people discover great food joints around them and offer a great dine-out and ordering experience. Though there were many touchpoints in the process, we classified the entire journey into three easy steps – discover, order, and post-purchase experience.
The journey was used to map visual sitemaps and user flows that helped us in designing an intuitive and seamless user experience across touchpoints.

Just mapping the customer journey is not enough. While ensuring experiences for multiple devices, touchpoints, and interaction modalities, that are personalized for individual users, another critical element for the success of the multi-experience strategy is consistency. In fact, according to a McKinsey report consistency on the most common customer journeys is an important predictor of overall customer experience and loyalty.
As rightly said by David Weaver (co-founder of Vintage Cash Cow) –

"A successful customer journey map will give you a real insight into what your customers want and any parts of your product, brand or process that aren't delivering."
It is important to understand when, why and which channels do customers use before, during, and after purchase. Customers expect online channels to remember who they are, what they are looking for, and pick up from exactly where they left off irrespective of the channel they choose.
To apply such seamless and consistent multi-experience strategy, Jason Wong, VP, Analyst, Gartner suggests a four-step model:
Sync me – "You store my information and I can find it
See me – "You understand my context, my location, my situation, my historical preferences maybe and you give me better information and better interaction"
Know me – Using predictive analytics to make suggestions to customers
Be me – "Act on my behalf, I give you permission," Wong said. "Make the best decision for me – what's the next best action I should take
Multi-experiences in action
One of the most successful examples of creating multi-experience strategies is perhaps Domino's pizza which enabled customers to order pizza in 15 different ways from their favorite devices, enabling them to choose whatever interaction modality that is most convenient for the user — voice on google home and messenger, text, smart TV, and more. The objective was to make it more and more convenient for customers to order from Domino's.
While multi-experiences will help retailers be present across channels that are most comfortable for consumers be it voice, chatbots, AR, etc., innovation will help them stand out. Prior to the pandemic, Samsung launched a Multi-Experience store in Dubai. The store features its products and showcases how its connected device ecosystem works. Product displays are interactive and customer-centric. The in-store customer service department is also enhanced with digital technology. Additionally, the store hosts the educational Galaxy Workshop each evening and has amplified promotions with augmented reality.
Not just FMCG retail but even retail bankers like Commonwealth Bank of Australia have also put a multi-experience strategy in place, giving customers options to connect on 18 channels and offering real-time decisions. To amplify their MX strategy, the bank uses a customer engagement engine that "intelligently suggests and personalizes the next best conversation to have with each customer."
At Robosoft we worked with one of the leading last-mile delivery service providers to create a customized social media platform that can help F&B retail enterprises create a customized eCommerce solution to transform their social media content into a sales transaction. The platform allows customers to order directly from their Instagram feed, track the order, choose to pay through multiple payment options.
The COVID-19 pandemic accelerated the pace of digital transformation in retail and brought permanent changes to customers buying patterns. To stay ahead and retain customer loyalty it is critical for retail enterprises to evolve from a multi-channel strategy to a multi-experience mindset. This will require adopting a customer-centric approach powered by design thinking principles, leveraging MXDPs, deriving the right insights from customer journeys, and finally using innovation to stand-out and stay ahead of the competition.