2020 was a tumultuous year, to say the least, for people and enterprises alike. The global COVID-19 pandemic has disrupted our lives in a manner we never imagined or prepared for. While several industries have been adversely affected (e.g. restaurants, amusement parks, cinema halls) many others have benefited. Digital banking, fintech services, streaming video services, EdTech, online delivery are some of the categories which saw usage surge in 2020.
– In the US, 69.8M homes used OTT in April 2020, an increase of 5.2M homes compared to April 2019.
– 80% of Americans now say they can manage their finances without a physical bank branch.
– Nearly two-thirds of people (65%) ordered food delivery in July 2020.
– Domino's reported that it received a 22% increase in business from April to May 2020, an enormous spike in demand for the public restaurant industry.
It is believed that many of these behavioral changes are likely to be permanent and change our habits forever. For example, Fintech is viewed as the "new normal" by 73 percent of Americans according to the report commissioned by Plaid, and 67 percent plan to continue managing most of their finances digitally after COVID.
However, as we step into 2021, there are certain other categories where consumers have shown an inclination to 'go back in time' as it were. Almost two-thirds of people (63%) have dined in a restaurant during COVID-19, indicating a demand for alternatives to eating at home. Analysts believe that consumers may seek travel experiences of a different kind in the post COVID era. Staycations are already popular in India. Revenge tourism is also said to be a phenomenon leading to 'flexi hotels'. Travel brands are looking at new modes of revenue. Consumers are conscious of the need to support local businesses such as restaurants, supermarkets, and more. It means there is pressure on them to make the most of digital solutions such as offering curbside pickup and options to order through digital platforms either through aggregators or stand-alone experiences.
In this context, digital experiences have come to play a critical role in creating brand preference. Delivering great customer experiences (CX) has become an imperative step for all enterprises.
Post-COVID era: the Customer Experience imperative
'People buy from those who they trust' is an adage that is timeless both in the offline and online world. Whether it is the familiar neighborhood store or a large enterprise in the online world, earning consumer trust has always provided an edge – helping in customer retention and loyalty.
As mentioned by McKinsey,'particularly in times of crisis, a customer's interaction with a company can trigger an immediate and lingering effect on his or her sense of trust and loyalty.'
They go on to stress:
Now is also the time for customer experience (CX) leaders to position themselves at the forefront of the longer-term shifts in consumer behavior that result from this crisis. Keeping a real-time pulse on changing customer preferences and rapidly innovating to redesign journeys that matter to a very different context will be key.
The key areas they identify are:
Focusing on care and connection
Meeting customers where they are today
Reimagining CX (Customer Experiences) for a post-COVID-19 world
Building capabilities for a fast-changing environment
Why is customer experience important?
Customer Experience (CX) is how consumers feel about the brand as a cumulative result of various interactions across touch-points. These could also include offline interactions such as in-store or customer service through chatbots and phone calls.
However, in today's scenario, the digital experience is perhaps the most dominant factor in customer experience due to the following factors:
Product and service parity: we live in a world where meaningful, real product or service differentiators are hard to come by in most categories. From the humble toothpaste to a luxury hotel, every feature or service can be easily replicated by competition. In businesses that depend heavily on a digital experience to create brand preference, it is even more critical to offer a great CX as a competitive edge.
A bank that has set out to offer a mobile app or a digital-only neo bank are great examples where CX through the digital journey is the only differentiator. 39% of CEOs say customer experience is the most effective method of creating a competitive advantage.
Customer retention vs acquisition: acquiring a new customer can be 5x more expensive than to retain a current customer. In businesses that are subscription-based – such as OTT streaming, aggregator services, and more, design can play a crucial role in customer retention
Impact on bottom line: 84% of companies that work to improve their customer experience report an increase in their revenue. Customers are willing to pay a premium of up to 13% (and as high as 18%) for luxury and indulgence services, simply by receiving a great customer experience.
Multiexperience: what is it and why it should matter to CXOs
The onset of the digital era and the proliferation of digital platforms, channels, and devices led to the concept of multi-channel experience – which essentially meant presence across multiple channels. It was essentially a checklist approach of presence across digital platforms. It later progressed to omnichannel – when such brand experiences were 'connected' across channels. Banks and retail enterprises were among those leading the call for such omnichannel experiences as can be seen by their efforts to have a presence through a physical store or branch, a website, and a mobile app.
As devices, platforms and technologies proliferated over the years, consumer habits, dependencies, and expectations changed too. In order to address these changes effectively, Gartner proposed a change in mindset, espousing multiexperience as a new approach.
It calls for a customer journey-centric approach providing multisensory, multimodal, and seamless experiences. It calls for crafting seamless and native experiences across an increasing number of touchpoints – whichever mode the customer is comfortable with. It could be voice, chatbots, personal assistants, wearables, and augmented or virtual reality.
The key is to get all this done without friction and using that platform, touchpoint, or interaction feature to the maximum benefit. At a glance, the difference between multichannel, omnichannel, and multi-experience would look like this: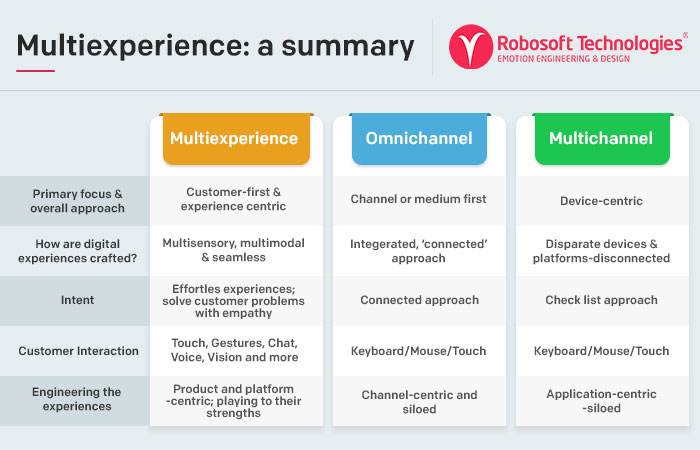 Viewers are evolving and methods of consuming content are fast changing. Brands today are constantly battling for users' attention and time. This combined shift in the OTT space led us to the creation of a unified and effortless experience for Discovery Plus. With users owning more than one device, the goal was to design and deliver a consistent experience across devices, regardless of where the user starts, continues, and ends the journey.
In the post COVID world, it is imperative that CXOs embrace the multiexperience mindset and craft effortless and seamless experiences that enable customer delight and win their trust.
The 4-pillars of crafting seamless Multiexperiences
Great products and experiences are the result of meeting latent or overt customer needs through thoughtful design and seamless execution. The four fundamentals of crafting such experiences are:
Strategy

– chart digital roadmaps with a holistic approach keeping in mind consumer needs & business goals
Design

– craft human-centered designs for seamless experiences
Engineering

– elevate the design experience through software and emerging technologies
Analytics –

analyze user data for actionable insights and personalization
Strategy: Chart digital roadmaps with a holistic approach keeping in mind consumer needs & business goals
A plan of action designed to achieve a long-term or overall aim' is the dictionary definition of strategy. Enterprises must not lose perspective that the overall aim is linked to the business strategy and not just the digital experience. The various elements of the digital experience – be it a website or a native app should help achieve business goals
For example, acquiring new customers as a business goal will warrant a strategy different from say, retaining current customers. Each goal or intent will need a distinct approach in terms of user experience. At the center of any strategy to solve a business problem is the end consumer – the one who has to use a kiosk at an airport terminal, a mobile app to make a payment, or a website to make a booking.
At Robosoft, we use principles of Design Thinking – a human-centric framework that helps create solutions to understand customer's stated and latent needs & pain points and address them. It can play a role in Services & experience design, Organizational change, Product Design, and more.
Design: crafting the sensory experience for business impact
In today's world, customer experiences have a direct impact on brand loyalty and ultimately, the bottom line of a business. Tangible, real product differences are hard to come by in most categories or services. For a customer, there is very little to choose in terms of features between one bank and another or one eCommerce portal and another. Better the experience, better the chances of a consumer using the brand. Crafting the right digital strategy, transforming that into an intuitive user experience, and bringing it all alive through robust engineering and cutting-edge technology is what often drives market success.
Experience matters: B2C or B2B
Traditionally, legacy software and interfaces in the B2B domain have been known to be dowdy and poor on aesthetics. Even going beyond mere looks, the web interfaces of government services and many employee-facing digital experiences in enterprises were rarely associated with modern, slick designs that simply worked and delivered a great experience. However, there really should not be any difference between the way digital experiences are crafted – be it in B2B or B2C. Both have to keep the user's needs at the center and craft a solution that enables them to complete their tasks in an elegant, easy manner.
We should also remember that today's consumers are accustomed to cutting edge designs and seamless digital experiences in their daily lives thanks to mobile apps for banking, utility services, taxi aggregators, and more. The same consumers expect nothing less when they are at work, using the digital interfaces of enterprises they work for.
At Robosoft, our process of crafting a design solution starts with a deep dive into consumer insights. We conduct bespoke discovery workshops, observe users in the market place to identify pain points that need to be overcome. We partnered with McDonald's India to redesign their mobile platform and make it the preferred medium for ordering. The vision was to bring the emotions of joy and delight from in-store to the new McDelivery app experience. After multiple store visits, an intense workshop with the client, and a customer experience map, we identified several pain points in the current user journey. This helped us craft a strong intent for the desired experience. The redesigned app garnered 103% more orders than the older app.
Engineering: bringing alive the design experience through technology
No matter how beautiful a design looks, it's useful only if it works as promised. That's where cutting edge software skills and years of experience comes into play. Just like fashion, technologies and platforms too have fads. To use a cliché, the only constant is change in the world of technology.
At Robosoft, we believe the role of technology should be to solve a real consumer pain point and should not be seen as a 'nice to have' feature just because it is the latest or fashionable to have it.The strategy, design, and engineering teams need to examine the business need of an enterprise and evaluate if there is a relevant role for a particular technology.
Analytics: using data to continuously craft better experiences
The need for Analytics in effectively managing digital product development arises from two perspectives:
(a) continuous improvement is a mantra all digital product teams should believe in and
(b) digital products must meet pre-defined goals and metrics which have an impact on the business.
Steve Jobs famously said, 'Real artists ship' – emphasizing the need to constantly put out viable products for users to experience and not be hung up on a utopian concept of perfection – which is elusive. Every great product release can have scope for improvement. The second perspective is about measuring one's success. Peter Drucker is quoted as saying, "you can't manage what you can't measure". Essentially, the analytics team believes in providing actionable insights into user behavior which in turn helps the product management team to continuously improve the product performance.
Some of the key areas in which the analytics team can play a role include:
Define & Monitor KPIs
Communicate Performance Results
Testing & Optimization of Product Features
Track & Monitor User Feedback
Create User Cohorts
User Behavior Analysis
In essence, the 4 pillars to craft great digital experiences include Strategy, Design, Development, and Analytics with a process that is cyclical in nature. An important point to note is that the best of processes and technologies are no substitute for human insights. The ability to identify a relevant, unique consumer insight and applying it to solve business problems through digital experiences is a competitive advantage for enterprises.