The global COVID-10 pandemic disrupted our lives in a manner we never imagined or prepared for. As is obvious, visits to restaurants, shopping malls, multiplex theatres all come down drastically. According to The National Restaurant Association, more than 110,000 restaurants in the U.S. closed for business in 2020. On the other hand, the need for social distancing, safety concerns, and lockdowns resulted in a steep growth for delivery services like DoorDash and Uber Eats which grew by more than double in 2020.
Even outside of food delivery, 'online delivery 'of almost everything has become a part of the new normal. In April this year, Amazon reported an increase of 220 percent in its profit compared to the same period last year.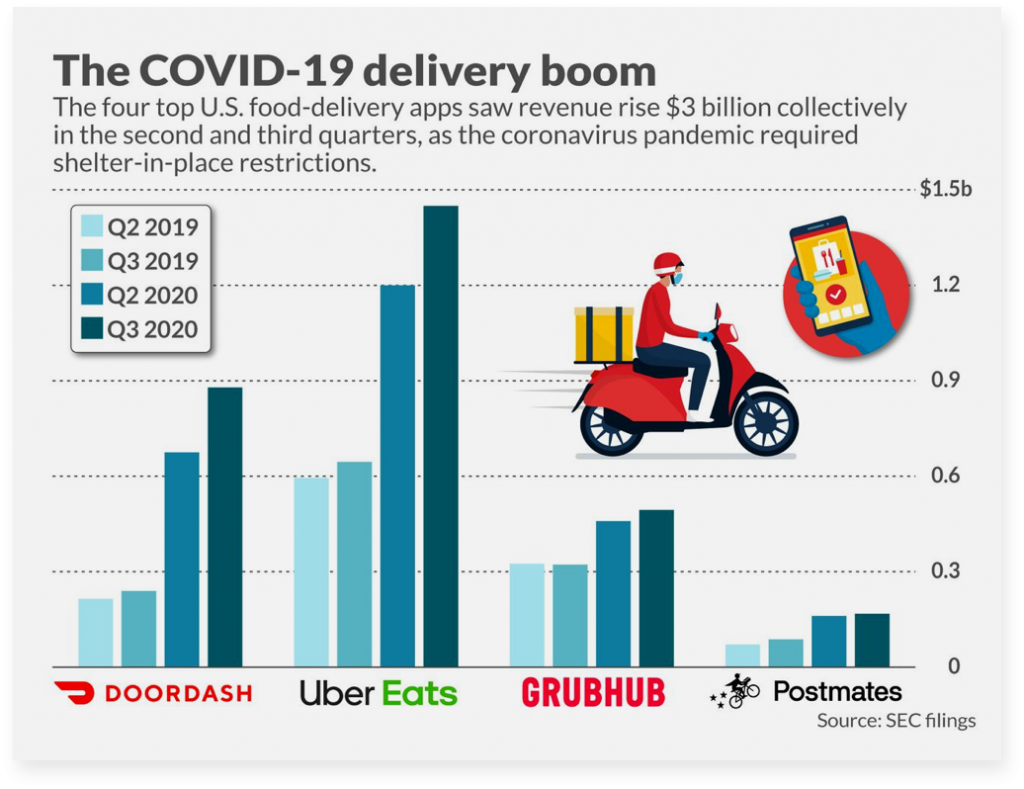 Prior to the COVID-19 outbreak, e-commerce and food ordering through mobile apps were common in many countries. However, the in-store purchase was preferred in some categories. According to Nielsen, only 4% of grocery sales in the United States came through online channels last year. In March 2020, Instacart, Walmart Grocery, and Shipt have seen surges of 218%, 160%, and 124% respectively in the number of downloads compared to the previous month. The urge to change habits is also reflected in new demographics (e.g. those above 60) opting for online shopping.
Many believe that it is not a temporary phenomenon but a permanent change in behavior impacting grocery, pharmacy, food, and other industries. Beyond just a web or app design, business models are likely to be affected. Setting up of 'dark stores' – outlets that look like supermarkets but closed for customers and geared to be hubs for online delivery are a reality. Mini automated fulfillment centers at the back of large stores, with some even using robots, are getting traction. Stand-alone restaurants and supermarkets will face a tough situation compared to the consolidation possibilities of a brand of chains – e.g. Pizza Hut, KFC, Burger King, etc.
At Robosoft, we are seeing a surge in inquiries for digital solutions for online delivery in the US and other geographies. Several enterprises are likely to create native apps and websites to cater to this demand leading to a surfeit of such experiences. Enterprises are already battling issues such as app fatigue, poor user retention, and lack of brand loyalty. How can they maintain a competitive edge? Here are a few pointers:
Address the concerns on safety and hygiene upfront
The first step towards creating a compelling digital experience is to understand the consumer pain points through empathy and craft a solution that intuitively solves that problem. In these times of anxiety, understanding customer needs, their mindset, motivations, and barriers are even more critical. Design Thinking workshops, even held remotely, can help enterprises gain valuable insights into the consumer mindset. Consumers need the reassurance of safety precautions undertaken by the brand – in any form of delivery service. A norm of the remote-working era – over-communicate is worth following as contactless delivery, safety precautions taken by the staff need to be visually highlighted.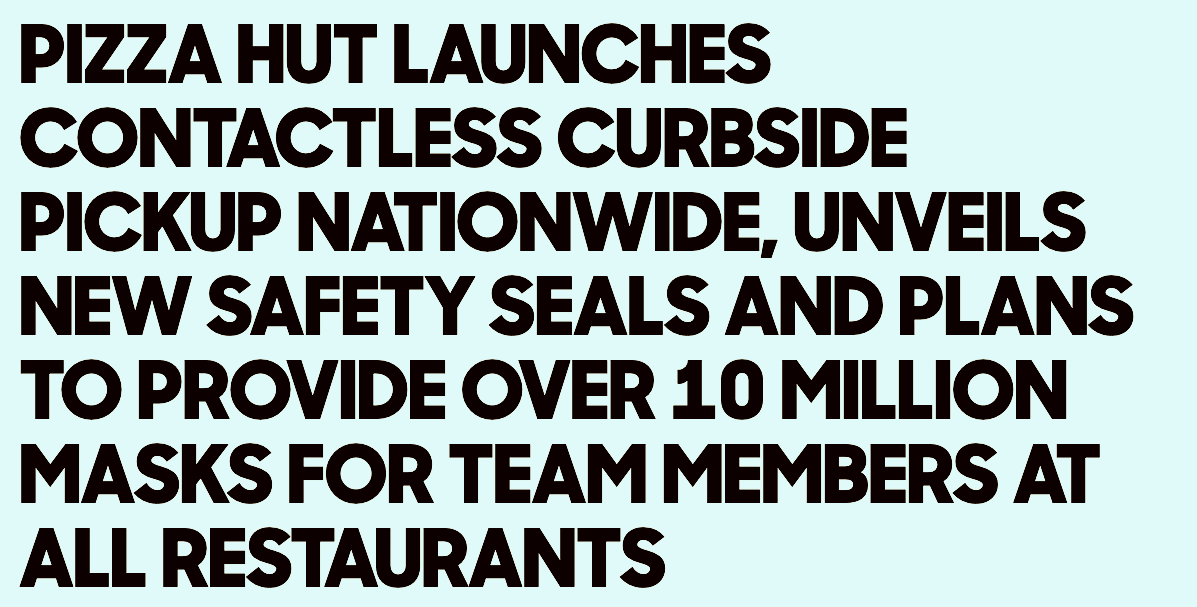 Clear, bold, reassuring message from Pizza Hut on their website.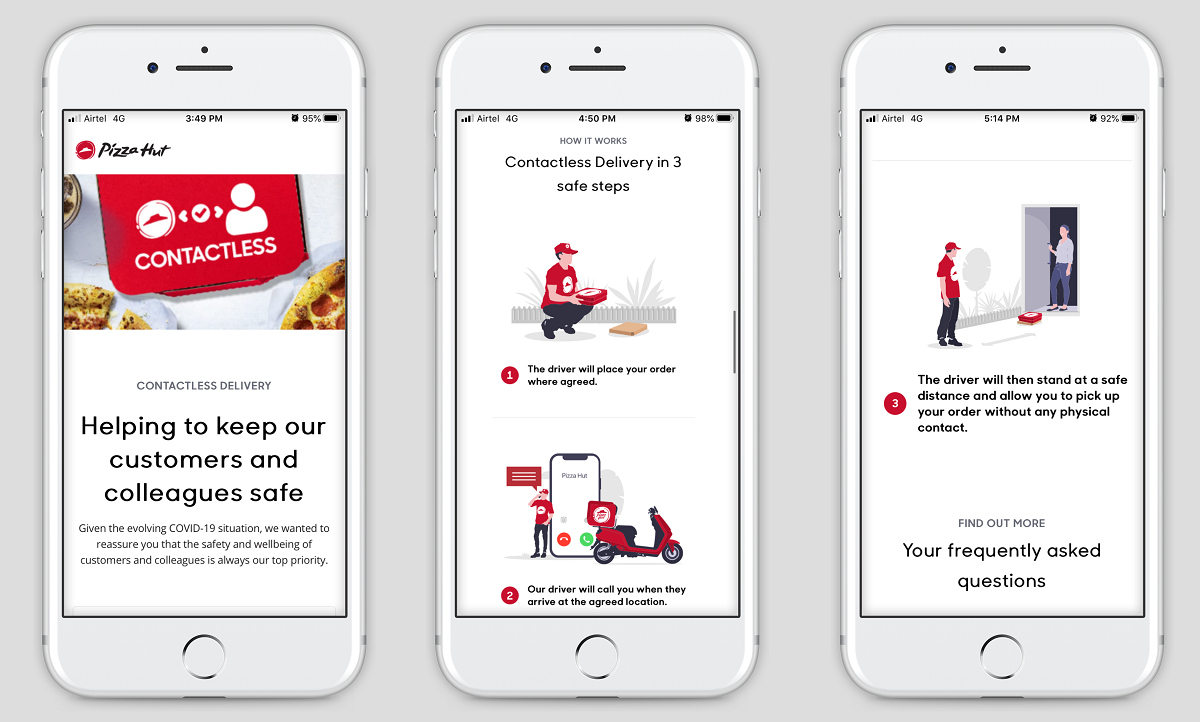 Details of safety precautions followed by Pizza Hut mentioned on their mobile app for customer reassurance.
Image source
Like most delivery apps, Postmates offers contact-free delivery choices. But they also encourage customers to report if their delivery person appears unwell. The company has also set up a Fleet Relief Fund to help employees with COVID-19 medical expenses.
The Kroger app added a designated FAQ section for COVID-19, which is explicit for users to look for COVID-19-relevant answers. Walmart puts COVID-19 updates at the top of their shopping page. Users can tap and learn what Walmart is doing to provide a safe shopping environment.
Swiggy a leading delivery app from India, recently added a 'Care Corner' feature in their app. It is a dedicated section within the app around COVID-19 offering users options for sending home-cooked food, sending care packages, getting medicines and groceries picked up.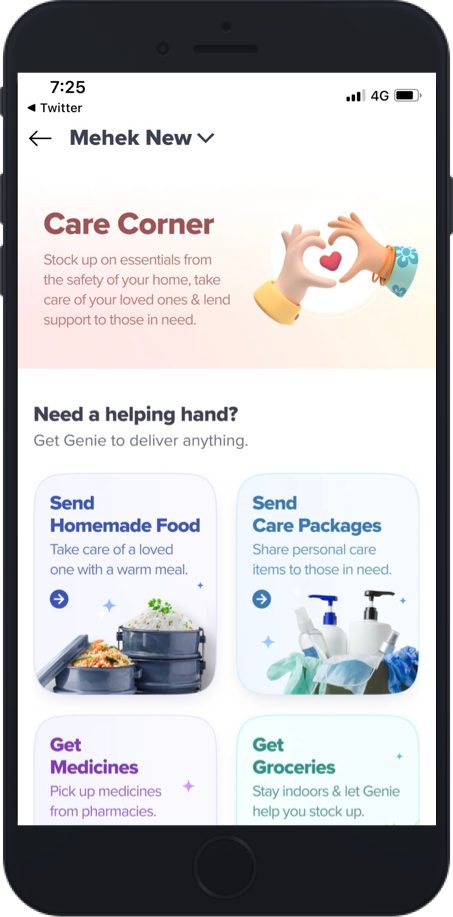 The Care Corner section on Swiggy's app
Be honest about the constraints of the new normal
During the early days of lockdown, supermarkets were overrun and shelves emptied by people stocking up supplies. E-commerce apps could not sell several non-essential products and even the essentials were delayed in terms of delivery. While consumers may be irked by such developments and even express their disappointment, deep down they'd understand that these are extraordinary circumstances and cut some slack for their favorite brands. However, consumers would rather prefer an attitude of 'under-promise and over-deliver' in these times and also likely to be more forgiving of snafus. So information about delayed turnaround times, unavailability of stocks, price surges if any, and replacement options must be conveyed upfront and not as unpleasant surprises at the end of a purchase process.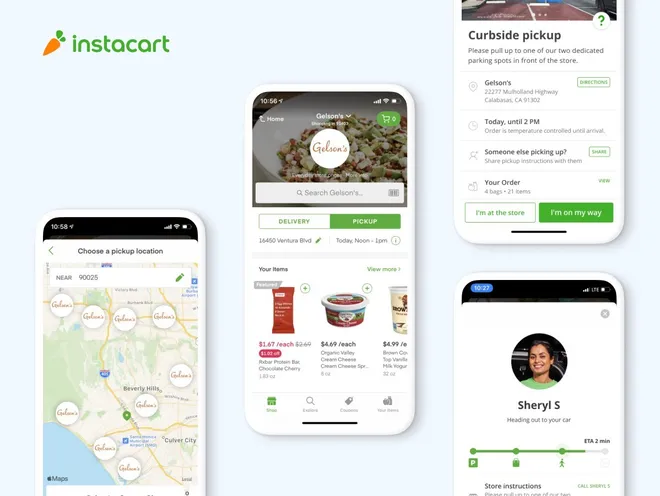 Details of pickup locations, product availability, and order status on the Instacart mobile app.
Put customers in control with a choice of delivery and technology
Now more than ever, customers would appreciate the simplification of processes. They already have enough to deal with at home. So any simplified process – from ordering through voice-enabled speakers, messenger platforms or a smartwatch, virtual trial of a dress (for a fashion e-commerce brand), re-order of previously ordered medicines, offering a subscription service can go a long way in feeling that's one less weight off their shoulders. Delivering products at the chosen time by the consumer, option of curbside pickup are also examples of putting the consumer in control.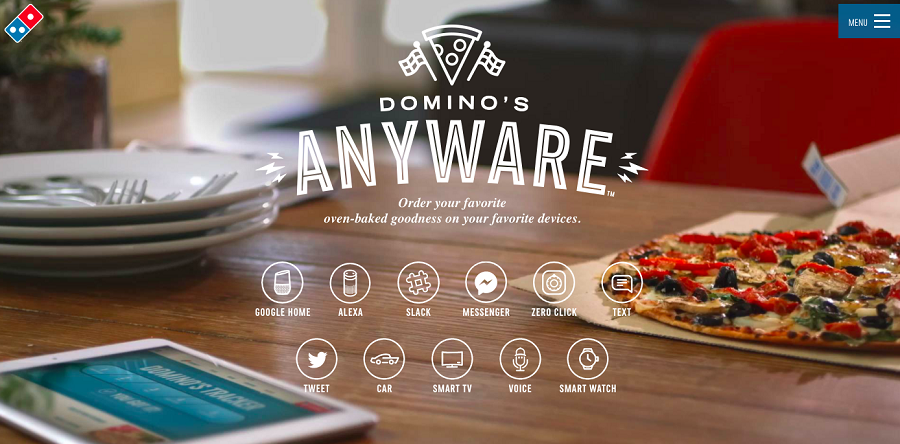 Domino's makes it easy for its customers to order from any device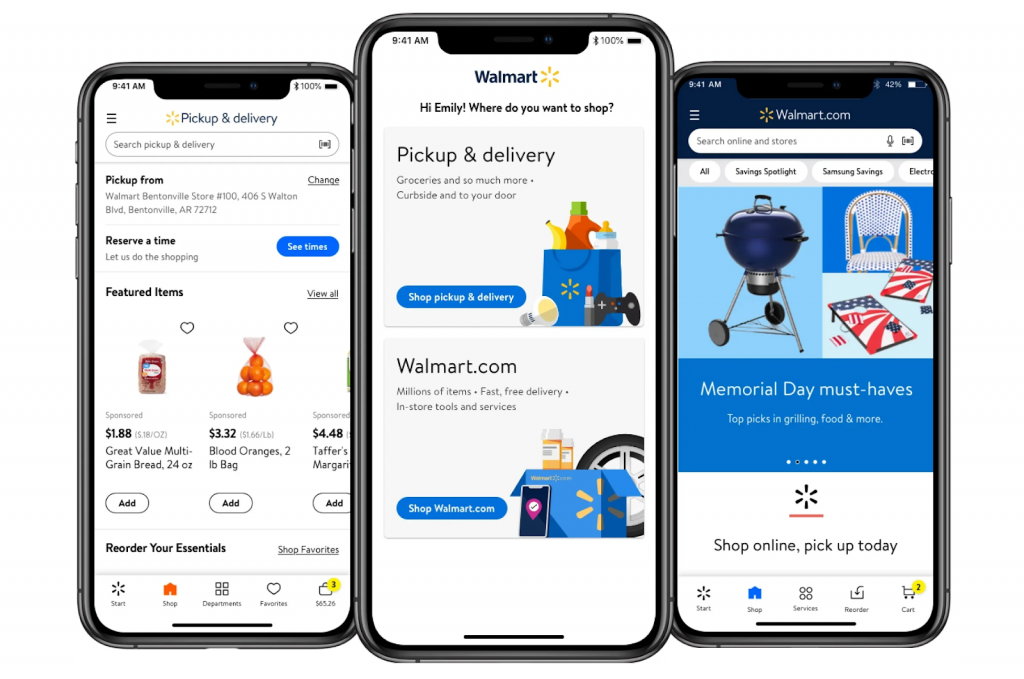 Shoppers can order essentials and non-essentials items in the same purchase on the Walmart app for curbside pickup or delivery.
Image source
Aid product discovery: use a recommendation engine to anticipate needs
The nature of the anxiety and concern for taking precautions can make consumers unsure of all that they need to stay safe. For example, grocery shopping apps can aid consumers by highlighting immunity-boosting products. Food delivery apps can add product badges which could highlight nutritional information or the number of orders in the past hour – giving some sort of assurance of making a safe choice. The role of a Recommender System is at the core in recommending items and driving customer conversion by auto-suggesting the right product to customers based on needs and behavioral data. Amazon is known for putting it to great use – 35% of Amazon.com's revenue is generated by its recommendation engine.
Such systems get better over time which subliminally cues to the user that this brand understands me and my tastes. It helps in building loyalty and improving the average ticket size of orders.
Beyond transactions, offer relevant content for engagement or information
Aside from assurances of safety, there is plenty of scope to create engagement through relevant content. Food delivery apps such as Zomato have already integrated recipe videos which consumers could find valuable when the propensity to try new recipes at home is high. The insurance brand Discovery from South Africa is a great example of providing value-added content beyond merely selling a product.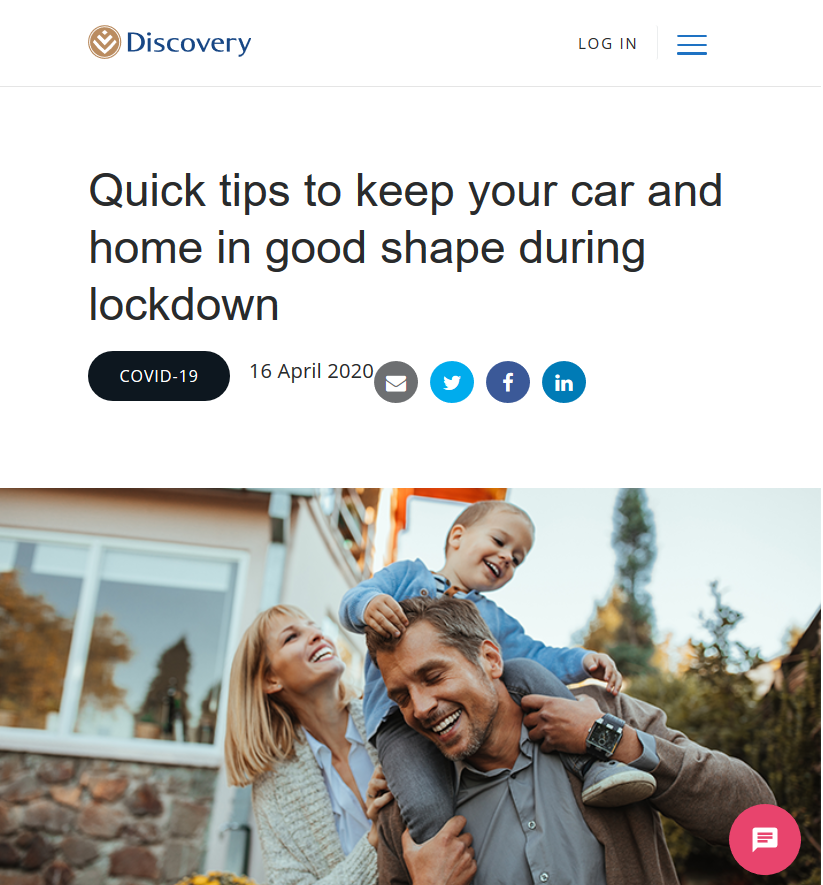 Image source
Instacart provides three options to the users if an item is unavailable:
Shoppers (assigned delivery partners) can choose the best replacement for the unavailable item

Users can designate a substitute item.

Leave out the item when unavailable.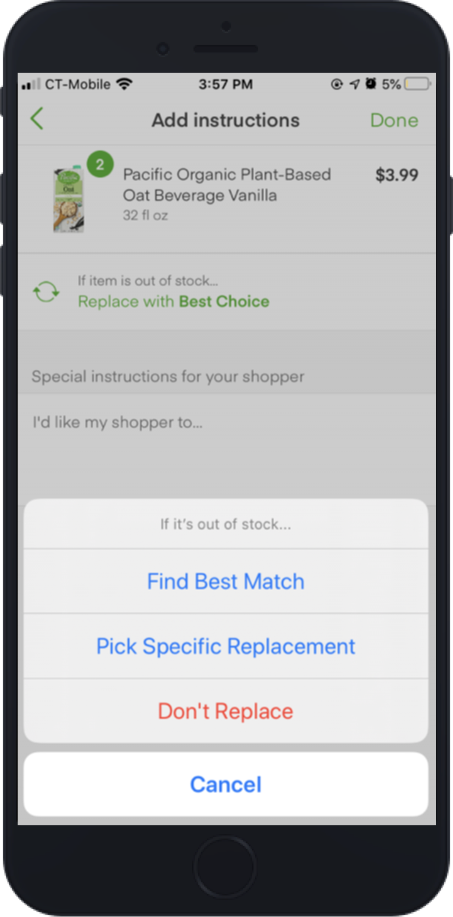 Instacart's app provides three options to the users if an item is unavailable.
In the coming months and years as more and more brands adopt digital solutions and online delivery models, meaningful product-level differentiation will be difficult to achieve. The competitive edge would really lie in the positive sentiments the digital experience evokes in a consumer, thus subliminally generating brand affinity. It is an appeal to the emotional brain which drives brand purchase decisions than the rational brain. The choice of the right digital partner in the experience economy is also a key factor in providing a competitive edge to enterprises.
In one of our webinars, Mart to cart: role of digital experiences in online delivery, we discussed the evolving consumer behavior and key factors that can help delivery services in crafting great digital experiences. You can watch a recording of the session here.