The rise in consumption of video and audio streaming services over the past year due to extended lockdown periods arising out of the COVID-19 pandemic has been covered extensively in media. The OTT viewership and streaming hours in the US and across the world shot up expectantly during the pandemic. All the major OTT trend reports suggest it will only grow further in the coming years after the pandemic. In hindsight, it was a natural fallout of having to stay indoors for long periods. People resorted to options in indoor entertainment through streaming services and mobile games.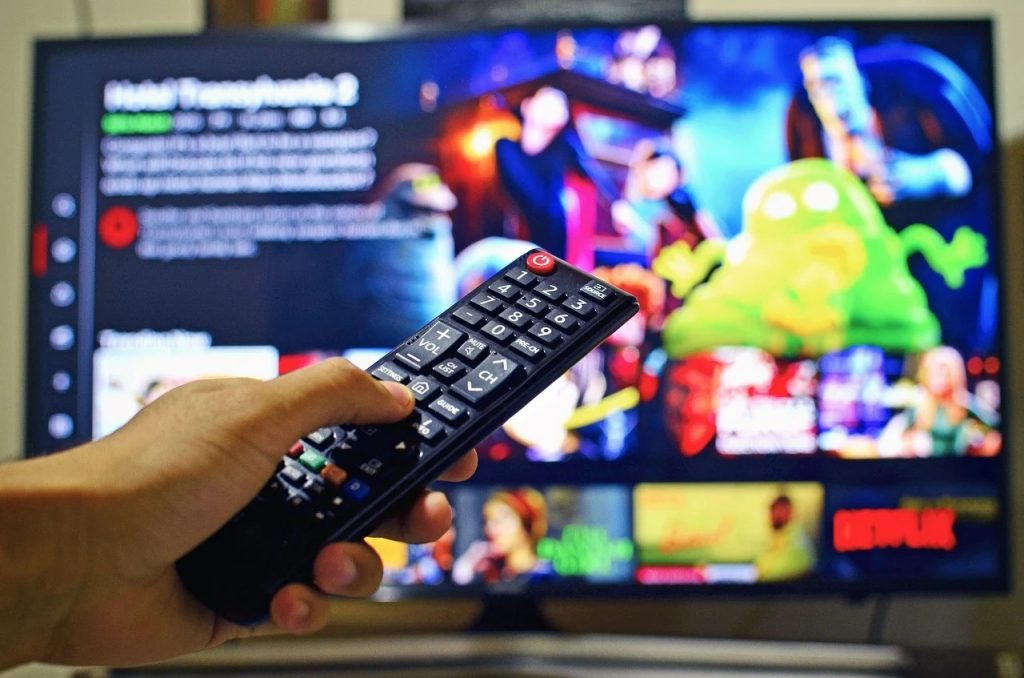 There is a rapid exponential increase in OTT platform usage across the past decade. The OTT industry revenue is expected to ride the COVID-19 wave and reach over 210 billion dollars by the end of 2026. According to a recent CII-BCG report, the number of paid OTT subscriptions was up by 55-60% to 100-125 million in 2020 from 49 million subscriptions in 2018.
Another important factor for OTT ascendency is the introduction of 5G technology. The 5G technology is going to be a major factor assisting the increased usage of OTT services. Having 5G combined with OTT services would mean less buffering and faster streaming. This would encourage OTT service providers to venture into live sports and other events streaming.
What are the current OTT viewing trends?
The USA and Global
According to the 2020 report from Comscore, in the US, 69.8M homes used OTT in April 2020, an increase of 5.2M homes compared to the previous year. The same report also indicates the average home viewed 102 hours of OTT content during that same month, an increase of 17 hours compared to April 2019. Another report by theTradeDesk indicates 27% of the US households are going to end their TV subscriptions by the end of 2021. The trend was similar across the globe, for both video and audio streaming. In the US and UK, consumers shifted from audio to video streaming as the former was more suited to a commute while the latter for in-home consumption.
India
The BARC-Nielsen report from April indicates that in India, VOD viewership on digital was at 3 hours 59 minutes a day in week three of lockdown, with a 12 per cent increase from pre-COVID time. In March, audio streaming too saw a spike in India – there was a 42% increase in time spent on listening to them.
OTT trends and opportunities for current and new brands
Now consider this – once the pandemic situation eases, more people will step out for their regular work, are things going to be the same hereon for OTT brands?
Robosoft Technologies brings you 6 trends and opportunities for both established and new players in the OTT segment. These will discuss the impact of the trends and the way forward for OTT brands.
1. Need for a sharp brand value proposition
The OTT market is already cluttered in many geographies. A study from a major OTT market tracking organization, Parks Associates, suggests the number of OTT video services in the USA has more than doubled in the past six years to 300 platforms through the third quarter (ended Sept. 30, 2020). Similarly, India had 36 OTT streaming services and the number has gone up to 60 by mid-2020. New entrants are eyeing the market and the competition is only going to increase. The most important trend observed among Indian consumers is their willingness to pay for content during the pandemic.
In this context, brands need to offer a sharp, differentiated value proposition primarily led by either a demographic or psychographic segment. A diverse country like India offers opportunities to target consumers by language preference.
As seen through another key trend of 2020, there has been a continuous emergence of hyperlocal OTT services such as Hoichoi (Bengali), Aha (Telugu), Koode & Manorama Max (Malayalam), Planet Marathi OTT (Marathi), CityShor.TV (Gujarati), and more.
In total there are 17 major languages for delivering OTT content in India currently. Each of these has its own vast library of content and niche audience. Segmentation through a lifestyle preference is also possible as seen with the successful launch of Discovery+ in India which has a unique proposition of unscripted content aimed at lifelong learners.
This hyper localization or segmentation through a niche can also be seen with the emergence of BritBox. It is an online digital video subscription service showing primarily British shows made available for UK, USA, Canada, and Australian audiences with South Africa next on the list.
According to a survey conducted by Deloitte, in May 2020 among US consumers, the reason for choosing a particular brand of service seemed to indicate a preference for both a broad range of shows & movies and content not available elsewhere.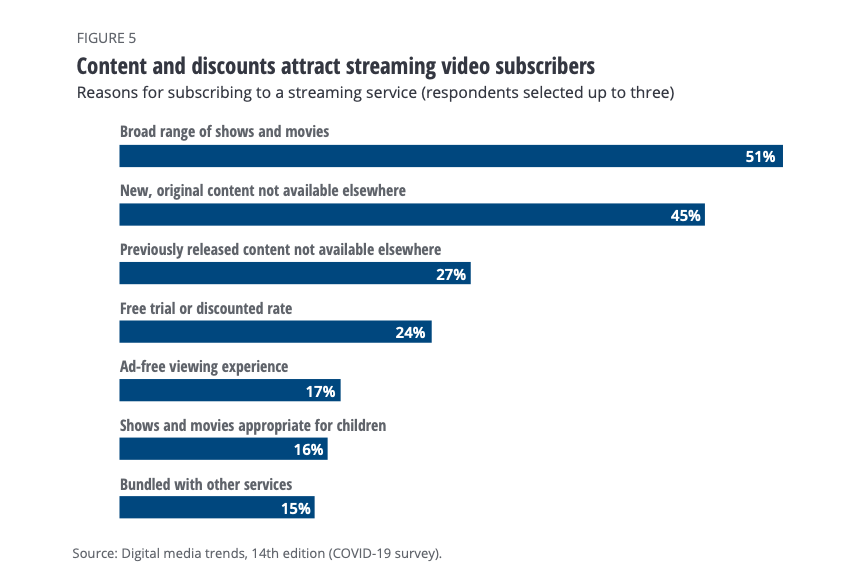 Image source
It reflects in the content strategy of several brands which are now emphasizing 'originals' which then call for huge investments in creative talent and production costs. As consumers, we have also chosen to snack on a streaming service based on a particular show or movie and not renew the subscription when the show completes a season. To that extent, brand loyalty cannot be taken for granted in this segment.
The above survey also found that 66% of people were frustrated when the content they wanted to watch was removed from service, and 53% were frustrated by having to subscribe to multiple services to access the content they want. From October 2020 to February 2021, the churn rate for streaming video services held at around 37%.
Late entrants in a particular category will then have their work cut out to wean away from the audience from established players. There are several key factors to take into account while designing a successful OTT platform. A quick study and research go a long way in the successful journey of your idea.
Create a successful multi-device and multi-platform OTT App
2. No room for complacency in the post-COVID-19 era
Traditional cable TV is still the most popular option for entertainment for households in developing markets like India. Apps and digital experiences through personal computers and smart TVs have increased in popularity due to unexpected extraordinary circumstances. When the situation eases in the months to come, two factors will come into play – app fatigue and subscription fatigue. The former existed even before COVID-19.
The Deloitte survey mentioned earlier also indicates that even before COVID-19, the average US consumer had 12 paid media and entertainment subscriptions – with millennials averaging the highest at 17. The report goes on to say 'with more subscriptions being added or sampled during the lockdown phase indications are that consumers have signed up for more services than they can handle or afford'.
In my view, multi-experience indicates that streaming services have a twin task of answering 'why to choose me?' and also work at retention strategies. The price-value equation will be worked out by consumers driven primarily by the quality of the content and the 'worth' of such in dollar value.
Due to the availability in abundance, a user may have 30-40 apps installed. But the ones which get used daily are perhaps only 4-5. However, here it's a question of payouts every month and there's a limit to the number of subscriptions and the monthly payout.
3. Room for growth, new audience, new devices
The OTT market already has big global players with deep pockets. YouTube, Netflix, Amazon Prime, Hulu and Disney+ are considered the Big Five in a Comscore report and they accounted for 82.5% of the streaming hours in April 2020. Yet, the next 5 services have a higher percentage change in hours per household in April as compared to January.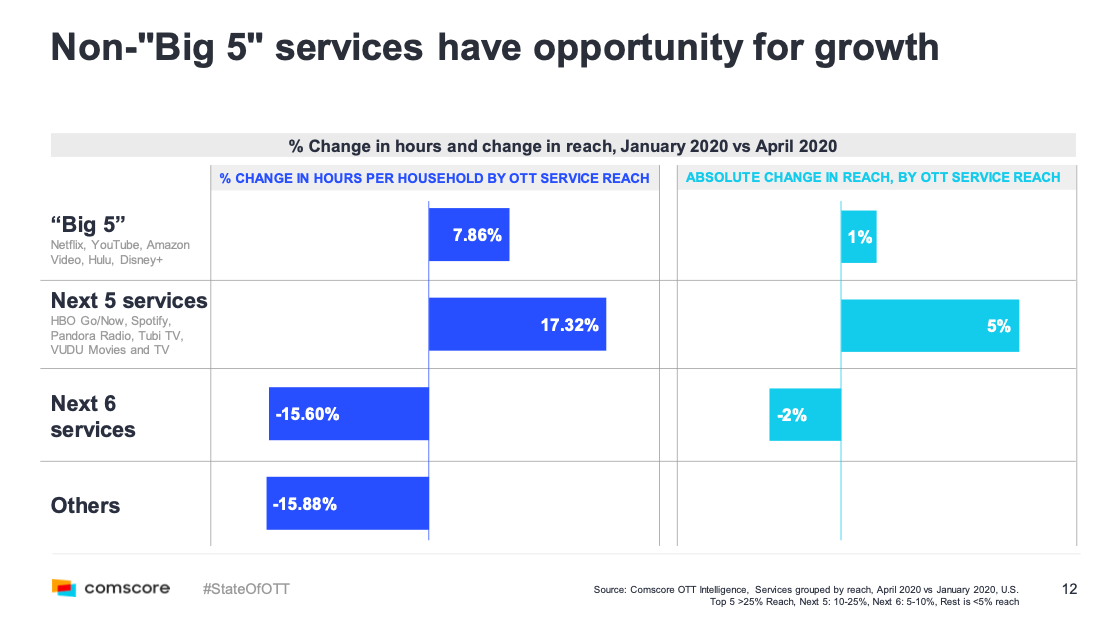 Image source
By the end of 2020, Apple TV+ has also garnered an audience with a captive base of iOS, Mac and Apple TV users. Indications are that there is still room for growth in terms of audience and devices.
The trend is expected to grow with Indian Originals having quality content expected to grow beyond the South Asian audiences in the coming days.
4. Table stakes: Success factors and expected features
Content creation, processing, storage & retrieval, content distribution and management continue to be the backbone of the OTT business.
Over the past few years, growth and engagement have been dependent on customer experience, customer acquisition & retention, use of recommendation engines, technologies such as voice and presence in large screens such as Smart TVs.
The high penetration of Smart TVs and the presence of big global players in the OTT market has also contributed significantly to the growth. Some content owners like Discovery Plus are going directly to consumers via Roku and OTT only operators like Amazon Fire TV for their content distribution. OTT players such as Netflix, Disney, NFL, and NBC have been investing in creating OTT TV apps to bring their videos directly to consumers with multi-experience options. Having a multi-experience OTT service enables the OTT platforms to provide multimodal, multisensory, and seamless experiences to their subscribers.
See the work behind creating a multi-experience OTT platform for Discovery+
Discovery also made its first US pay-TV deal with Comcast for further distribution of its streaming services. The arrangement will enable the SVOD to be accessible on the Xfinity Flex OTT platform as well as traditional X1 set-top boxes.
As parity features come into play (no pun intended) in OTT services, some key features will become table stakes for streaming services as shown below.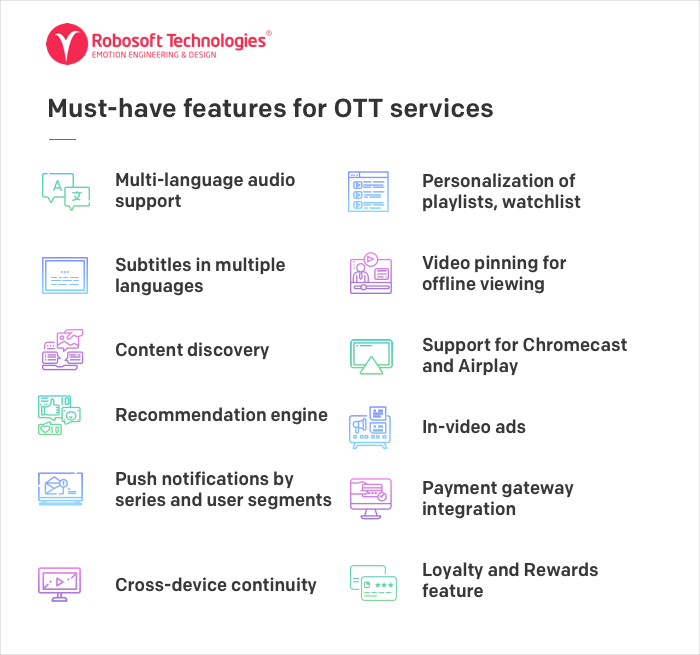 5. Monetisation strategies: ad-support is welcomed
Streaming services are lowering the entry barrier by offering free trial periods and price-offs for a subscription.
In markets like Asia, ad-supported services are common. As with publishing, a relatively smaller percentage of the market will be willing to pay a premium to avoid ads or have an 'ad-lite' experience and commit to a subscription. Deloitte's COVID-19 survey found that 35% of consumers will pay a premium to avoid ads in the US. Providers are increasingly turning towards pay-per-view and advertising monetization as alternatives to subscription monetization.
In the months to come, streaming services may opt for a combination of snackable, short-term subscription options and advertising revenue to offset the high cost of production. The consumer, hitherto used to high-value, big-budget movie productions from Hollywood and other film industries, will expect similar production values from OTT content providers. Disney+ is already bundling its videos together with ESPN, National Geographic, and other content producers. This will likely expand in the future.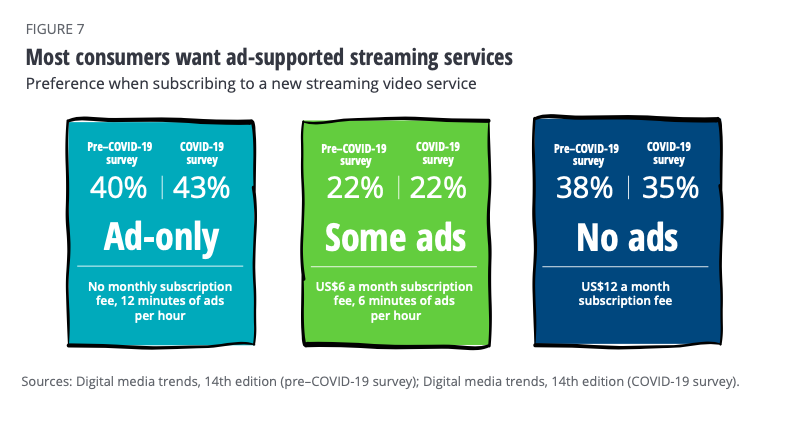 Image source
6. More than just consumption with value addition
Brands in the OTT space can also position their services beyond passive consumption by enhancing their offering to include gamification engines, interactive live television, real-time polls and more.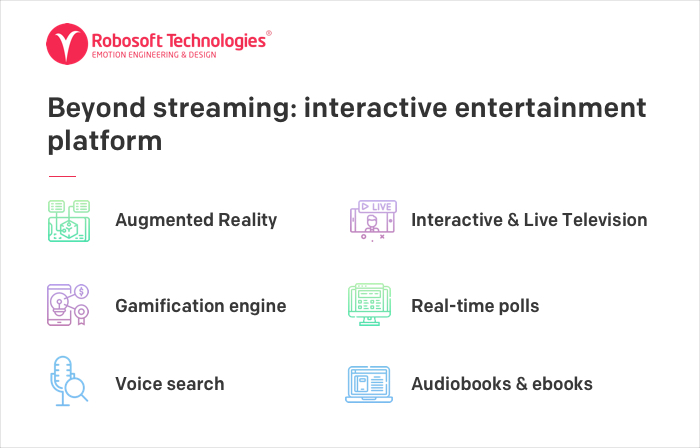 Connected TVs are becoming increasingly popular among US household. The consumers' preference to watch the OTT content on a larger screen led to a significant jump in the usage of Smart TVs from 37% in 2018 to 51% in 2020. This jump however doesn't affect the demand for mobile streaming on smartphones and tablets.
Another interesting space that is developing quietly is the diffusion of retail into OTT platforms. The traditional TV ads fail to deliver a direct purchase option for their consumers as they have to dial-up a number or visit their website for the sale to happen. However, OTT platforms have the potential to bring the best of both worlds. The interactivity, convenience of time, and most importantly the ability to make purchases on the platform itself.
Netflix is again on the verge of major disruption in the OTT space with their online shopping store. This will provide fans of particular TV shows or cinemas with collectables from the show. This innovation is surely a major step for Netflix to keep their consumers on their platform and increase brand loyalty.
Conclusion
In summary, the situation which existed before the COVID-19 pandemic has been accelerated over the past few months. Consumers who used to sample a service due to free offers or a favourite piece of content have had a plethora of options to choose from.
A churn is inevitable in the coming months as both the consideration set and the purchasing power of most consumers are limited. Yet, with a sharply differentiated positioning, investment in relevant content, smart acquisition & retention strategies and above all, crafting a great customer experience across devices the future augurs well for both established and new players in the domain.