An entire neighbourhood gathering on a Sunday morning to watch Mahabharata, lazy afternoons with Shanti or insightful evenings with Amul Surabhi; television has a special place in the hearts of Indians.
In a digital world, where we have the flexibility of consuming content anywhere anytime, and across mediums – our relationship with television has changed. With the deluge of digital content, television as a device also serves as an extension of the digital medium via technologies like Google Chromecast and Amazon Stick.
So, does this mean that OTT or digital content viewership will supersede television content viewership and our good old friend will lose its sheen?
While this might be a possibility in the distant future, television medium isn't going to fade away soon. Yes, the time spent and the way we consume television content is bound to see a shift, television will still be one of dominant medium for the coming few years.
Here's why:
India has a huge viewer base when it comes to television:
While the growing content on the digital medium and the exceptional amount of time spent on internet might give an impression that the audience is moving away from TV content. That isn't the case. According to a recent report, India has a massive TV audience base of 780 million. An interesting thing to note is, that despite the growing interest in the digital content, TV viewership has seen a rise of whopping 21% among the young audiences, with 224 minutes of daily time spent.
One of the reasons for this seemingly contradictory trend is audience expectations from both the mediums are different. When it comes to the digital medium most video content is seen on the smartphones. The drawback of this is the dwindling attention span of viewers, where users are constantly switching between apps. Further, most of the digital content is watched while the users are on a commute, and hence, shorter versions of episodes or web series work. However, when it comes to TV people expect longer versions of episodes. Another important aspect is television is a part of the daily family routine of Indians, a place that is difficult for any of the digital media platform to occupy at present.
According to Partho Dasgupta, CEO, BARC
The unique Indian habit of the entire family sitting together prevails.
Hence, given the current scenario, digital video growth is led by it becoming the second or third screen as 97% of India is still single TV homes.
Largest media spends are on television
When it comes to the digital medium, the time spent in India is lower than that of US and China. Further, according to BARC, youth viewership has grown on TV.
Given the increasing popularity of the digital medium it is surely gaining advertisers' monies, however, television is still getting the major share. Hence pumping more monies in the television medium to produce content, which isn't the case with the digital medium. Since traditional mediums like television and print still dominate overall ad spends in India and brand building is still largely happening through mature ad mediums such as television. Given the huge viewer base that TV enjoys, from an advertiser perspective, TV viewership is more valuable than a similar viewership on digital video.
Another reason why television gains advertisers interest is the fact that chances of viewers skipping a channel is lesser than skipping pre-roll or ads. So, brands will have to think about integrating their communications with the content instead of generating generic communications for all mediums.
As Ajay Chacko, Co-Founder and CEO, Arre, rightly puts it
"Advertisers, both traditional and new-age, are welcoming of content as a route to marketing. Brands are evaluating a balance between performance and impact when planning their media spends. There is cognisance of the fact that pre-rolls/ads can be skipped or blocked or muted when pushed down user's timelines and feeds, but content is what consumers actively seek out and hence, more effective or impactful."
Digitization yet to permeate the rural markets
When it comes to the overall split of the OTT viewership, the majority exists in urban India. Rural India is still predominantly a television market and a huge one at that.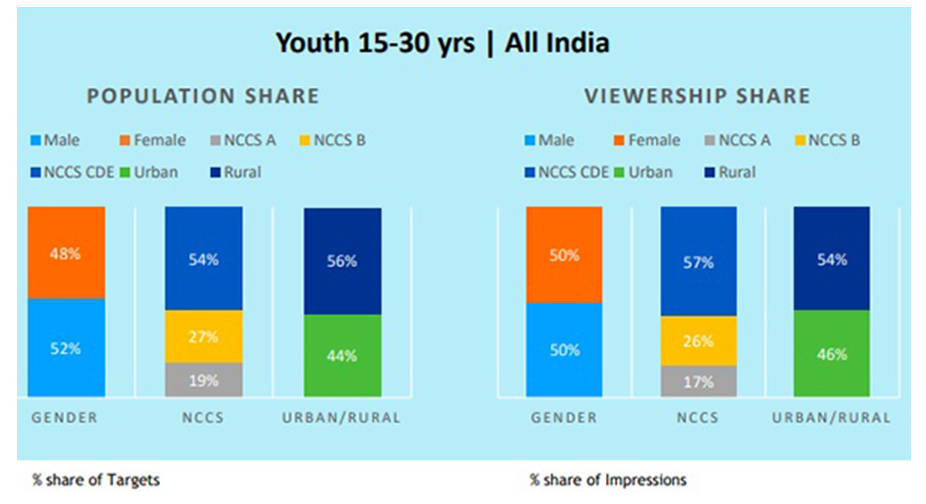 One of the reasons for this is the poor penetration of fixed broadband. According to a recent report, while Internet penetration in urban India reached at 64.84 per cent in December 2017 compared to 60.6 per cent in December 2016, the rural Internet penetration grew only a little — from 18 per cent in 2016 to 20.26 per cent in December 2017. However, with the introduction of low-cost network providers like Reliance Jio, this scenario is expected to change. The number of users of Jio is on the rise and video is an important driver for Reliance Jio's high mobile data traffic. On the Jio network, subscribers watched an average of 13.4 hours of video each month in 2017. While low-cost network providers like Jio will further boost the consumption of digital content it is unlikely to have an effect on the television viewership, as yet.
Best of regional content is still on Television
One of the major reasons why Television is widely consumed is the huge library and options of regional content it provides. According to a recent BARC report –
The General Entertainment Channels (GEC) dominates the genre viewership pie with the highest share of eyeballs (51%), followed by Movies (25%). These are the two biggest genres on television.
Further, in the recent years, the share of GEC has declined by only a meagre 2%, which might be a function of increasing number of youth viewership.
Producing high quality original regional content is going to be an important aspect for OTT players to grow. In this case, Indian channels and media houses with their apps have an advantage because of the already available library of content. For instance, players such as Hotstar and Voot have higher access to Star India and Viacom 18 media libraries. According to a recent Deloitte report, currently, 40% of the viewership of OTT platform comes from regional content.
So far, OTT players like Netflix and Amazon Prime have focussed on pushing global content to Indian subscribers, but they have realised how critical it is for them to offer regional and original content to viewers.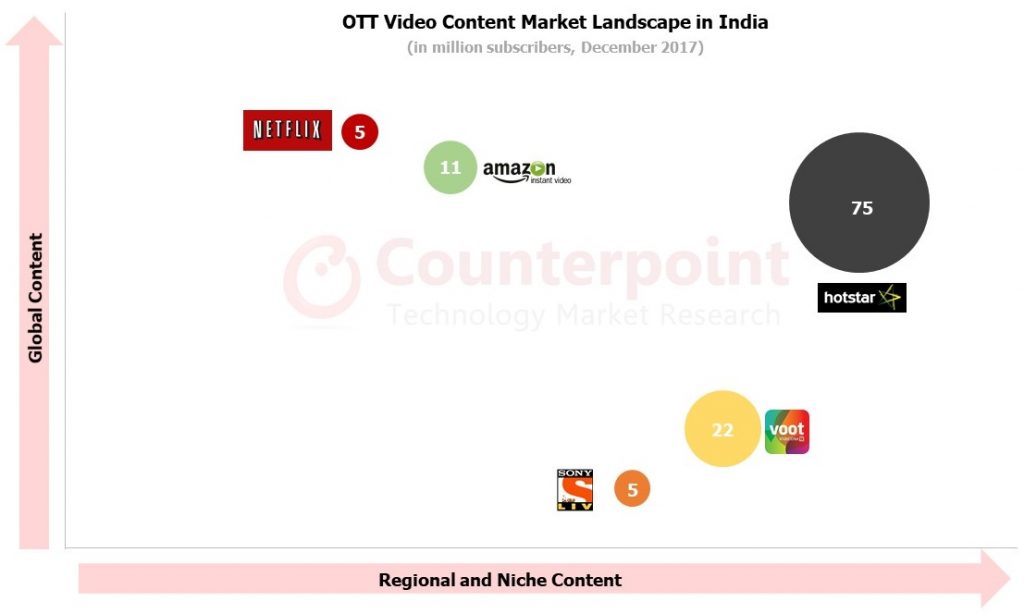 Image source: Counterpointrsearch.com
Amazon Prime is likely to invest around $300 million in the Indian market for acquiring rights of Bollywood films and also producing original content, similarly, Netflix is producing more Hindi content like the recently launched series 'Sacred Games'.
Regional content is going to be a major game-changer when it comes to changing the dynamics of the OTT market. However, it will not immediately impact the television market given the huge viewership, reach and the library of content available on the medium.
Paying for Television vs OTT
The Indian market is still fairly unaffected by the phenomenon of cord cutting. The major reason for this is, there is no economic reason to cut the cord as yet, since, TV delivers the highest value for money. Most OTT players work on the subscription model.
According to a research the majority of Indian audiences are still stuck to the free or ad-supported model as of now. Further, several options including web-series, stand-up comedies, etc. are already available on YouTube free of cost.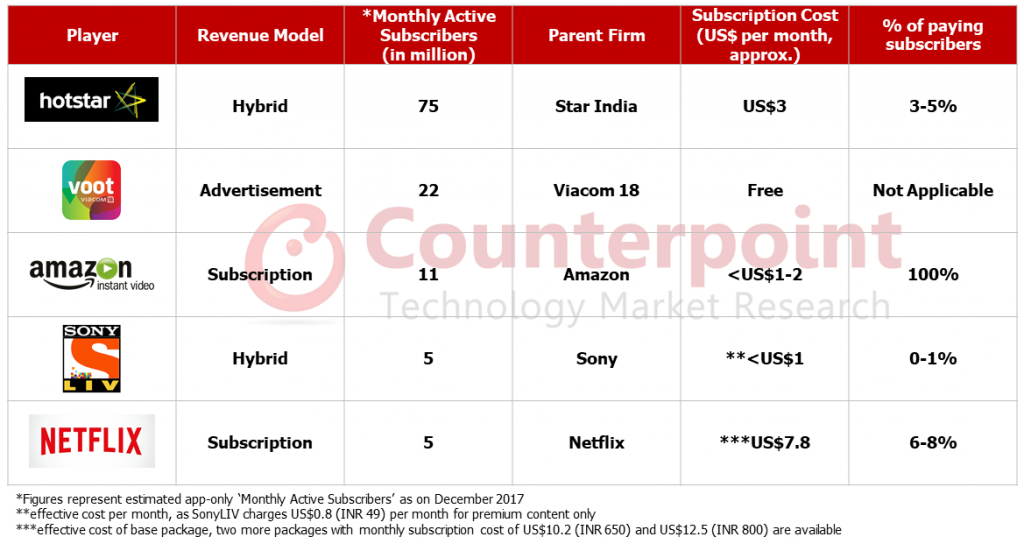 Image source: Counterpointresearch.com
This implies that the OTT players will have to compete with the lower cost of Cable/Dish TV subscriptions and also provide compelling content for viewers to do so. This shift will also depend on the factors mentioned earlier in the article.
Future
In the near future, both TV and digital video will grow in parallel. Television viewership will see a steady increase, video OTT will grow as a second screen. Also, with the growth of viewership of the digital media, we will see advertisers spending more money on the medium, though, television will still get the major share of ad spend compared to the OTT medium.
Ad-led online video platforms will also grow by manifolds in India (as wireless 4G ecosystem explodes) and subscription led online video platforms will grow as the fixed broadband infrastructure improves.
Further, with the cheap data network providers like Jio, we see a rise in the consumption of OTT content. However, it is unlikely to have a huge impact of the share that television medium enjoys.
We will also see OTT players pushing in more regional original content to suit the taste of the younger generation on the portals since the current viewer base is mostly the youth.
At present the OTT market is highly dispersed with pure OTT players (Netflix), channels and media houses (Viacom's Voot, Hotstar), telcos (Jio TV, Airtel TV) etc. In the coming years, we will see an emergence of a more collaborative ecosystem.
India is a major market for the global OTT players and the boost in the infrastructure and digitisation is surely going to further shift the way media is consumed across mediums. It is a critical time for both TV and the OTT medium with a plethora of opportunities. Players across mediums will reap the benefits of this growth, and TV & the video OTT platforms will find a perfect platform to co-exist in India.