At Robosoft, our mission is to create digital solutions that can simplify lives of millions across the globe. Our talented team of software and product engineers, design thinkers, digital consultants and more, consistently work towards driving this mission.
In this interview-based series, we will meet these 'behind the scenes' experts, know their passions and inspirations and understand what drives them to create digital solutions that touch lives of millions of users and drive business results.
In this interview, we will get to know Navin Kumar Math, Technical Architect at Robosoft Technologies. Navin has been a part of Robosoft for more than a decade.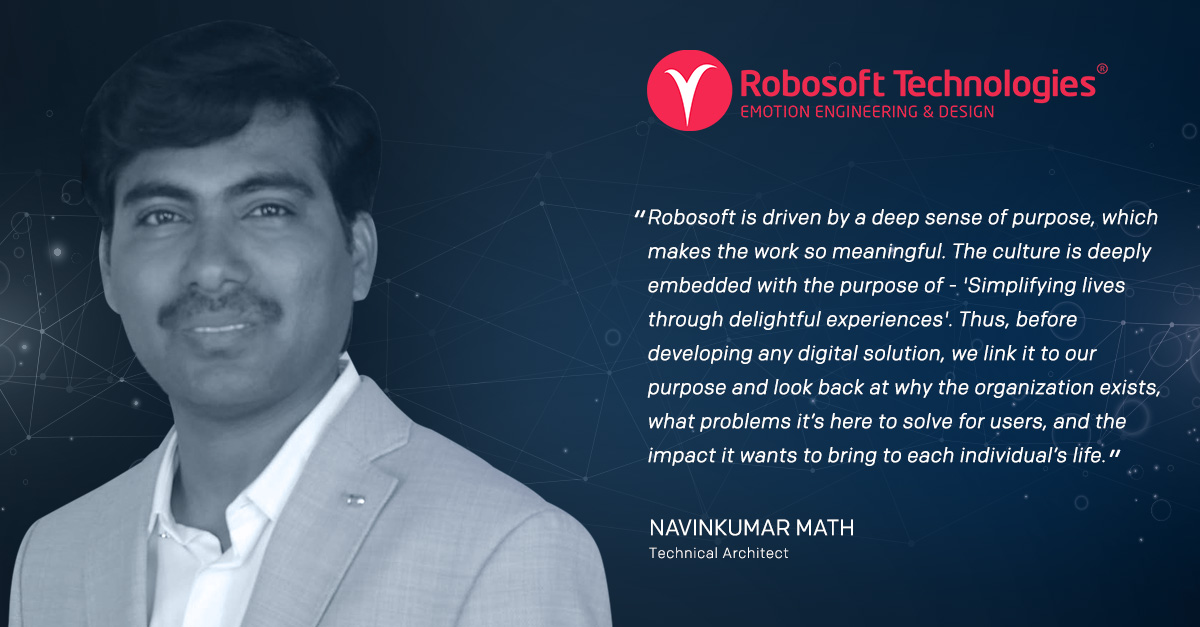 Q. Tell us about yourself and what you do, your hobbies and more?
Navin: Originally I am from Vijayapur (Bijapur), which is a heritage city well known for its historical monuments. I am a simple and fun-loving person and I apply the same principle in my personal and professional life. At Robosoft Technologies I work as a Technical Architect, that's part of the project delivery division involved in developing custom-built platforms for the BFSI, e-Commerce & Healthcare industries. I'm currently working on a mobile payments and commerce platform, for a client based out of Japan which is into the Finance domain.
I love watching movies, playing cricket & carom. I also enjoy shopping and traveling with friends and family once in a while.
Q. What inspired you to choose Robosoft Technologies & what is it that inspires you?
Navin: I was recruited through the Campus interview process and was fascinated to be a part of Robosoft as it was working on Mac and Windows drivers during that time. Honestly, it was an overwhelming experience to begin my professional journey with one of the best in the industry, but they were so open and accommodating that it just felt like home. Additionally, I love where the office was located, Udupi. It is such a scenic and serene place and the idea of working in a place like that was even more exciting. Well, it's been 12+ years since then and counting.
What makes this place really special for me is, first and foremost all the learning and opportunities, but most importantly that it is driven by a deep sense of purpose, which makes work so meaningful. The culture is deeply embedded with the purpose, thus before developing any client proposal or delineating any project outline, we link it back to the purpose – why the organization exists, what problems it's here to solve, and the impact it wants to bring in to each individual's life. The team is very well-knit and we work on each other's strengths. We have a lot of team outings, events, and games, that bring us closer to stay united as a team and family.
Q. How has the quarantine phase been? What is it like to manage home and work responsibilities and your advice to peers alike?
Navin: The Quarantine phase is new, yet challenging for everyone. In terms of work though it has been smooth for us so far. Along with my project team, we have been able to manage work and keep-up with the timelines of our deliverables. It has been a novel experience and I have enjoyed working with my team.
Personally, in the initial phase, I did find it difficult to manage work along with household responsibilities especially in the mornings and late evening. However, now I have adjusted my routine in a way to manage both to the best of my abilities.
Advice to peers will be to just enjoy this work from home phase, as you get much more time to spend with your family. While work is important, health is important too hence have food on time. In terms of work – share even the small bottlenecks with your team or manager so that it can be resolved on time.
Q. In your view, what is the scope of this industry in the years to come?
Navin: The industry trends and scope evolve in the most unexpected ways. And what's fascinating is that the most interesting opportunities often come by at places where they intersect. The global digital experience platform market size is projected to reach USD 15.80 billion by 2025, and enterprises across industries are developing customer-centric strategies by disrupting digital platforms due to the massive impact it can have on its growth.
Several of the decades' trends represent intriguing combinations of macro forces and other technological advances. A growing class of AI-driven solutions are redefining the way we experience technology today. In the coming years, more enterprises are expected to adopt technologies in aid to better understand and respond to humans. Combing AI with human-centered design techniques to recognize the user's emotional state and context to leverage emotionally intelligent platforms and emotional data is one of the biggest scope of the industry moving ahead.
I also admire the work that E-wallet companies like Paytm and PhonePay are doing, as I am currently working on the BFSI domain and want to learn and explore a lot from their work. I also admire leading e-Commerce companies like Amazon and Flipkart and wish to explore this industry alongside BFSI.
Q. Your advice to students & freshers exploring opportunities in this field?
Navin: Given the current market value it holds and how technology is an indispensable part of our lives, the future is extremely bright. In a world of infinite unknowns, what can help students exploring this niche is to channelize their interests and narrow down on a meaningful collection of technologies and look beyond the obvious, which could perhaps be the onset of an invention that simplifies the lives of millions of people around the globe.
In subsequent interviews of this series, we hope to introduce other talented members of our team, understand their inspirations, and what drives them to innovate to create digital solutions that simplify lives of millions.