At Robosoft, our mission is to create digital solutions that can simplify lives of millions across the globe. Our talented team of software and product engineers, design thinkers, digital consultants and more, consistently work towards driving this mission.
In this interview-based series, we will meet these 'behind the scenes' experts, know their passions and inspirations and understand what drives them to create digital solutions that touch lives of millions of users and drive business results.
In this interview, we will get to know Saritha Shenoy, Senior Software Engineer at Robosoft Technologies. Saritha has been a part of Robosoft for more than a decade.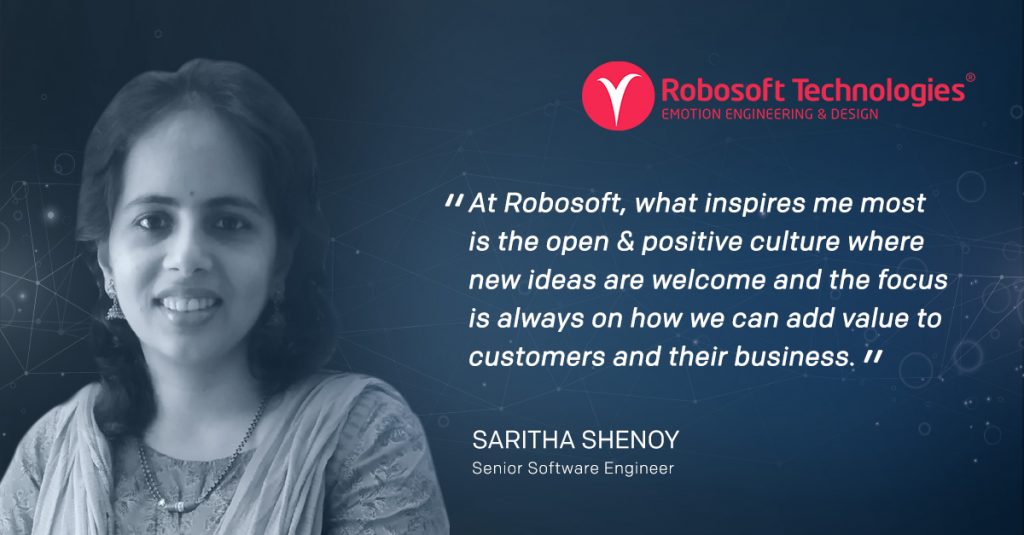 Q. Tell us about yourself and what you do, your hobbies and more?
Saritha – At Robosoft, I'm a Senior Software Engineer currently working with ReactJS Apps helping develop interactive UI's for clients. What makes this role particularly remarkable for me is that I get to learn, work with a global clientele, and pursue my passion, coding! Besides that, being a daughter, wife, and a mother is a huge part of who I am.
I come from a town close to Udupi called Mulki. I feel a certain equilibrium here, more in touch with nature and myself, I love the peace and tranquility this place offers. My hobbies include reading, trekking, and cooking. I have however been unable to indulge in trekking lately due to my responsibilities as a working mom, but the plan is to take it up actively a couple of years from now.
Q. What made you choose Robosoft Technologies & what is it that inspires you?
Saritha – Robosoft opened its doors to me 10 years ago and gave me the opportunity to have a perfect work-life balance. I have always preferred the tranquility that a place like Udupi offers and having my office in the same city as my parents helps me in supporting them. What inspires me most is the open and positive culture where new ideas are welcome and the focus has always been on how we can add value to customers and their business. It has also helped me hone my skills and competencies which have made me the professional that I am today.
Q. How has the quarantine phase been? What is it like to manage home and work responsibilities and your advice to peers alike?
Saritha – Although the quarantine phase has been stressful to juggle between home, work, and keep up to all the timelines, it's a nice feeling to be able to spend some time with family. For all those who are currently working out of home, I'd like to say these few things that are helping me immensely – communicate often, clarify misunderstandings, stay organized, collaborate with the team, stick together like a family, identify the little things that keep you motivated, follow a fixed routine and explore ways to keep from distractions. I'm thankful to Robosoft and all my peers who have supported us through this challenging phase and have ensured our safety above all.
Q. In your view, what is the scope of this industry in the years to come?
Saritha – Technology is woven so intricately within the fabric of our lives that its scope is virtually immeasurable. The pace and reach that this industry has shown in the recent past are indicative of what's to come. I feel that digital solutions in Healthcare, Retail, and BFSI will lead the way in the future.
Q. Your advice to students & freshers exploring opportunities in this field?
Saritha – The key for students exploring this field is to understand that we are not too far from being completely dependent on digital platforms & technologies for all our core requirements and its scope is extremely vast. To get a real-time feel while pursuing their studies, students can take up short internships between semesters even if this is not a mandate as part of their curriculum. This would mean a lot of hard work, but getting used to the work-life discipline can mold you in a lot of ways. The insights you gain can be incredible, and help in building communication skills, confidence and teach you how to be a good team player.
In subsequent interviews of this series, we hope to introduce other talented members of our team, understand their inspirations and what drives them to innovate to create digital solutions that simplify lives of millions.
Stay tuned.