While there are many popular definitions of Design Thinking, the CEO of IDEO perhaps best described it as a "human-centered approach to innovation that draws from the designer's toolkit to integrate the needs of people, the possibilities of technology, and the requirements for business success."
The process involves 5 key phases: Empathize, Define, Ideate, Prototype, and Test. As noted by many others, the end-users are the focus of this process as it aims to solve their problems and meet their needs. In essence, Design Thinking is a practical and creative method for problem-solving in any discipline or domain. Hence it can lead to innovative solutions for diverse needs: from an electric toothbrush to home delivery for prescriptions.
As is common with processes and frameworks, there are several renditions of Design Thinking – Empathy, Iterativeness, and Collaborative Approach being common to all. Many companies have invested in design thinking initiatives or insourced design teams thanks to growing awareness of the business value of design. At Robosoft, we have created a design-thinking based innovation process – Robosoft Accelerator for Product Innovation in Digital (RAPID), focused on digital product creation.
Why An Accelerator for Product Innovation in Digital
There could be three broad stages of a product life cycle: ideation, development, and continuous improvement. RAPID can play a role in all three stages: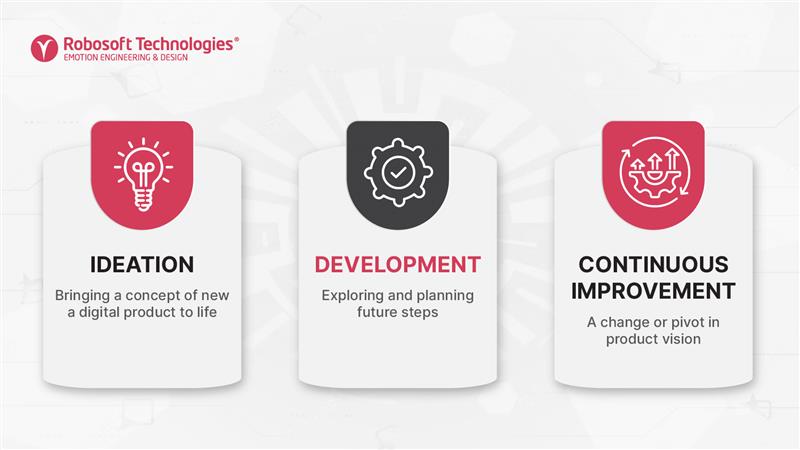 A digital product owner would be able to relate to any of the above 3 stages. At Robosoft, we have worked on several Design Thinking projects and realized that there is a need to accelerate the innovation process. After much deliberation, we have created an 8-week process that has the potential to accelerate the innovation process.
The RAPID process has 3 broad phases: commencement, co-creation, and consolidation. In the commencement phase, there is initial planning (Q&A and discussions with select business stakeholders) and discovery. In the latter, we
jointly arrive at the product intent & vision.
conduct empathy based User Research
Define key challenges and Pain points
Competitive analysis and benchmarking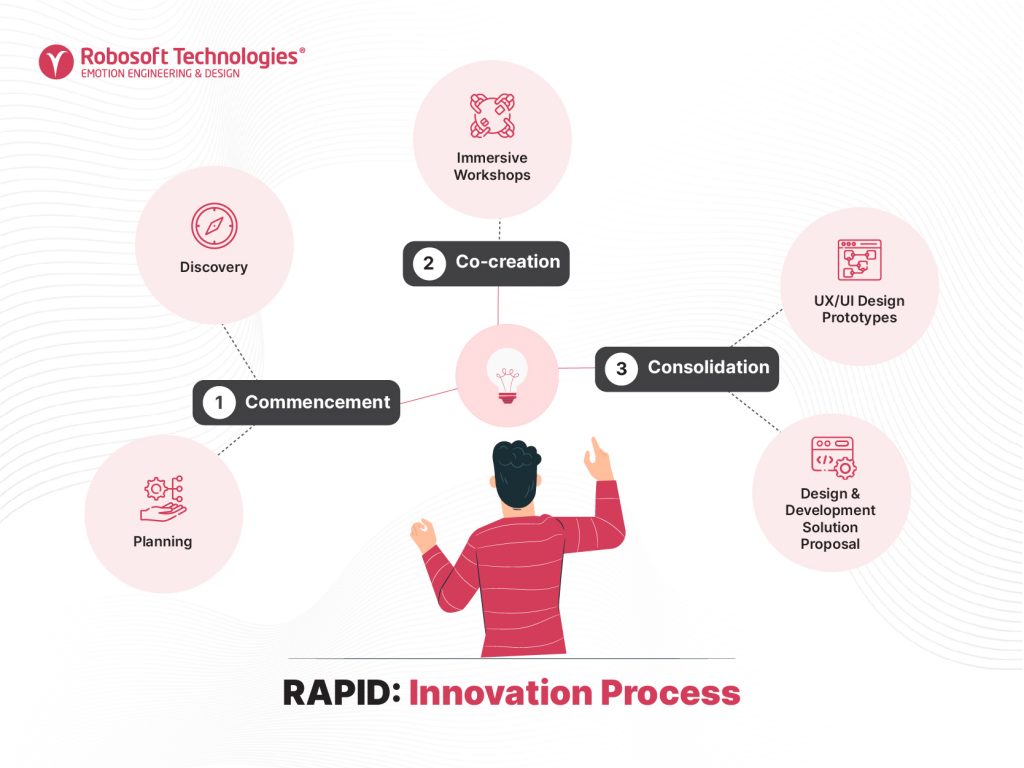 In the co-creation phase, we conduct immersive workshops with key business stakeholders and validate requirement features and scope. The third phase, consolidation involves UX/UI design prototypes and a proposal for the design & development.
In sum, first come the planning and discovery phases, where the RAPID approach is to lay the groundwork for the project. The second and longest phase is co-creation, where all the team members are brought aboard and convinced to follow a common goal. And the final phase is consolidation – bringing all the project elements together, refining them, and creating a proposal.
Why RAPID makes business sense
Virtually every product category is witnessing constant innovation to keep pace with business, technology, or user trends. Innovative features can easily be copied or bettered by competition. Speed is of essence along with user-centricity. In that context, there are several benefits of Robosoft Accelerator for Product Innovation in Digital (RAPID):
Reduced risk: Through iterative testing and prototyping, RAPID helps to reduce the risk of investing resources in products or services that may not meet customer needs.
Increased efficiency: By using an iterative design thinking process, organizations can identify and address potential issues early on, reducing the need for costly revisions later.
Stakeholder engagement & buy-in: By involving stakeholders in the design thinking process, they get better visibility of the complete product development process. It helps all stakeholders to stay on the same page.
Customer satisfaction: Design thinking puts the customer at the center of the process, ensuring their needs and preferences are understood and met. This leads to more satisfied customers and higher customer loyalty.
Competitive Advantage: Creative problem-solving helps organizations to identify new and innovative solutions. Combined with an understanding of user expectations provides a competitive advantage to companies by delivering more relevant and compelling products and services.
According to Fortune, businesses that incorporate Design Thinking into corporate strategy may outperform industry rivals by as much as 228%. The discipline of Design Thinking is itself witnessing change & innovation. There is an emphasis on humanity-centred design which builds on the principles of human-centered design but expands them: to help people improve the lives of people. In a fast-changing world, RAPID seems like the right approach to accelerate innovation. Let's get to work and drive innovation that simplifies lives.