Enterprise digital solutions can be really beneficial for your organization, but they can be equally detrimental if security isn't your top concern.
We live in a digital age where information is sacrosanct. While digital transformation is forcing business leaders to either disrupt or be disrupted, it is also leaving the doors open for data breaches and cyber threats. With data privacy taking the center stage in 2019, organizations cannot let vital information slip between the cracks in the coming years. Data theft or loss can cost organizations millions, whether it is direct business losses, audit, and regulatory fines, compliance remediation costs, or most importantly — the loss of client trust, reputation, and brand equity.
With so much on the line, businesses need to devise a robust security infrastructure while developing enterprise digital solutions.
Several organizations around the world are spending hundreds and thousands of dollars on data security.
But is that enough in the digital world?
Cybersecurity is the main focus of several organizations that rely on advanced technologies such as cloud computing, business intelligence, Internet of Things, machine learning, etc. For such organizations, threats of ransomware and distributed denial of service attacks are just the start of a long journey towards digital transformation.
Let us look at some of the top security threats that organizations are facing today.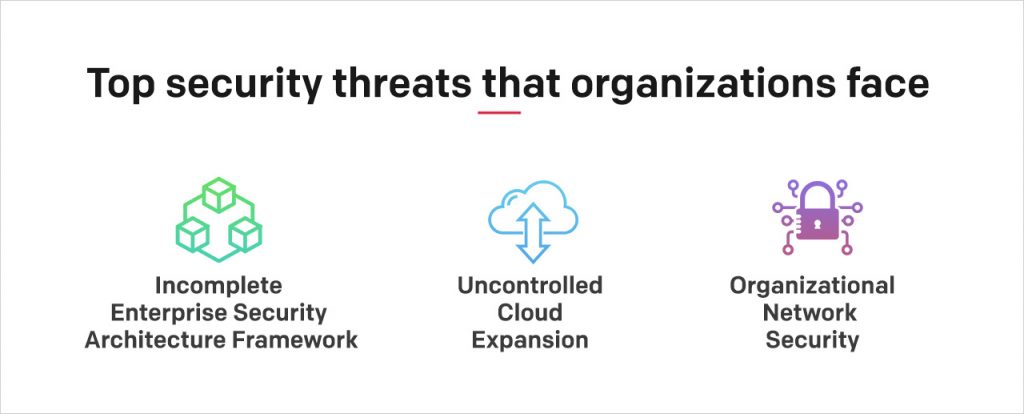 Lack of a Complete Enterprise Security Architecture Framework
It is a known fact that enterprise security architecture is a methodology that addresses security concerns at each step. But more than often, the current enterprise security architectures are not that evolved, if not completely absent.
Uncontrolled Cloud Expansion
The frenzied pace at which businesses are adopting the cloud as a key part of their digital transformation has raised several eyebrows in the last few years. While businesses remain undeterred in adopting the cloud, there is a growing need to create and implement resilient security to support this rapid adoption. Today, protecting data in the cloud environment and supporting the cloud's native security capabilities are critical.
Network Security
With the drastic increase in cyber-espionage groups trying to compromise vulnerabilities in routers and other devices, network security is also causing sleepless nights for network managers across organizations. The continuous evolution and escalation of threats and vulnerabilities make it a concern that is here to stay for long.
Security, which was once a tiny component of any organization, has gradually evolved into a significant function that will determine any organization's success. Rising security threats in today's world have emerged due to new age digital technologies. Security and risk management leaders are currently tasked to safeguard their organizations from cyber attacks with tighter regulations. Security breaches can disrupt the business model of organizations and jeopardize their reputation almost overnight.
The cost of breaches and security compromises can be in millions and result in reputation damage almost immediately. According to the 13th annual Cost of a Data Breach study by Ponemon Institute and IBM, the global average cost of a data breach has climbed 6.4 percent over the previous year to $3.86 million. With these numbers expected to rise in the coming years, organizations around the world cannot afford to ignore a robust IT security system amidst rising cyber attacks and tight regulatory requirements.
Today, there are merely two types of businesses left – the ones who have experienced cyber attacks or security breach and others who are highly likely to experience it in the near future.
It is really not a question of if, but only a matter of when!
Therefore, having a robust digital solution has become an imperative that just cannot wait.
In the next article, we will talk about the security guidelines that enterprises will need to consider before implementing a digital enterprise solution. Stay tuned.