Personalization has inherently been associated with digital commerce where technology and data often go hand-in-hand. But owing to the proliferation of new-age tech inside brick-and-mortar stores, the trend is now seeping into retail.
In the past, in-store personalization was mainly attributed to a sales assistant interacting with customers and asking them relevant questions to map their shopping behaviors and needs. Modern-day technologies have been able to capture and scale this behavior towards better avenues of segmentation, customization, and contextualization. Armed with a plethora of solutions, retailers are now able to combine historical cross-platform knowledge of every visitor with a real-time context. A study from Accenture reiterates the importance of such a strategy. According to it, 75% of the customers are more likely to buy from a retailer that leverages personalization elements such as their name, personal recommendations, and preferences.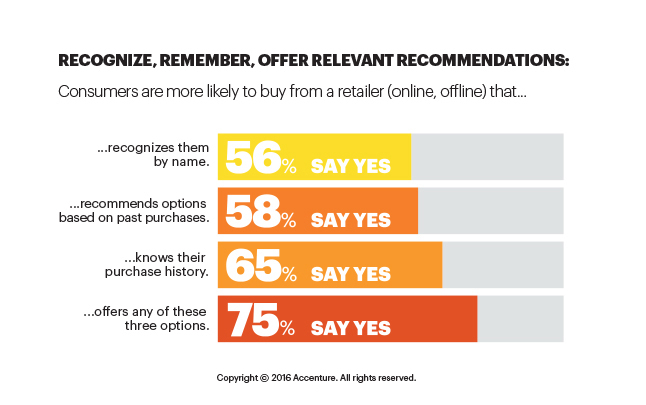 Image source
The same research also reveals that most of the consumers comfortably share their data with businesses that are transparent about how they use their data and lets them control how the data is used.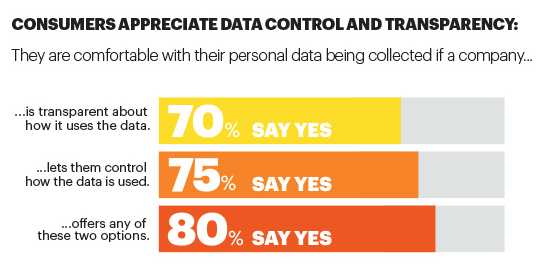 Image source
Even after all this, there is a knowledge gap between the expectations of the market and the response from retailers. For instance, research by Retail Week in the UK revealed that only 14% of retailers consider personalization as an essential consumer experience strategy.
Key Technologies Personalizing Retail
To successfully leverage personalization, it requires a prompt understanding of the customers and their needs in a way that collects, analyzes, and streamlines data. Here's a look at the various technologies are helping retail companies in this regard:
1. Artificial Intelligence and Machine Learning
Retailers are leveraging AI and Machine Learning to Automate workflows and drive better decisions. With AI, they are now able to track the buying behaviors and lifestyle choices of customers, automate redundant tasks, and improving the productivity of employees. Emerging AI trends in retail include:
Customer Insights and Journey Mapping: Natural Language Processing and Machine Learning can sift through copious amounts of customer data to understand them better and accordingly personalizing product recommendations, designs, and end-to-end shopping experiences.
Virtual Personal Assistants (VPAs): VPAs such as conversational chatbots can now address customer queries in real-time and at scale. Digital retailers can cater to thousands of customer queries simultaneously, boosting response time and query resolution.
Predictive Analytics: By analyzing data about historical sales, marketing campaigns, website interactions, and customer support, prescriptive and predictive modeling is being used in marketing, merchandising, and even hiring.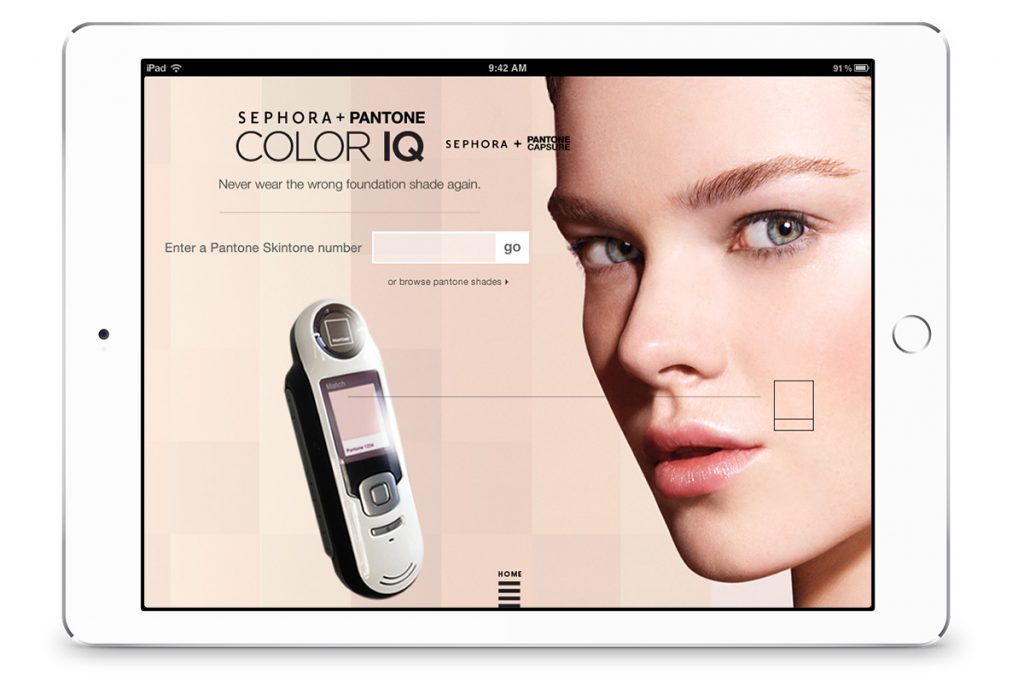 Image source
Case Study: Sephora is equipping its employees with hand-held devices that can scan the faces of customers, capture their exact skin tone, and recommend products by matching it with relevant shades. The AI-powered device even creates a four-digit code that is known as the Color IQ of the customer. All associated data with every ID is then securely stored to personalize future shopping experiences.
2. Voice Recognition Technology
With numerous voice-powered devices such as Amazon Alexa, Apple Home Pod, and Google Home being launched by tech giants, use cases of voice technology in retail have been on the rise. It is revolutionizing shopping by making it more accessible and conversational. This has presented retailers unique opportunities to target more customers by optimizing their digital listings for voice searches. Marketing opportunities that retailers can leverage in this regard include:
SEO Optimization: By targeting long-tail keywords that are more oriented towards conversational searches, retailers can optimize their SEO scores and increase their voice search rankings on SERPs.
Platform Listings: Product listings on e-commerce websites such as Amazon and Flipkart can also be optimized to improve the chances of being recommended by voice search assistants such as Alexa.
Content Marketing: By creating niche content that is specifically targeted for voice searches, retailers can increase the organic footfall on their websites and shift their marketing stance towards inbound.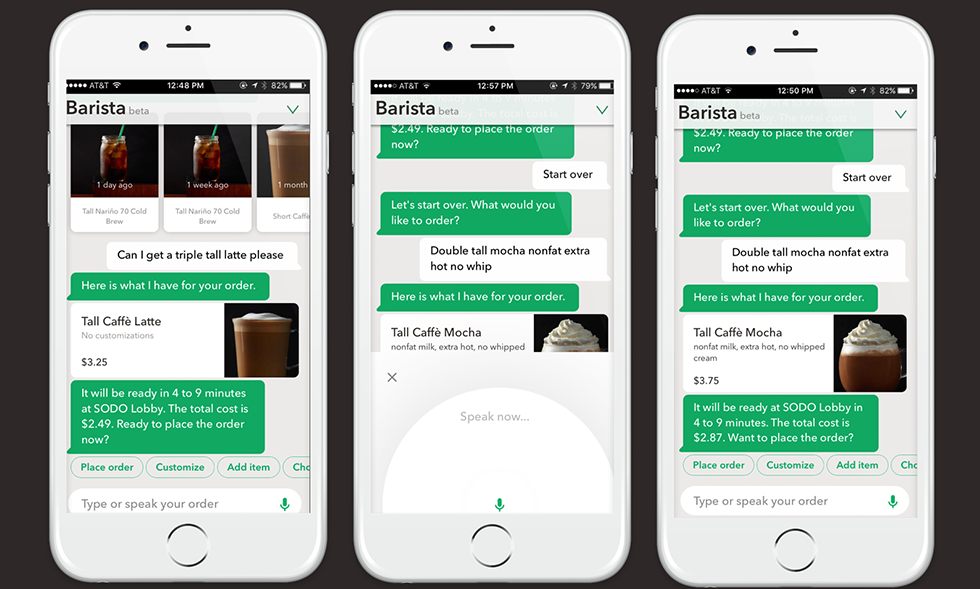 Image source
Case Study: Coffee giant Starbucks has embraced voice recognition by going a step ahead and including the capability in the My Starbucks Barista app. Customers can directly place their orders with voice commands before they visit their local Starbucks and find their orders waiting for them.
3. Mobile Point-of-Sale Terminals
Research suggests that in the United States alone, more than 50% of all digital shopping would be executed via mobile devices. Retailers are catching on with this trend and leveraging Mobile POS (mPOS) devices inside their stores that are blending the boundaries between digital and in-store shopping.
A mPOS is a smartphone, tablet, or a wireless device that functions as an electronic point of sale terminal. It enables sales associates to conduct financial transactions. Various benefits of this technology include:
Reduced queuing and idle time of customers, especially during times of peak footfall.
The system can easily collect and store personal information of customers such as their email IDs. Feeding the data in the ERP system and connecting it with marketing campaigns, such as a loyalty program, can then help to retarget these customers in the future.
Since the mPOS devices run on a high-caliber point of sale software, they include an added level of security that is backed by reliable servers.
Case Study: Apple has been successful in eliminating cash registers from its stores around the world with the implementation of mPOS. Every store associate is equipped with a mobile device that includes the information of customers and multiple digital payment capabilities. This has helped them to eliminate checkout lines and improve customer experience in a manner that fares well with their brand strategy.
4. Computer Vision and Sensor Fusion
Powered by computer vision, deep learning, heavy-surveillance and sensors, retail giants like Amazon have been working towards the implementation of a next-gen shopping ecosystem. This is being executed with the aim of eliminating redundant steps associated with purchases, checkout, supply chain, and inventory management.
Interestingly, the result amalgamation of these technologies has been dubbed as 'Just Walk Out' and works similar to that of a self-driving car. In order to remove human cashiers from the workflow of such a store, it leverages a high level of surveillance on all shoppers. Although there is no intervention of facial recognition technology, the store would use hundreds of cameras to monitor the activities of shoppers. Powered by computer vision, the core system would be able to identify every object in front of it. As soon as customers pick up products and place them in their shopping carts, the same would be placed in their virtual carts as well. It can even remove the item from this digital cart if a product is put back on the shelf.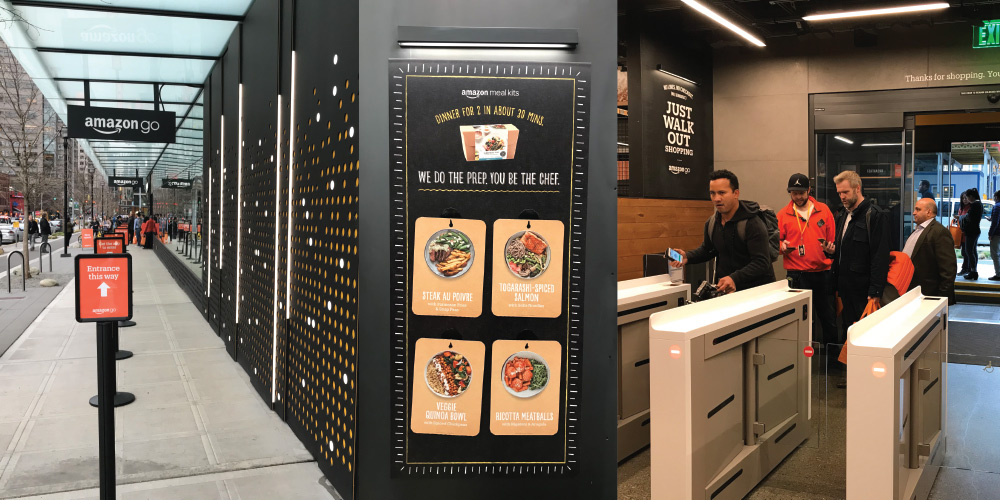 Image source
Case Study: Amazon Go stores are leveraging these technologies to extend a cashless and instant shopping experience to their customers. Powered by deep learning and a plethora of smart algorithms, the system is able to identify customers with the help of advanced pattern recognition that draws conclusions from vast datasets. As a result, customers are automatically charged from their credit cards or digital wallets as soon as they walk out of the stores.
5. Robotic Process Automation (RPA)
RPA in the retail industry is paving the way for better productivity by catering to administrative processes such as product scanning, data analytics, and inventory management. This results in better customer relationship management, easier and quicker auditing, reduction in administrative costs, and more. The various use cases of the technology in retail include:
Returns Processing: With the ability to make automated changes to the inventory database and billing details, RPA can drive redundant tasks like product returns.
Workflow Management: Management of shifts, measurement of time and attendance, auditing of sales activities, performance monitoring, and payroll management can be easily executed.
Customer Support Management: Sending real-time updates to customers, extending round the clock customer support, and capturing feedback from customers after the sale.
ERP Integration: Tracking price changes, generating reports, monitoring employee vacancies, managing billing, and more.
Supply Chain Management: Automation of emails among customers, suppliers, and distributors along with monitoring inventory levels and tracking shipments.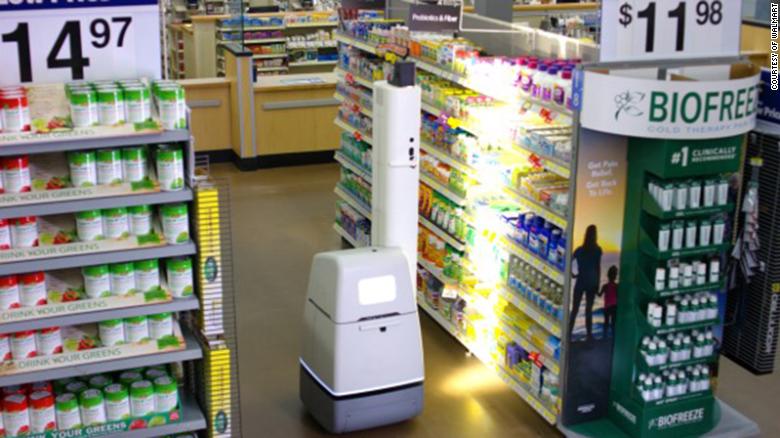 Image source
Case Study: Walmart is leveraging RPA along with smart robots to patrol stores and automatically scan shelves for missing items. This will allow them to identify the products that need to be restocked while also identifying pricing details and misplaced items.
6. Indoor Positioning Systems (IPS) and Geofencing
IPS is another leading technology that is overhauling the retail industry by empowering brands to stitch together digital and physical shopping experiences. With IPS, retailers can:
Track the movement and location of customers inside their brick-and-mortar stores.
Help customers by empowering them to find their way around it and locate the products.
Send personalized discounts and offers to customers based on their shopping needs and preferences.
Boost the conversion rates of customers by making physical shopping more targeted and personalized.
On the other hand, Geofencing creates a virtual boundary around a physical location. The boundary then acts as a trigger system when customers cross it. For instance, as soon as a customer walks into the store of a particular brand, the app on his/her phone can identify this and automatically switch to the in-store mode. A navigation map can then pop up that displays the exact location of all product types inside the store.
Case Study: Aswaaq, a leading supermarket chain in Dubai, has equipped its stores with a connected lighting system that communicates with its customers. It enables them to find items that are on their shopping lists with an accuracy of 30 cms through the brand's app.
The Verdict
Successfully mapping the present technological backdrop in retail and planning for future disruptions requires meticulous knowledge about consumer behaviors. Retailers that are able to use data as a precursor to change management while adopting these technologies would be able to foster a sustainable technological ecosystem.