Rapid advances in technology have permeated several sectors that anchor a country's economy. This is a precedent that can also be applied to the real estate industry. Real estate, an asset class worth USD 217 trillion globally, has gradually embraced disruptive technology. It is a dynamic catalyst that will transform the way businesses are conducted in the future. Today, the growing influence of millennials and an investment boom in real estate technology has reshaped this industry around the world, including the Middle East.
Benefits of Technology in Real Estate
Digital transformation in real estate has made it easier for buyers to connect with sellers online and establish meaningful connections. Some of the benefits include:
1. Online 3D Tours
Technology allows global investors to get 3D views of the entire property, which gives the feel of a personal tour, all this at a single click and from anywhere in the world.
2. Real-Time Data
Real estate investors are no longer just looking at the price of a property. Factors such as return on investment, cash flow, and capitalization rate have become critical for investors to make informed decisions. To access such data in real-time, disruptive technologies provide all information at your fingertips. With growing accessibility to such data, the real estate industry has become more transparent and regulated.
3. Portal and Apps
The advent of real estate apps and portals have made it convenient for buyers to search for properties they like, instead of aimlessly driving around the neighborhood. Real estate portals powered by predictive analytics offer personalized and highly-customized data and are rapidly gaining popularity.
Technology in Real Estate in the Middle East
There are nearly 15,000 real estate offices in the Middle East, offering various types of properties, according to Global Real Estate Experts. In an article by Forbes, the UAE is leading the way to embrace digital transformation in the region, creating initiatives aimed at promoting innovation and driving the adoption of digital technologies in the real estate industry. More specifically, Dubai is working towards a strategy focused on blockchain technology to transform its real estate market and implement impactful tech reforms.
According to a plan shared by the Smart Dubai Office, blockchain technology is expected to be implemented for all government documents by 2020. This is a significant step for the real estate sector as most of its investors are seeking innovative ways. According to a study by HSBC, a whopping 72% of buyers in the UAE prefer using technology to gather information about the property, while 67% use technology to check the value of their home, and 64% look at prices of potential homes.
Saudi Arabia, not far behind in its quest to adopt technology in real estate, intends to build its own smart city called Neom. This smart city is part of the kingdom's Vision 2030, a plan to lower the country's dependence on oil, diversify its economy, and build public service sectors. Neom will incorporate various smart city technologies and also act as a tourist destination.
How Technology will Transform the Real Estate Industry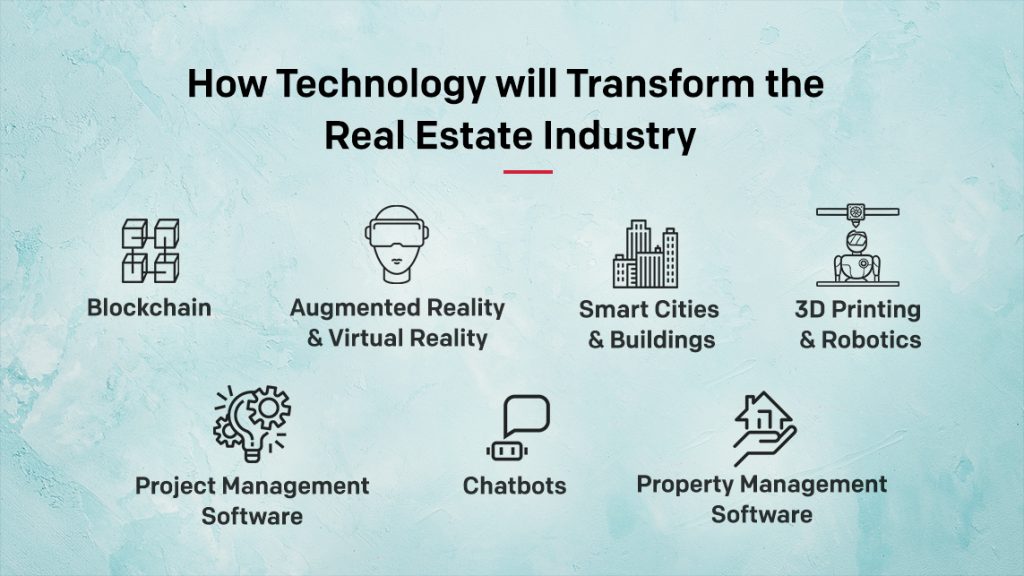 Blockchain
Blockchain technology has gained prominence in real estate because it helps lower the fees and processes associated with the industry. It reduces the intermediaries involved and streamlines processes for investors purchasing commercial real estate. This disruptive technology in real estate creates computer-based processes to eliminate paper title deeds, paper licenses, etc. for seamless cross-border transactions. Several companies in Dubai, such as ValuStrat, have integrated blockchain ledgers for the government to issue instant online title deed for properties. However, despite all these benefits, blockchain's adoption rate seems rather unclear in the near future.
Augmented Reality and Virtual Reality
According to International Data Corporation, in Africa and the Middle East, the VR and AR technologies market is likely to increase from $181.59 million in 2017 to $6 billion in 2020. The use of VR is increasing as it allows visitors and investors to virtually check the properties regardless of their geographic location. The VR experience is not just limited to property touring. It also enables users to visualize any space with various customized design elements, thereby helping the interior design process. Dubai's real estate giant Jumeirah Group is one of the many companies in the Arabian Gulf Region that are gradually embracing VR or 360 videos to provide virtual tours to buyers and promote their properties.
Smart Cities and Buildings
Smart buildings and cities are no longer a thing of the future. A smart building refers to a structure that deploys technology to automate operations such as lighting, security, and heating. Controlled partly by the Internet of Things (IoT) such technologies help boost efficiency and reduce energy waste. Technology giants like Google, Amazon, and Apple are aggressively investing in the concept of smart home technologies to transform the way people live.
IoT has also paved the way for the Smart City concept, which is being envisioned by the Kingdom of Saudi Arabia for Neom. The primary aim of smart cities is to enhance the quality of life using technology. A smart city integrates IoT solutions with information and communication technology to monitor its assets such as schools, water, libraries, waste management, etc. Technology in real estate can also help control parking, streetlights, and monitor air quality and noise.
3D Printing and Robotics
Construction technology, popularly known as ConTech, is revolutionizing the future of construction in real estate. Presently, construction is heavily dependent on manual processes to operate heavy machines. But companies like Komatsu have created unmanned bulldozers and drones to construct buildings and monitor the construction site.
Unmanned drones are capable of monitoring deliveries, inventory, and progress at the site and then create a 3D map of it. The information gathered by these drones is then used to instruct unmanned bulldozers to allot courses around the site. Construction technology in real estate removes worker safety issues, allowing robots to do manual work while humans focus on more strategic tasks. In 2018, HE Saif Bader Al Qubaisi, General Manager of Abu Dhabi City Municipality, launched the trial phase of using drones in engineering inspection of construction sites in Abu Dhabi.
Project Management Software
Several project management software solutions such as Re-Leased, ProofHub, Qube Project Manager are being deployed in real estate to assist in construction management. This is done to boost efficiency, clarity, and accountability of stakeholders involved in the project and aid in real-time conversations between them.
Chatbots
AI-driven chatbots are not new, with several industries leveraging them to enhance sales and marketing performance. Most of the real estate companies with an online presence have started using chatbots to help investors with standard information related to the property, along with pictures and videos without any human intervention. Since chatbots are 24×7 available, they provide support around the clock and assist buyers in filling contact forms even during odd hours of the day. Chatbots lower the overhead marketing and sales cost and results in higher conversion rates.
Property Management Software
Property management software is being implemented to monitor the performance and downtime of building equipment. This information is given to helpdesk support services and used by maintenance teams to carry out day to day tasks. Property management software tracks the asset's performance to make the whole process efficient.
Final Thoughts
Technology in real-estate has slowly pervaded the industry, with advancements in nearly all sectors. The efficient adoption of relevant technologies can make or break companies in the future. While the pace at which it is being adopted differs hugely across different parts of the world, one thing is for sure, it will become indispensable in the coming years.