Digitization has enabled industries to accelerate growth by providing solutions to target a wider audience, reach it faster, and deliver their services more efficiently.
Consumers today are increasingly comfortable with no human interaction in categories like hospitality & tourism – which not too long ago preferred human interaction.
The hospitality and tourism industry has seen a massive movement towards digitized services in the last few years. Research suggests that 48% of smartphone users in the U.S. were comfortable researching, planning, and booking an entire trip using a mobile device.
What started with basic services like online booking and registration has since grown to apps facilitating shared economy like Airbnb and Uber, and mobile check-ins like from the Apple Watch.
What is Driving Digitization in the Hospitality & Tourism Industry?
The growth of an enterprise in the hospitality and tourism domain relies predominantly on the customer experience. Customer experience is about how a customer perceives the brand through all interactions across the various stages of the customer life cycle. Unlike customer service, which focuses on the specific interaction at a given time, customer experience is more of a holistic approach that takes into account the overall customer journey.
By leveraging the right technologies, travel enterprises can enhance the customer experience while maximizing customer acquisition, engagement & retention. The Atlantis in Dubai, for example, has a Virtual Tour video on YouTube that allows users to experience the hotel even before stepping out of their house.
Another major contributor in the shift towards digitization in the hospitality and tourism sector is the concept of the shared economy. Shared Economy is a peer-to-peer service made accessible over technology, for instance, Airbnb and Uber. In both cases, a consumer with a need and a peer with a solution are brought together via an application. Such P2P services have simplified the travel experience by making basic necessities like accomodation and commute more easily accessible, and have contributed towards attracting a greater percentage of consumers.
Technologies that Businesses in the Hospitality & Tourism Domain are Leveraging for Better CX
1. Chatbots, Artificial Intelligence & Machine Learning
Hotels, airlines, and other divisions in the hospitality and tourism domain are leveraging chatbots for better customer service and communication round the clock. Today customers prefer contacting a company via chat rather than on a call; according to a report by Outgrow, 56% of people are more comfortable texting over a chat window than calling customer service, making chatbots an ideal solution. The reason for an aggressive adoption of chatbots is obvious: it saves manpower costs, eliminates wait time, minimizes errors, and maximizes efficiency with automation.
Powered by AI and Machine Learning, chatbot solutions today are capable of performing more than just basic conversations. The entire process can be automated to be triggered based on keywords entered by a customer.
In collaboration with the Government of India, we created a digital platform for Indian air travelers. We designed and developed a web portal and a mobile app that gives users realtime flight status and domestic & international flights schedule. The platform offers chatbot support for faster resolution of queries and also provides a personalized travel experience.
Another great example is FCM Travel Solutions' Smart Assistant for Mobile, or SAM. Unlike Expedia, which is built on Facebook Messenger, SAM is a travel assistant mobile app that can be used to book flights, hotel rooms, gauge the weather at a destination, and more through a simple chat interface.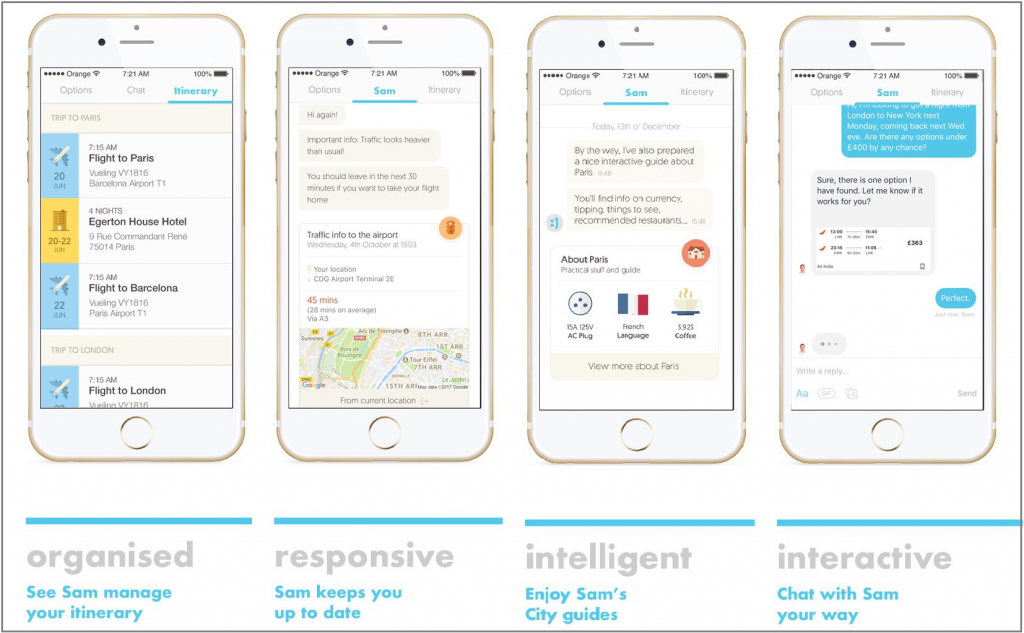 Image source
2. Smart Rooms & Voice Assistants
Voice search and assistants have become the norm today. According to a report by Quoracreative, Google sold over 8 million Google Home models in the year 2019, and Amazon had sold over 4.1 million Echo devices in the year 2018 by Quarter 2. And, according to a report by 99firms, approximately 65% of Amazon Echo and Google Home owners state they wouldn't go back to using keyboard input unless necessary.
A brilliant example of using Voice-enabled smart rooms for improved customer experience is Amazon's Alexa for Hospitality by hotel giant Marriott. All smart rooms are equipped with an Alexa device that is configured for the hotel. It allows guests to control appliances within the room, ask questions about the hotel, book services like reservations, order items from the hotel, place requests with the staff, and also perform general search inquiries.
Another instance for smart rooms in hotels is Hub Hotels by Premier Inn. They provide a mobile app with which visitors can control appliances like the television and settings like the room temperature directly from the device.
3. Virtual Reality
VR technology gives potential customers an experience of their services and attractions to help them make a decision through 360-degree videos, VR hotel tours, virtual maps, etc. Another instance of VR in hospitality and tourism is the Pullman Brisbane King George Square Hotel VR Tour. The VR tour provides a complete view of the hotel from the outside, the lobby, individual rooms, services, the indoor restaurant, etc., all through a single video accessible for free on YouTube. This enables consumers to avail the 'try before you use' option that was, not an option previously.
4. Augmented Reality
The tourism and hospitality industry is leveraging AR to improve the customer experience through interactive hotel elements, pop up facts and information at tourist destinations, fun games like treasure hunts within resorts, etc. Here's an instance of – AR wall map in Hub Hotels by Premier Inn, where room visitors point their AR-enabled devices to the map, and popular attractions around the city pop up on their device screen.
5. Internet of Things (IoT)
IoT goes beyond a single room or hotel and covers a tourist's experience throughout their tour. It is enabling smart cities and is fostering smart tourism ecosystems. Airplane can install sensors that sync with flyers' devices to track heart rate and anxiety to improve their flight experience; hotels can leverage IoT to provide visitors with Smart Room features, local businesses can provide more personalized services by learning a user's likes and dislikes from past purchases, etc.
Some of the top applications of IoT in the tourism and hospitality sector include:
Smart rooms
Airplane sensors for mood monitoring
Location tracking for safety
Personalized marketing
Easy public transportation and better connectivity
Better customer service
The customer trends and growing need for personalization in the tourism and hospitality industry demand platforms and technologies that can simplify the customer experience. And technologies like Voice, Alexa Skills, AI & ML are facilitating this process exceptionally. With most industries switching to technology-based solutions, the disruption of technologies in the travel and hospitality domain will continue at a steady pace, and travel brands will continue to transform and embrace technologies that elevate the customer experience.
Part 2 of this article will outline some of the top UX Design best practices that travel brands can emulate to increase customer engagement, acquisition and retention.