A day in the life of an average consumer today is filled with digital experiences. From the time we wake up (and check our social media feeds of course) to the end of the day, we interact with native mobile apps, websites, smart watches perhaps and maybe digital kiosks of some kind. A product manager and a team of experts are behind every such experience. They decide the features, look & feel, functionalities and more. But is that all they do? Is there scope to take a broader view of today's product managers and their role in the success of an enterprise? I believe so. But first, what is product management? Up until recently, this term was used largely to convey project management. An enterprise would decide to revamp its website or app and that project would need to be managed within a specific time frame, specifications, quality and cost. The person leading such projects – by definition short term approach, would be the de facto Product Manager. Thankfully, things have changed.
Today, Product Management is a much sought after job across many markets in the world. According to a study, Product Management roles in the US have grown 32% over just a two year period. Aside from digital product led start-ups, several established enterprises and legacy companies are seeking the role of a product manager. What has led to this change?
Digital experience as a competitive edge: many enterprises operate in tough competitive categories where genuine, meaningful product differentiation's are difficult to come by. In such a scenario, what the consumer perceives as a superior digital experience is an edge. As consumers we can experience it in taxi aggregator services, mobile banking, OTT streaming services and more. Loyalty towards a taxi aggregator app may depend on ready availability of vehicles, pricing, safety perceptions, the behaviour of drivers and other factors. But the experience with the native mobile app – the primary mode of brand interaction is critical and can make a difference. Similarly, our choice of an OTT service may depend on the catalogue of content and subscription pricing. Then again, the mobile app's design and its intuitive ability to have a consumer hooked on and remain loyal makes a huge difference.
Consumer expectations – the bar is set higher: until recently, enterprise software was expected to be dowdy. Legacy companies believed that it was alright if a website, intranet or a tablet app was not aesthetically designed as long as it delivered on the basic functionalities. However, the same consumer who is expected to use an internal app or intranet of an enterprise also enjoys using a well-designed consumer-facing app. In fact, the latter has conditioned consumers to expect a better customer experience with all their brand interactions across categories.
A Product Manager in a digital environment is akin to the classic brand manager. Brand management is a concept well understood in the consumer products business. Companies such as Procter & Gamble, Unilever and many more owe their success to effective brand management – a phrase used to convey all aspects which impact success: product conception, feature augmentation, increase sales, build equity and command loyalty. Many believed that leading a business is much like managing a brand.
Which brings me to the three possible approaches to a Product Manager's role: mini-CEO, fire fighter or conductor of an orchestra.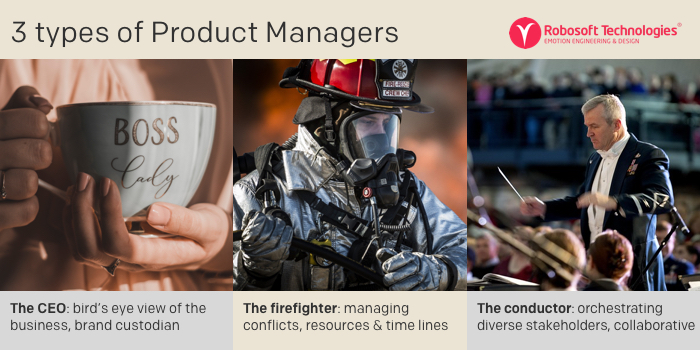 Mini-CEO
Depending on the size, structure and hierarchy of an enterprise, the Product Manager may be given varying degrees of freedom to decide on the road map of a product. In large enterprises, where the digital experience is the business, the CEO or CXOs maybe directly responsible for the product concept, feature sets, design and more. Even in such a context, it is possible for the Product Manager to mentally re-orient one's role as a Brand Custodian and take a broader, long-term view. This calls for understanding business needs, the larger business goal the digital product should meet and consumer needs & trends. Since Digital Transformation is not merely a buzz phrase in enterprises, this role can be critical in the changing the fortunes of the business.A typical CEO mindset sees P&L responsibility and treats digital not just as another channel – but aims to create a disruptive business model.
The fire-fighter
'Wanted yesterday' is the lead time on most digital products. Native mobile apps have product updates shipped regularly – some within a span of few weeks. In such a scenario, a Product Manager has to play the role of a fire-fighter – managing conflicts, solving issues, conducting stand-up meetings with agile teams, allocating resources, understanding the needs of design & technology, managing timelines and more. If the role is in a service organization, the role involves managing the client expectations too. It is critical to assume that user research is done and understood by all stakeholders. A fire-fighter mindset also goes with the philosophy of 'fail fast and fail forward'.
An orchestra conductor
The day-to-day operations of product development can be seen as a perpetual struggle or as bringing harmony through diverse talents – in strategy, design and technology. A Product Manager can then see the role akin to that of a philharmonic conductor – orchestrating seemingly diverse talents to deliver a harmonious experience. The mindset her is to accept that there are many stakeholders (users, business leaders, marketing, engineering, design, etc.) and that are involved and need to collaborate to get a successful product in the market.
More often than not, all three roles maybe required to be performed in parts. In essence, a Product Manager's role is balancing a strategic vision and driving operational details –a combination of having a birds eye view and worm's eye view, as it were. Another key trait of an effective Product Manager is to place the end-user's needs at the centre. No decision pertaining to a product is due one's personal inclinations or bias. In case of stakeholder conflicts, a Product Manager should only trust end user research.
In upcoming articles in this series on product management we will examine in-depth the characteristics of a great Product Manager, the tools and services essential for product management and relevant trends in the industry.