'Walk a mile in their shoes' is often used an expression to convey that the design thinking process is built on empathy. As Design Thinking professionals we work on diverse projects and user needs. Sometimes, we may not be able to fully understand the motives, pressures of others' lives.
Is it really possible for an urban male executive to truly feel how it is to be a single working mom or experience the challenges of say, working in an oil rig? I can never truly feel how it is to be a doctor using a critical patient information app, that too in the pressure of a hospital scenario. I can at best, get a peek into their lives in such a situation.
Hence, in my view, we have to understand 'empathy' within a context and realize its limitations as we are all shaped by our own influences, limitations, experiences and biases. That's where Usability Testing comes into play as it can provide first hand information and insights for actual users.
Design Thinking is a holistic problem-solving framework and involves these key stages:
Empathize: Understand the user's needs and problems
Define: Analyze the observations to define the problems
Ideate: Think of solution to each aspect of the problem
Prototype: Develop solution prototype for each aspect of the problem
Test: Test the product using the best solutions identified
The last phase is as critical as any other as it provides directions to product owners, strategists and designers for iterations and tweaks. Also as Design Thinking can play a role in transformation of any process – business development, operations, finance, marketing or product development it can truly impact business growth. In that context direct feedback from actual users eliminates guess work. It can also save expensive re-work in correcting flaws well before they are discovered in the marketplace.

Usability Testing: the fundamentals
The key intent of a Usability Test is to test the functionality of designs with real users in order to get a flavor of ease of use, navigation and other parameters. However, instead of leaving it all to observation and gut feel, the process involves thorough documentation and follows a process. A website, mobile app or any other digital product could be tested through this method.
There are two types of methods:
(a) In-person testing in a laboratory environment and (b) remote testing using a set of software tools. The former has an observer who is silent throughout the process and only monitors the behaviour of users and then reports the outcome. In the latter case, the screen activity, facial expressions are recorded by automated software applications.
The process involves 6 broad stages: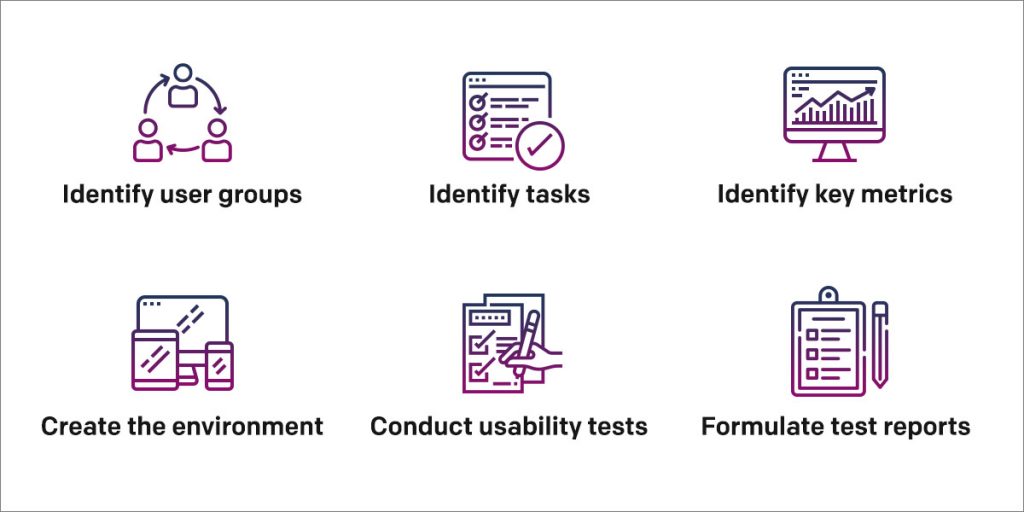 User groups: the participant characteristics are naturally determined by the product intent. As a thumb rule, the sample size should have 9 participants per country (2 pilot, 5 regular and 2 backup).
Tasks: we need to identify key user journeys based on the objective of the app or the digital product. It could be completing a transaction for a banking product or completing a survey in a website.
An example task scenario for a restaurant table reservation app could be:
Finding a restaurant
You live in Charlotte and would like to reserve a table at an upscale restaurant to mark a special occasion
Choosing the location
You would like to find a restaurant which is not very far from your place of living
Finding types of cuisines
Since it is a special occasion, you'd like to experiment with gourmet food, maybe an exotic cuisine which you have not tried before
Making a reservation
You have identified a suitable restaurant and would like reserve a table for two
Receiving confirmation and viewing a reservation
Once booked you would like to receive a confirmation alert and also view the upcoming reservation
Editing your reservation
You would like to change the timing of your reservation and increase the number of guests to 4.
Metrics: we then need to create standards of measurement by which design, ease of use, efficiency and performance can be assessed. The metrics could be objective (metrics that you can measure without relying on subjective interpretation) or subjective (metrics that rely on subjective interpretation of the test participant)
Environment: this includes creating a setup to make the users feel comfortable and have all the necessary equipment at hand. These could include relevant devices, documentation for ratings and a suitable lab test location.
Usability tests: among the various methods used are Task Sheets, heat maps, observations and rating charts. A task sheet typically records the success rate (2 = Success; 1 = Needed Support; 0 = Failed) and time taken to complete a task. While Heat Maps provide a high level overview of the drop and success rate, observations add the human angle by noting facial expressions and other emotional reactions. Finally, asking the users to rate their experience while using the product gives testers and stake holders a feel of the ease of use.
Test Reports: a typical test report will include an executive summary, goal of the test, methods used, data overviews, walk-through of the results of each task and actual quotes (positive & negative) from the users.
Usability Testing is increasingly being adopted by enterprises to minimize risks and validate product features before launch. Across the globe, there are several venues, including academic institutions which host Usability Testing Labs. Moving forward, co-working spaces which offer cost savings and convenience through shared infrastructure equipment, utilities etc., could offer such services to enterprises – all it takes is a room and some basic equipment.
The benefits of Usability Testing
More than ever before, customer experience defines business success today. A poor experience on a website, mobile app or any other digital product can mean loss of a customer forever. Very rarely do customers give brands a second chance to serve them.
At Robosoft, we believe in simplifying lives through delightful digital experiences. A robust Usability Testing exercise gives enterprises a better chance of providing a great customer experience, the new battleground. It can help get validation from actual users and get a first hand feedback if it meets their expectations. It can point to barriers which need to be overcome, help point out errors and assumptions. Those working on any creation can get far too attached to it and lose a sense of objectivity – they may not see the features and navigation methods the same way as the actual user.
Usability testing is a great way to manifest empathy, which is the starting point to any Design Thinking effort. In other words, it is a small but effective investment in the larger scheme of things – well worth the effort in crafting delightful digital experiences.