The COVID-19 pandemic has impacted businesses in many ways, enabling brands to restructure systems and processes to explore new ways of increasing business and operational efficiency. To manage the immediate impact of the crisis and lay a good foundation for the future, brands must relook at their most critical functions that can create positive customer experiences – product development being one such.
The relevance and value of great product managers cannot be undermined today, where the world is predominantly dependent on digital products and platforms to accomplish most of their needs. Such times call for a human-first approach while developing products that can touch millions of lives globally. In an earlier article, we explored the key characteristics and the core functions of great product managers that can have a profound impact on brand value, customer loyalty, and retention. In this article let's examine the components required to craft such products and the role of product roadmaps in elevating positive customer experiences.
So, what does it take to create products that customers love?
To begin with, a project framework, the objectives it is meant to accomplish, the resources needed to execute the development, and a product manager who can translate the product vision aligned with that of the organization's.
As per a Gartner survey, 82% of CEOs are aimed to transform their businesses to be more responsive and digital, and product managers have a huge role to play in accomplishing this vision. Innovation, agility, and speed, define the new turf for product managers. The end-results are sustainable business models and products that customers are in love with.
A product manager is integral in transforming the organizational vision into a user-friendly product right from scratch. From setting the product vision, defining a strategy, researching market conditions, identifying the right opportunity to developing a new product, profiling customer personas, defining the stages of product development, and communicating the vision to internal & external stakeholders. In addition to this, a product manager is also responsible for resource management, driving the execution, providing execution assistance, keeping a constant tab on the timelines, testing the product, refining the product features basis the testing, market positioning and charting a sales strategy, a product manager orchestrates all of these roles end-to-end. Neglecting any one of these attributes can incur heavy financial losses and put the brand reputation at stake. Proper planning and having a visionary product manager leading the product development phase can increase the probability of product success remarkably.
While a lot of the product management skill sets are learned and developed along the way, a product manager should be passionate and driven towards – Technology, Business & the User Experience. Broadly speaking a great product manager intersects at the conjunction of these three attributes.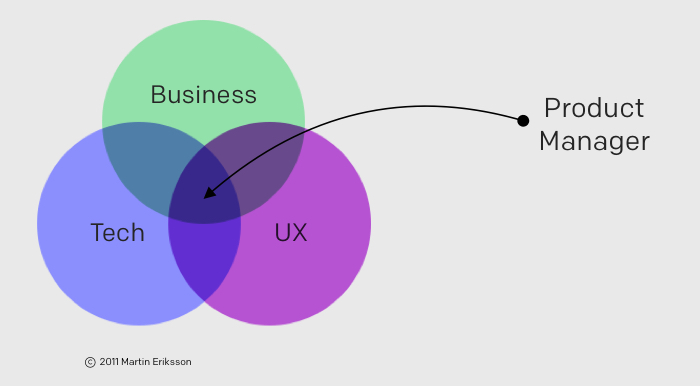 Business — Product Management above all, is a business function that is focused on optimizing the business value of a product. Product Managers should thereby be obsessed with exploring ways in which product efficiency can help in accomplishing business & revenue goals while amplifying brand value and customer loyalty.
Technology — While product managers are not required to be Tech experts or to get involved in the development process, they must be aware of the Technology trends disrupting the industry globally. They should also be able to forecast trends and be aware of all the technologies that can add value to their product functioning and reception.
User Experience — The ultimate objective of any product is to ensure optimal user satisfaction. To think, feel, and empathize with the end-user and create products to address their requirements and create effortless experiences. To accomplish this, it is imperative to gather inputs from users through research, sampling, AB testing, one-on-one discussions, and get a first-hand feel of whether you're on the right track, as great user experience is the ultimate goal of any product.
The key to integrating these attributes into the product execution – a comprehensive product roadmap. It's one of the most crucial functions of a product manager that brings all the key stakeholders together to commit to the product vision and chart an execution plan based on product priorities.
What are Product Roadmaps?
A great roadmap begins with a clear understanding of the product vision & strategy. Charting a product roadmap is the first crucial step in communicating how each phase of the product development cycle aligns with the long-term business vision. It is a framework that details the direction, execution, priorities, and progress to all key stakeholders. Product managers typically gather insights from cross-functional teams like sales, marketing, and engineering teams to ensure that it aligns with the product strategy and overall business goals. It ascertains the 'why' behind building the product and how it solves user challenges that can enhance the overall customer experience.
Here are a few techniques to create great product roadmaps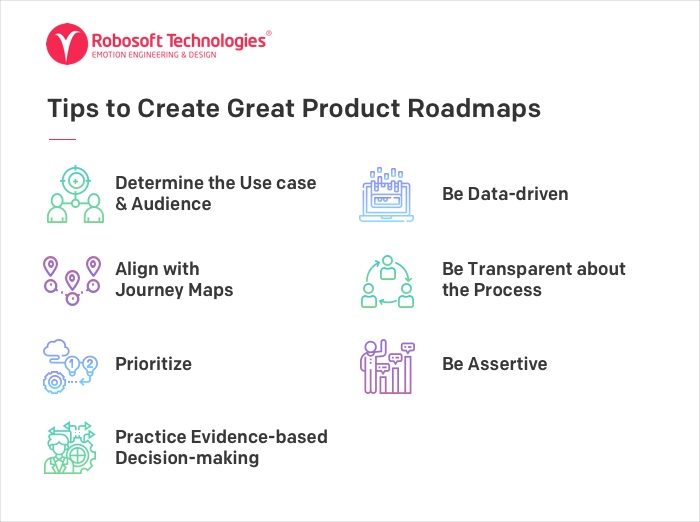 Let's examine each of these further:
Determine the Use case & Audience
What is the purpose & what are you trying to visualize with the roadmap?
Who is the audience it is intended for?
Beginning with the end objective & the audience it's intended for, can have a lot of implications on the information & structure of the roadmap. For instance, while the marketing team would check if it aligns with their campaigns, the CFO would avoid getting into the product details & get a quick overview of the costs & how it aligns with the business vision.
Be Data-driven
Given that you as a product manager are a central hub connected with internal & external stakeholders, product engineers, analysts and various other members involved in the product development, it is important to gather user insights and business intelligence from each of these sources and use this as the foundation to create your product road map. Forrester reports that 70% of the projects fail due to a lack of user acceptance. This is why it's crucial to gain user insights and identify what they truly prefer.
Align with Journey Maps
When product road maps are aligned with customer journey maps it can help in aligning the product features with user thoughts and emotions and guide the product design process. This can invariably maximize the product efficiency and customer experience to a whole new level. Here's a reference for the customer journey map related to bill payments. By understanding the pain points of users, product roadmaps can be aligned to address the core user challenges and enhance the overall customer experience.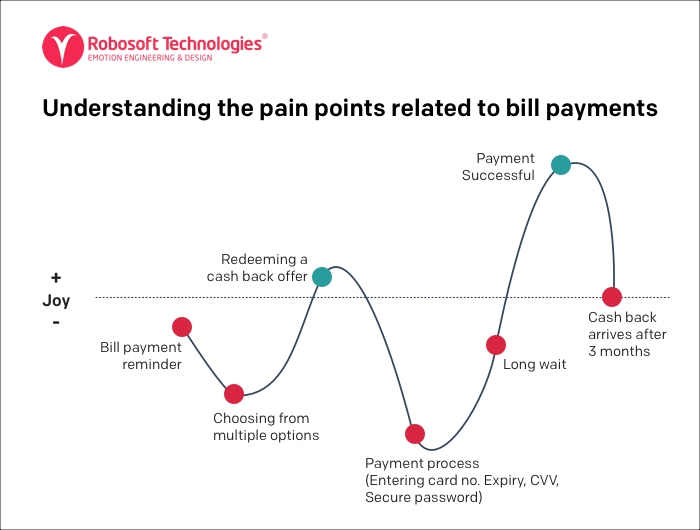 Be Transparent about the Process
As a product manager, it is crucial to prioritize product features and be able to communicate this with the product team. This is important as it helps in maintaining transparency and gaining team consensus on the priorities and decisions to ensure you're driving the product vision collaboratively as a team and prevent knowledge silos that can hamper stakeholder relationships.
Prioritize
Every project must go through a prioritization process to include specific features, epics, and initiatives that will be included in the roadmap. Prioritize the roadmap based on – data, high-value initiatives, potential opportunities, stakeholder consensus and it's alignment with business objectives.
Be Assertive
Product managers need to be assertive, more so in a creative process as it involves ideas and suggestions from other members involved in product development. For instance, a product engineer may endorse an idea or feature that is not documented as part of the product roadmap but how it can seamlessly accomplish the product vision or simply because it can save time on the next sprint. Such ideas have to be eliminated assertively while ensuring that it does not hurt any sentiments. Reason-out with evidence, to ensure that such suggestions do not undermine the product objectives.
Practice Evidence-based Decision-making
To be accepted as a great team player and gain team consensus it's important to justify your stand with evidence-based communication and decision making. User insights based on research can aid the decision-making process, scale efficiency, and work as an excellent source of business intelligence that can guide the product roadmap process. To accelerate product efficiency, many enterprises have begun to revisit their product roadmaps – crafting the right product vision aligned with key user goals and evolving as per their needs. The ultimate goal of a product roadmap is to communicate the strategy & ensure successful product execution.
With customer experience and digital transformation at the forefront for most organizations today, the role and importance of product managers cannot be undermined. While a few core characteristics and skill-sets are integral to the organization and product success, enterprises have to hire product visionaries with the right attitude. The role requires a lot more ownership beyond what is fixed as the KRA's, and a passion above all to solve the most pressing customer concerns.